Wheel Chair Accessible Motor Home
Wheel chair accessible motor home is not a dream anymore thanks to Newmar, Winnebago and other manufacturers...

The first thing that comes to our mind when we talk about motor homes is freedom, traveling around the country and seeing the world.
However if you are handicapped sometimes it may be very difficult.
But it doesn't mean that you can't enjoy the beauty of camping.
Now all handicapped people may find different models of motor homes that can give them all the comfort and possibilities to enjoy traveling around the country with wheel chair accessible motor homes.
Many companies offer lot of different ways to convert standard motor homes into wheel chair accessible motor homes. Having a motor home that is a wheel chair accessible can be very important for disabled people, so the fact that there are manufacturers of wheel chair accessible motor homes is fantastic.
For example many vans are excellent to be converted to carry wheel chairs thus offering perfect balance of value and functionality. Thanks to this type of motor homes disabled people can now enjoy the thrill of the road having the comforts of home.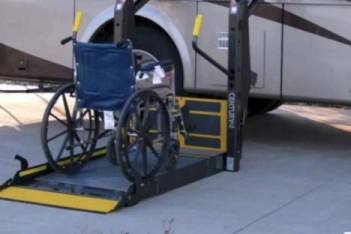 2012 Newmar Canyon Star 3911 - wheelchair accessible class A coach from Newmar Motorhome (on the picture - 48" Power Wheelchair Lift)

Nowadays a huge number of population is suffering from some kind of physical disability. That's why a number of RV manufacturers and suppliers are offering wheel chair accessible motor homes which address the specific needs of disabled people. Such motor homes have lot of advanced features which make travel more comfortable and safe for with mobility problems.
Wheel chair accessible motor homes include lower kitchen cabinets and counters, wheel chair lifts or ramps, longer faucet handles, brighter lighting, widened entrances, roll-under sinks, roll-in showers and many more. Apart from these options many RV manufacturers offer accessories for customizing wheel chair accessible motor homes in order to make the journey stress-free and more fun for people with severe disabilities.
Some popular wheel chair accessible motor homes manufacturers are Newmar and Winnebago.
Newmar has manufactures a new Canyon Star 3911 motor home which features a power wheel chair lift with a wired remote control, wide path from the front of the coach to the bed while the unit is in travel mode for wheel chair access, then a large open floor area on the front side of the bed for easy access.
Inside the vehicle there is a bathroom with a large roll-in shower with seat, a lavatory that is open under the bowl for use with a wheel chair and a medicine cabinet with mirrors placed down lower.
In the kitchen, there is a cook top and microwave combination, which places the microwave below the cook top for easy access by a disabled person.
In addition to this, the Canyon Star has "L" shaped dinette that allows seating on the side or back bench with lot of room to accommodate a wheel chair.
Winnebago company has designed Esperance C2694W SL for the disabled. Its standard features are a wider door for wheel chair access, electric wheel chair lift from the ground, roll-in shower and toilet, swivel front seats, accessible low island bed, wheel around area in living room. The bathroom is large with easy access for wheel chairs.
These RV manufacturers has recognized the need of the disabled people and designed the wheel chair accessible motor homes giving the disabled the opportunity to travel and enjoy the freedom.

And now, let John Higginbotham to present his custom-designed wheelchair accessible motorhome. You will be amazed once again seeing that in most cases only sky (and our dreams) are the real limits.....

---
Visitor's story....

You may remember when I talked about a Travel Supreme in Wisconsin that I had seen. Well this was a wheel chair accessible motor home because the man was in a wheel chair and needed to be able to come and go without help from his wife or driver.
This was especially nice when he just wanted to go for a ride in the campgrounds. The arm lift system allowed him to exit and enter the motor home without any needed assistance. The overall set up of the interior fit his needs as well.
He was able to move about anywhere in the inside without as much as a problem. He was able to use the bathroom and shower, which was set up for a handicapped person and could do anything he needed.
The kitchen area had lower shelves on one side that were perfect to keep the things he would want at any one time. He was extremely impressed with the way the motor home was constructed and set up for a handicapped person.
Because of the super arm lift, you lose no addition space inside as well. It folds away nice and neat until you need it again.
The need to travel is not just for you and me, it is for everyone and manufacturers realized this need when they started making these arm lifts for vehicles. They were instrumental in putting them into motor homes to allow everyone no matter who you are to camp and travel in comfort with ease.
Now, you will not find this east to do in a popup camper, but if you need a wheel chair accessible motor home, you can find one by talking to a dealer and expressing your needs.
This includes the lift and the interior of the camper.
 About Us / Privacy Policy / Resources
Go from Wheel Chair Accessible Motor Home to Pop Up Campers Trailer Home

Motor Home RV Camping