Winter Camping Gear Packing List



Winter camping especially in wilderness is "less forgiving" than that at any other time, see example of packing list to make sure to have with you all (but no more) than you may need

Camping in winter takes a lot more preparation than camping at other times.
It is especially true if there is a chance of snow.
Although snow may be making your trip more difficult, it will also open for you a completely new world of Mother Nature – white, unspoiled, with all "impurities" and dirt hidden below the deep layer of snow….
So what should you pack for a trip like that?
Below is the most important items that should "travel" with you, kind of "Not-to-miss" stuff!

First, just like a normal camping trip, pack your gear.

1. Tent

- extra pegs
- hammer
- base cloth (goes under the tent and stop.mildew from wetting the base of the tent)
- tent poles
- ropes

The tent cannot be a made of cloth. Make sure it is made of water proof material and stands up in moderate winds. Winter is not the favorite time for mosquito and bugs so you can leave repellents home waiting for more useful times….

....beauty of winter camping.....

2. Bed

- an inflatable or a sleeping bag.
- Sheets
- blankets
- Pump
- a durable backpack to put it all in

Cover the backpack with a water proof cover that fits, in case you are trekking. Beware of mildew. Sleep inside a sleeping bag or the tent in winters.

3. Food

- containers
- thermos flask
- stoves or grill (if you plan to cook, but even if not, keep in mind that you will still need hot coffee, tea or chocolate)
- lighter and candles
- picnic sheets (to spread out the meal)
- plates, spoons, cups, knives and bowls
- Trash bags
- sanitizers and dish soaps
- napkins
- water filters or water

You can always go impromptu and take 3 stones and get firewood from around you for the stove. Make sure you do not litter. Take the trash back with you. Always make sure that you are careful around fire. Never leave a fire unattended. It could start a major one.

4. Clothing

- enough for the trip
- extra pair of clothes for emergencies
- sweaters and woolen
- overcoats (preferably waterproof)
- socks
- raincoats
- towels
- laundry bag
- Sandals or flip-flops (for taking shower in public places)
- umbrella

Take two extra pairs of socks and underwear. It is not very comfortable wearing a wet sock in the cold. If you plan to swim, make sure you are out of the water before it gets cold. Try mix and match. One jeans could go with 3 t shirts. Jeans are heavy duty and it also reduces the luggage.

5. Kits

- Repair kit for the bedding
- Repair kit for the vehicle and spare parts
- cooking kit ( ingredients, kitchenware, gloves, mitts etc)
- medicines (prescribed and emergencies)
- first aid kit
- Toiletries (brush, paste, razors, shower cap, napkins, polythenes, toilet paper, soap, combs, sunscreen etc)
- Tool kit
- fishing gear

6. Others
- loose change, cash, credit card(s) and ID cards
- GPS, Maps, flash lights and a water resistant watch
- books to read and write (think Kindle with loaded books)
- camera (skip if your phone has a good camera, and a large memory)
- ropes, duct tape, pins and velcro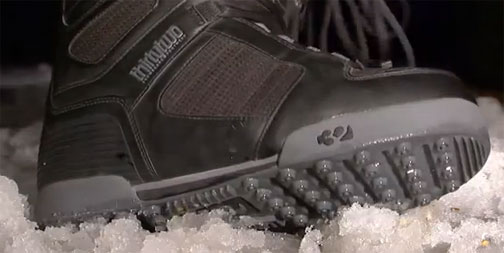 example of good, grippy snow boots

7. Winter specific items

- Ear muffs
- Scarves
- snow boots
- muffler caps
- plenty of woollen
- cold medicines
- hair dryer
- extra towels
- hot packs

Make sure all the furniture you carry is foldable. Inform at least 3 people (including your parents if you are a minor) about the trip, transport, area where you would be camping and contact number. Get a first aid training if you are not familiar with it. Review it before every trip.
Organize it in a way that the most used stuff is always on the top for easier access. Although I have tried to cover all the possible items in this list, your specific requirements (medical or otherwise) needs to be taken into consideration while packing.

 About Us / Privacy Policy / Resources
Go to: Pop-up Travel Trailers and RVs
or Best Winter Travel Trailers