Winter Camping
in a Pop Up Camper

Winter camping in pop-up camper may sounds crazy, but with few simple preparation steps it may be your best ever experience in nature….
        Spending time enjoying the outdoors is the main reason people enjoy camping. 
Unfortunately, many people only go camping in the warmer months.
But spending time in your camper can be enjoyed year round to take advantage of nature's beauty in the winter months. 
You just might have to make a few extra preparations and get a few extra supplies. 
But the extra effort is well rewarded with fewer fellow campers at the campgrounds and opportunities to see a side of Mother Nature not many get to see.

Keeping winter outside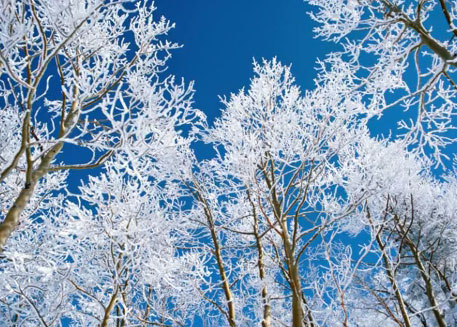 That's what it means waking-up in in the middle of winter's nature

The biggest concern about winter camping, of course, is the temperature.  And pop ups don't provide a lot of protection between you and the frozen tundra.  But, as always, be prepared and plan ahead. 
Propane – if you have propane, make sure you have enough to last for your trip
Propane tanks – if the tanks are exposed to the elements, you can buy covers for them to keep them functioning in the cold.  Sometimes propane tanks will malfunction in the cold temps.
Pop up – heat the interior of the camper prior to opening it up to prevent the windows from cracking due to the cold,
Roll down – same as above but in reverse.  Make sure camper is warm prior to shutting it down to make sure no windows get cracked.
Ventilation – if you have a ventilation port on the roof, by opening it slightly, you can save a lot of condensation building on the interior of the camper.  You might waste some of the hot air inside, but will keep water from dripping on you while you sleep.
Water lines – any lines exposed to the elements need to be protected if temps will be below freezing.  Buy insulation hoses for protection.
Skirting – you can purchase skirting to keep the wind and cold from underneath your trailer.  It might not be total protection, but if you can minimize cold air-flow from underneath the camper, it will stay warmer at night when the temperature drops.  Only recommend if you are doing a lot of winter camping.
Pop up gizmo is a cover for your pop up that provides an extra layer of insulation over the canvas areas
Put an extra foam mattress on floors to help insulate from the cold air underneath the camper
Make sure heater is working before you leave

snow around and still a lot of fun (may be not?).....

Hunker down
Camping in the winter means getting extra supplies and groceries to be prepared for any weather emergencies or change in travel conditions.  Again common sense and a little extra precaution go a long way.  Many of today's pop ups contain a small kitchen, bathroom, and dining area.  Take advantage of the amenities you have for the winter months.
Hot chocolate
Extra batteries
Heavy meals like stew and easy to heat like soups
Plenty of changes in clothing.  Wet clothes in the winter can be so uncomfortable.
Bottled water
Firewood for keeping warm and cooking outdoors
Extra warm sleeping bags, or heat a Tupperware container with hot water and put it in your sleeping bag and let it heat up before you go to bed.

Things to look for in a camper
           If you will be doing winter camping, make sure the camper you choose is certified for 4 seasons.  This way you know it is well insulated and has extra precautions to help keep warm in the colder months.  If you will be spending a lot of time in your camper, it might be a wise investment for all the amenities.  Just make sure to protect the water lines if temps get below freezing.  Coleman, Fleetwood, and StarCraft are probably the three most popular brands of campers and each offer a wide variety of amenities at differing prices. 
Like any other major purchase, do your homework and as plenty of questions.  But if you are planning on taking your pup out in the winter, let your salesman know so he can point you to the right camper for you.
Now that you have a little more insight into the world of winter camping in a pop up camper, you can get planning for your winter vacation.  Just remember that common sense and a little extra preparation is paramount.  And above all else, warm and dry beats cold and wet.

 About Us / Privacy Policy / Resources
Go to: Pop-up Travel Trailers and RVs
or: Best Winter Travel Trailers