Winter Camping in RV
Basic tips on what you would need for successful winter RV camping ...
Recreational Vehicle is the most luxurious camper that you can use to your benefit away from your homes out in the snowy wild.
It can be literally customized to be your own home on wheels.
If you are planning on a RV ride adventure around winter camping destinations then let us give you some firsthand information and tips for effective and efficient monitoring of your adventure while on a RV.
Choosing a Camper depends upon many needs and wants. Personal feelings, financial possibilities, level of needed comfort, etc. have significant implications on the buying choices of Campers.
It can be anything: Pop-up Camper, trailer or RV. The RV is the most luxurious choice you can make for your camping plans. Choosing an RV before embarking on the journey however needs to have certain checks on its features and performance.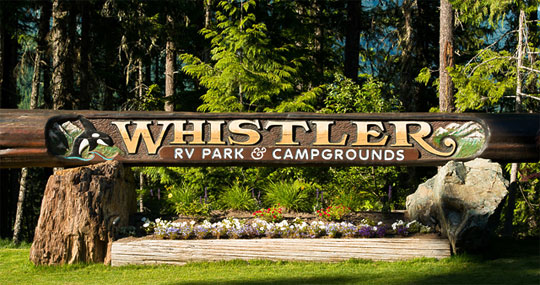 Here in full green colors, but Whistler RV Park and Campground is a four season park
Sturdy Construction: A sturdy construction is a desirable feature in your RV. Choose one which can be strong and be able to bear the wrath of the snow.
Vehicular Performance: The vehicle should have been economical in design for an all-round performance in mileage, vehicular functions and parts maintenance.
Room for Everyone: Choose a RV which can afford to keep the whole of your family at bay for several days in comfort in case of for example bad weather.
Modern Amenities: Any modern RV should be well equipped with heaters, batteries, proper fuel monitoring systems and proper heat monitoring systems. A comfortable RV can make you feel like at home.
Specific Custom made Design: The features of the RV should have been so designed as to fulfill the purpose of the adventure. It must have a high level of weather resistance and provide options against snow weathering and tearing.

Apart from these basic features, there would be many other options and preferences available for providing a high level of comfort for the inmates.
Some of the best RVs in the market are designed by companies such as Airstream, Country Coach, Four Winds, Monaco, Thor Motorhomes, etc.

Needs and Desires are the most important modus operands of human life.
Some basic tips on what you would need and how to embark upon and return safely back from a successful winter camping are briefed in the following lines. You must go through this carefully in order to know some tidbits on Winter Camping.

Water: Water is by far the most needed lifesaving element required while on a RV. The winter can freeze your water supplies and plumbing resulting in weird problems. Enclosures around water tanks, heating panels, hot blow guns and anti freezes can help the cold stay away from your water supplies. The enclosures and plumbing protections should be polymeric in nature.
Heat: An optimum amount of heat is always required for the proper functioning of human body and while camping in winter this optimum quantity becomes huge. Sufficient heating equipment should be taken along in the camper. Blankets, quilts and winter wears should be abundantly packed so as to offer relief from the cold harsh winter. Electrical heating options are preferable.
Insulation: Sufficient insulation is required in the body and make of the RV or the Camper to help keep the cold at bay outside the boundaries of the living place. Polymeric coating gels such as foam can help prevent close interventions of the walls of the RV with that of the outside cold.
Fuel: Propane and Electricity are the only available options as good fuels. Sufficient care should be taken in order to use the quantity available in an economical and optimum way. It should be saved when not necessary.
Sewers: Sewers are a much important necessity in order to clean your RV of the daily waste generated. Proper sewers should be maintained and drainage systems should be spic-n-span in function so as to prevent the inmates living under unhygienic conditions.
Skirting: Foams should be used at the base of the RV as an extra layer or covering which will help the floor of the RV insulated against the harshness of the cold ground. The vehicle should also be parked on boards to prevent sinking of the wheels when the ground thaws.


Don't let winter stop you - see how others are coping with freezing temperatures

Power packed with these useful tips and necessities you can now brace up for a wonderful adventure out there in the snow. The white ice of North America and Canada have many different wild destinations for Winter Campers. For your ease we have identified a certain places out there where you can have the time of your life Winter Camping.

In the United States: Places like Utah, Montana, Vermont, Wyoming, Colorado, parts of California, Idaho and Illinois offer wonderful preferences for winter camping.
In Canada: Most places in Canada especially West Coast (Vancouver), Alberta, but also Ontario and Quebec over the winter are sufficiently power packed with snow to give you awesome snowy Goosebumps.


You can search over the internet and find out many more of such lovely wintry destinations for Campers. We hope we have briefed you on everything that was necessary and important. You can always connect the dots and come up with many more awesome ideas for a proper maintenance and fun filled enjoyment on the trip ahead.
Happy Winter RV-ing.

 About Us / Privacy Policy / Resources
Go to: Pop-up Travel Trailers and RVs
or: Best Winter Travel Trailers