Winter Camping Sites Arizona
Despite popular Arizona opinions Arizona has snowfalls in mountainous areas offering unforgettable vacations for winter camping lovers....

This is the 6th largest and 15th most populous state of the United States situated on the South Western part of the country bordering with Mexico.
Arizona is well known for its desert Basin and Range region.
But it has also many mountains and plateaus covered with pine forests.

Although the state records mild winters, it sees significant snowfalls. There are ski resorts in the areas of Flagstaff, Alpine, and Tucson.
In other words, despite the popular views, the state can offer wonderful vacation for lovers of winter sports and trekking.
Arizona is also home to one of the most well-preserved meteorite impact sites in the world. Other attractions include the Grand Canyon and West Mitten at Monument Valley.

Winter Camping Sites:

Lake Pleasant: Lake Pleasant is just NW of Phoenix about 30 miles or so and ideal for winter camping because of its pretty warm sunny days and cool nights.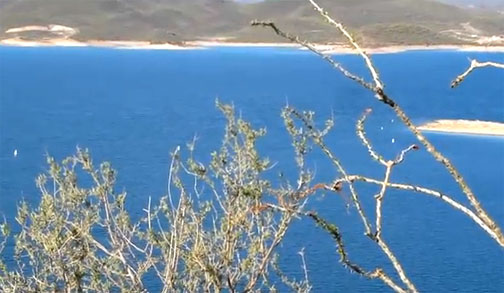 Lake Pleasant - trees already lost their colors but lake is still beautifully blue......

Yuma: Yuma in the south west part of the state is very nice for winter camping because it is Arizona's warmest winter place. It is also a wildlife refuge north of Yuma. Snowbirds make their annual migration to this part of the state. There are numerous camping and RV accommodations in and around Yuma

---

Lake Havasu: Snow birds also winter in Lake Havasu. La Paz Country Park and Buckskin Mountain Park have many campgrounds with hook ups. Private campgrounds and RV parks are also available.

 About Us / Privacy Policy / Resources
Go to: Pop-up Travel Trailers and RVs

or to Best Winter Travel Trailers