Winter Camping Sites California
California is not only about high-tech economy, it's also the nature and variety of climate zones including snowy winters; see some winter campsites from where you can explore winter in Golden State...

Located in the west coast of the United States, California happens to be the most populous US state accounting for one person out of eight people of the nation.
Popular destinations include Los Angeles, San Fransisco, San Diego, San Jose, Hollywood, Sacramento and others.
Known as the "Golden State", California's economy is the tenth biggest in the world.
Fortunately California is not only about economy, it's also the beautiful nature and variety of climate zones….

California gets lot of rains which in turn become snow in the mountains. California offers superb snow activities such as skiing, snowboarding, snow tubing, skating, snow climbing — even sleigh riding. California's popular ski area is Mammoth Mountain.

Winter Camping Sites:
Death Valley National Park:  Affords great opportunity for outdoor recreation and winter camping. Its snowy peaks, interesting wildlife and diverse flora keep campers busy.

...just to make it clear - this is not the snow! This is Death Valley :-)

---
Lake Tahoe: Sugarpine Cove, Emerald Bay and Fallen Leaf Lake are some of the scenic locations where winter camping can be done in mild winter.

Mammoth Mountain is one of the campgrounds that promises great winter camping. There are RV Parks, cabins, and tent camping facilities.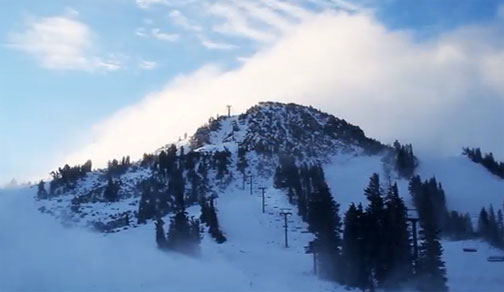 Snowy winter in Mammoth Mountain

Tamarisk Grove Campground: Winter visitors are often treated to a rare look at the desert bighorn sheep that winter on the ridges north of Tamarisk Grove.

 About Us / Privacy Policy / Resources
Go to: Pop-up Travel Trailers and RVs

or to Best Winter Travel Trailers