Ultra-Lite Travel Trailers
Models Under 1000 lbs
Continuing from the previous page:
List of 8 modern travel trailers with weight under 1000 lbs offering features you would only expect from larger campers….
On the previous page we presented newest models of ultra-lightweight travel trailers with weight under 1000 lbs. If you did not have a chance to read it, see:
--> Lightweight Travel Trailers under 1000 lbs.
Let's compare them with the similar models from previous years. After all they already proved themselves on the market so it seems to be good idea to give them one more look....
Previous years models of ultralight travel trailers
#1 – Lil El 8
Taylor Coach Lil El and pulling it car are both Small (and lite) - but actually "small" is a Great news for many :-)

The Taylor Coach Lil El 8 weighs only 700 pounds. Nicknamed "the motel on wheels," it has a dinette that converts into a double bed and an overhead cabinet that can convert into a single bed. There is ample workspace in the kitchen, and you can even outfit this trailer with a full bathroom. For added convenience, there is plenty of storage space under the seats and in the cabinets.

#2 – Eco 12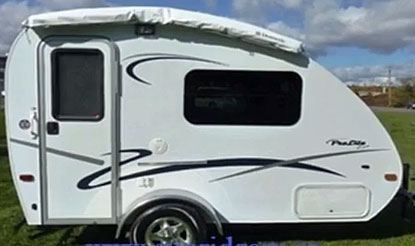 Prolite's Eco-12 model: Minimum weight with maximum comfort (given the size)

The Eco 12 from Prolite weighs only 750 pounds and can be towed by almost any small car. It only sleeps two adults, but is quite cozy. An included furnace keeps you warm on those cold nights, while the kitchen features a two-burner stove and a small fridge so you can "treat" yourself with your favorite "stuff".

See details at: --> Prolite Eco 12 Mini Travel Trailer
#3 – Wazat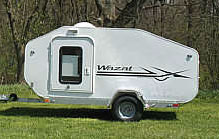 The Microlite Wazat comes in a 4x5 and 5x5 models, with the 4x5 weighing in at 759 pounds, and the 5x5 weighing in at 857 pounds. The all-aluminum construction allows this trailer to be towed behind any car without big change in fuel economy seen at the gas pump. As with other trailers, the Wazat features a rear galley accessible through a fold-down wall, and can sleep up to four adults in the 5x5 model.

#4 – Sylvansport GO
This one you may just want to see more in details.....

The Sylvansport GO was designed to be both lightweight and economical. At only 840 pounds, almost any car can tow this small camper. It is somewhat unusual design because the tent is set up on top of the trailer in order to provide a more authentic camping experience; there are no hard walls. As such, this interesting travel trailer won't be for everyone.

---
#5 – A-Van Weekender
As its name suggests -the weekender is the perfect solution for weekends! Big bonus: built-in slide-out kitchen

The Weekender is a typical teardrop style lightweight travel trailer. It weighs in at only 850 pounds, but it is extremely well built. The entire back door opens for easy access to the interior, and the ceiling lifts up to provide extra storage space. One of the advantages of this trailer is that it has a very roomy interior.

#6 – Dyl 10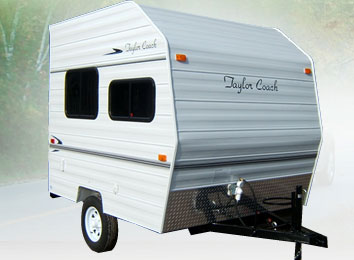 Dyl-10 is just 10'6" long, with its dry weight of only 850lbs it can take extra load of 650lbs of "stuff" and sleep 2!

The Dyl 10 is another small travel trailer from Taylor Coach. This model features a dinette that converts into a double bed, the cabinet above the dinette converts to a single bed. An optional bathroom is available for added convenience, and the galley offers ample work space. You also have your choice of appliances, with the added option of a sink. There is plenty of storage space under the seats and in the cabinets.

#7 – Mini 13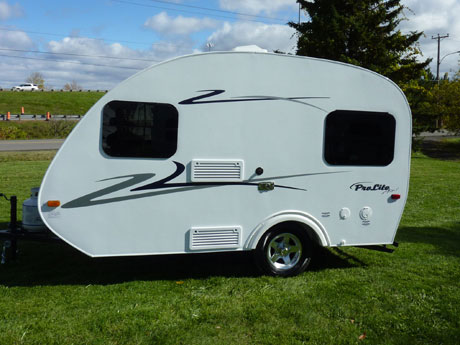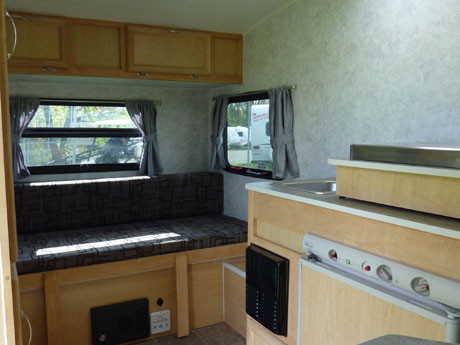 From Outside: Elegance, inside: Comfort, Summary Economy with all you need

The Mini 13 is another lightweight travel trailer from Prolite. Weighing in at 950 pounds, this model features a longer midsection than the Eco 12, with a sofa in the back and a dinette in front. Both can be converted into a bed for two adults. The galley features an LP cook-top stove for added convenience.

#8 – Bobbie 12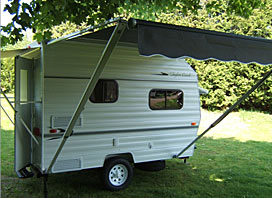 Taylor Coach's Boobie 12: dry weight just 1000lbs, load capacity 800lbs and sleeps 4

The Bobbie 12 is another Taylor model that weights exactly 1,000 pounds dry. The small galley includes a sink, stove, microwave, and refrigerator. This model sleeps three, with the dinette converting into a double bed, and the upper cabinet converting into a single bunk. An attachable awning provides extra shade on those hot summer afternoons. There are multiple options for the washroom depending on your needs, and there is plenty of storage space under the seats and in the cabinets.

---
Note:  Check with the manufacturer and / or authorized RV Dealer for the up-to-date list of features, options as well as latest specifications. These written above may not be accurate and certainly are subject to change by the factory. We are not responsible for any inaccuracy, the above text is provided only for the general information.
This review was written based on publicly available information for the benefits of the community of RV-ers. We do not receive any gratification or financial benefits from RV manufacturers, dealers, and any other promoters of RVs. 
We are NOT involved in sale and/or retail of RVs!
 About Us / Privacy Policy / Resources
Go to: Pop-up Travel Trailers and RVs

or to: Top-10 Lightweight Travel Trailers,  Benefits of Lightweight Travel Trailers;  Top-10 Lite Travel Trailers for Small Cars