Airstream Basecamp 20X
Specifications
Basecamp 20X is Airstream's first step into the off-road market. It offers all-aluminum tradition with great choice features for gear-hauling nature lowers...

               Certainly, the line of Basecamp 20X (and 16X) travel trailers is a clear departure from Airstream's traditional, streamlined designs. But not only it doesn't miss much from iconic predecessors, but it rather adds a touch of elegance to otherwise rugged off-road designs....
Airstream Basecamp 20X
       Below, you will find Basecamp's 20X specifications and technical details. However, if you didn't have a chance to read the review, please first see:
--> Review of Basecamp 20X Travel Trailer
Specifications: Basecamp 20X

---
Exterior length

Exterior height (1)

Exterior width

Interior headroom (1)

Interior width

Dry weight

GVWR

Cargo

Hitch weight (2)

Freshwater tank

Greywater tank

Blackwater tank

LPG

Sleeping capacity (3)

20 ft 2"

9 ft 5"

7 ft 9.5"

6 ft 7"

7 ft 2.5"

3,500 lbs

4,300 lbs

800 lbs

535 lbs

27 gals

28 gals

21 gals

2 x 20 lbs

2 + 2
---
1 With roof-mounted AC unit (9 ft 1" without AC)
2. With LPG and batteries
3. Without the external tent
Freshwater tank w/drains (including winterization)
Raised suspension and Off-road tires
Construction

Frame: Steel
Shell: Riveted Aluminum Superstructure (ribs and skin) w/ fluorocarbon treated and UV protected exterior skin
Floor: double-framed plywood
Insulation: EcoBatt™, complete between interior and exterior (includes enclosed and heated underbelly)
Axle: Single
Suspension: Dexter torsion 
Wheels: Aluminum rims w/ Goodyear ST235/85R16 tires 
Brakes: Nev-R-Adjust® 
Hitch Ball: 2 and 5/16"
Electrical coupling: 7-pin plug
Windows: Extruded aluminum frames w/tempered tinted glass
Stone guard:  detachable stainless-steel panels and front tinted-windows solar guards, skid plates underneath
Ground Clearance: 12" ("X" version adds 3" lift to the clearance of the standard Basecamp 20)
Interior Finish
Aluminum interior walls and ceiling
Vinyl flooring
Lite-Ply laminated cabinetry
Marine fabrics (antibacterial, mildew-and-stain-resistant, flame retardant)
Colors accents: Glacier Lake, Red Rock, Forest Ridge
Rear section of panoramic windows can be opened for ventilation
Interior General features

8 Panoramic tinted-glass windows (front and sides)
2 x rear-sides vent windows 
Blackout curtains
Coat and keys hooks
6 x Tie-Down Hooks
Side entrance door w/window, sliding screen, and heavy-duty deadbolt, 
Rear hatch (26" x 46") w/white Board, roll-down screen, and 3 storage pockets
Fantastic Fan (galley area)
Rear Lounge/Bed area
2 side benches (26" x 78"), one with an underneath storage 
1 rear bench (removable) 
2 movable laminated swivel tables w/ aluminum pedestals) 
All convertible to:
King-size bed (82" x 78") or 1 single-side bed (41" x 78") and a bench
2 x 12V USB ports
Storage racks
Front Dinette
U-shaped dinette convertible to 43" x 78" bed
Swivel Table
Panoramic windows w/blackout shades
Under-bench storage (open area)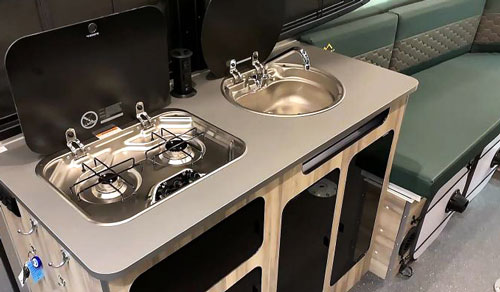 Galley with stainless steel cooktop and sink (both with tempered glass covers)
Kitchen/Galley
Stainless steel 2-burner LPG cooktop w/tempered glass lid
Stainless-steel sink w/tempered glass lid
4.3 cu. ft. 2-Way (12Vdc/110Vac) Compressor Refrigerator w/freezer
Cabinets w/Laminated countertop and storage compartments
Pantry
Flatware organizer
Pop-up 110Vac and USB power bar
Wet Bath
Porcelain Toilet w/foot-flush
Protected toilet paper holder
Hand-held shower w/shut-off valve and curtain 
Shelf for toiletries
Retractable clothesline
Tower bar/hooks
Ceiling air extractor
Window w/privacy curtain
Mirror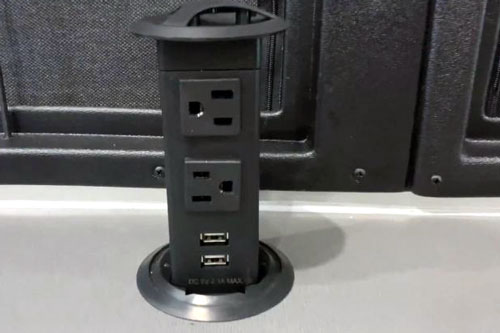 Pop-up power bar (galley)
Electrical
30 Amps Service w/20ft shore cable
2 x deep-cycle lead-acid batteries w/converter (AGM upgrade available)
Battery disconnect switch
12Vdc tank heaters
LED lights (interior, entrance …
LED exterior lights (tail, license plate, tank service
Solar pre-wire (rooftop and front access points)
Pop-up 110Vac/12Vdc power bar (galley)
12Vdc and USB ports
110Vac outlets (work only when trailer connected to the shore power) 
Controllers/Monitors (Hot water, hot air, tank heaters,)
City and freshwater hookups (the latter in locked compartment). On the right - exterior shower
Grey (left) and black (right) water tanks with drain
Water/Plumbing
Tankless On Demand LP/Electric Water Heater (part of Trauma Combi Eco-Plus Combo Heater w/7,500 BTU/h and 14,300 BTU/h operating levels)
City water inlet w/pressure regulator
Lockable gravity water inlet 
23 gallons Freshwater tank 
21 gallons Black tank w/flush system
28 gallons Graywater tank
Exterior shower w/hot & cold water
A/C Condensation Drain
Dedicated Sewer 20ft Hose Storage 
Tank Monitoring System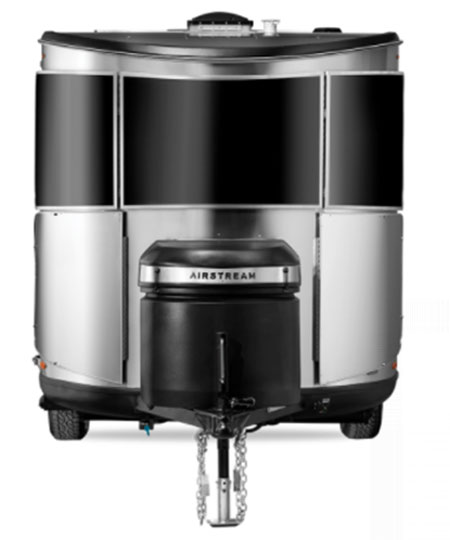 A-frame mounted custom, molded plastic LP box
Exterior
4 Manual Heavy Duty Stabilizer Jacks
Manual Hitch Jack
Steel, 2-step entry 
Custom, molded plastic LP cover w/storage tray (A-frame mounted)
Exterior, Quick-connect LPG low-pressure grill connection
Enclosed Aluminum, insulated and heated underbelly
2 x 20 lbs steel LPG tanks w/2-stage regulator
Lounge: under-bed storage
Storage
Under the rear lounge bench (camp-side)
Under the floor (next to rear hatch doors)
Under the dinette's bench (open area)
A-frame mounted molded plastic box (tray)
5 overhead storage racks
Storage compartments w/doors
Cupboards 
Exterior storage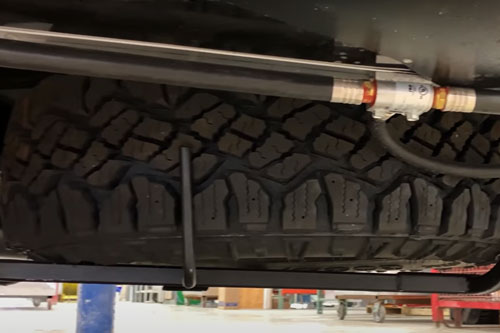 Underneath-mounted spare wheel
Safety
Full-Size Spare Tire
Fire Extinguisher
LP, Smoke & Carbon Monoxide Detectors
Built-In Winterization Kit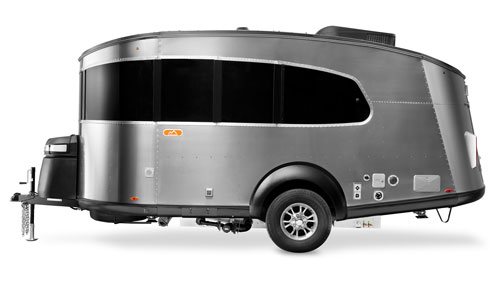 departure angle
Rear skid-guard protection
Off-road features ("X" package)
16" Goodyear® Wrangler® "DuraTracks" tires 
Stylized aluminum wheels 
Extra 3″ suspension lift kit 
raised hitch jack foot pad 
stainless-steel front rock guards
tinted window guards
Rear. underbody skid-guards
2-step entry
Fully enclosed tent w/Air-Tube Technology (attaches to the door-side of the trailer)
Rear departure angle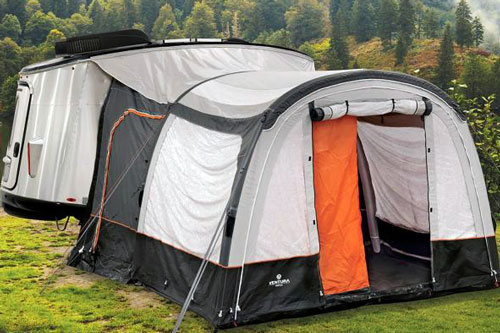 Attachable tent
Options
Microwave
2 x 90W solar panel w/solar charge monitor, controller and upgraded 2 x AGM batteries
13,500 BTU AC unit with Electric Heat Streep
Tent w/inflatable tube frame structure 
Closing notes:
Certainly, the line of Basecamp 16X and 20X travel trailers is a clear departure from Airstream's traditional, streamlined designs. But not only it doesn't miss much from iconic predecessors, but it rather adds a touch of elegance. I wouldn't mention here the aluminum-finished interior. For some, it may not be a favorite finish, but it's part of the package coming with every Airstream trailer....
It's worth mentioning that Basecamp 20X received the highest TRA Certification Rating (Green) for its energy efficiency and eco-friendliness.
Like all Airstream campers, it brings along a well-recognized name, good reputation, and coming with it durability. Unfortunately, these attributes do not come for free. Pricewise, the Basecamp 20X stays in the upper range of similar class travel trailers!
Go back to: --> Off-road RVs
Pictures are curtesy of Airstream
---
Note:  Check with the manufacturer and / or authorized RV Dealer for the up-to-date list of features, options as well as latest specifications. These written above may not be accurate and certainly are subject to change by the factory. We are not responsible for any inaccuracy, the above text is provided only for the general information.
This review was written based on publicly available information for the benefits of the community of RV-ers. We do not receive any gratification or financial benefits from RV manufacturers, dealers, and any other promoters of RVs. 
We are NOT involved in sale and/or retail of RVs!