Airstream Camper Trailer
Do you know that airstream campers are designed for best aerodynamic profile?

Characteristics
Just as the name suggests, the Airstream camper trailers have been created with the idea that they will move as fast and as smooth as air.
The company started manufacturing their camper trailers in the 1930s, when camping was becoming very popular, but when light travel trailers were rare on the market.
Airstream camper trailers have an aerodynamic design and a specific vintage look that make them stand out and that make them the favorites of many old timer lovers.
From the beginning of the 1930s up until today the airstream camper trailer was made and remade, getting better and better.
Today Airstream the company has reached its dream, manufacturing campers that move swift and that offer a great camping experience to all users. In the same time Airstreams were also made to be lived in, offering as much comfort as possible.
Models
Airstream Sport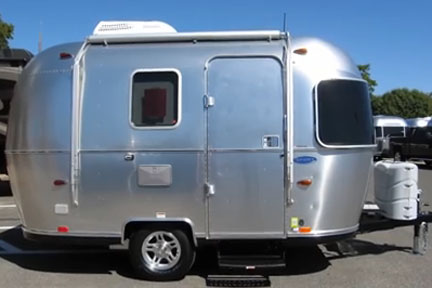 This camper trailer offers more comfort that many other trailers do which are twice its size. It is a compact trailer where you can sleep, cook, take showers and enjoy traveling and being in nature. Its size is what makes it the favorite of many who prefer a smaller trailer but they also would like to have comfortable travels. It comes with grey water tank, black water tank and fresh water tank. It also has water heater and air conditioning. It offers sleeping space for up to 4 people depending on the floor plan that you choose.
The exterior length ranges from 16'4" to 21'8" and the width from 7´3.25" to 8´.
The less expensive model of Sport trailer starts at around 42k$
---
Airstream Flying Cloud
May be it does not look as a "Cloud", but you may think it can "fly"

This trailer with modern design combines style with an easy to use construction. This is a practical trailer with lots of storage space and spacious areas for living, cooking and sleeping. It comes in various floorplans, offering sleeping space to 2-6 people. It is available in ten different floor plans, all of them with showers, bathrooms, dinettes and king size beds.
The exterior length comes in the range from 19'2" - 30'11" with the width from 8' - 8'5.5".
Price for Flying Cloud models starts at around 58k$.

---
Airstream International Signature
Both the exterior and the interior of this trailer is stylish, designed by a famous architect. The décor of the Airstream International Signature is just one feature that makes it stand out among other travel trailers. It has been designed to help people relax, enjoy traveling and live in a luxurious, modern atmosphere.
International Signature Trailers have enough capacity for 2 to 6 people and frankly, this series is becoming a very popular choice for a lot of RV-ers.
The exterior dimensions cover the same range as models of Flying Cloud series with length from 19'2" to 30'11" and a width from 8' to 8'5.5".
---
The International Serenity
These series presents top quality trailers with interior finished with "Eastern" accents representing traditional zen-based East-Asian values: Peace (of mind) and Serenity (hence the name).
The series of International Serenity trailers has sleeping capacity from 2 to 6 people depending on the model. The exterior length covers the range from 19´2" to 30´11" while the width 8´ to 8´5.5" range.
The models start selling at around 61k$.

---
The Eddie Bauer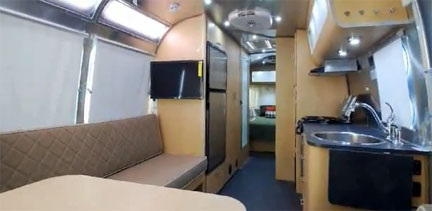 This series of trailers takes things to the next level of comfort allowing people to get more "customized" kind of accommodations with extras that are not included in the trailers we mentioned before. As the result, there is a luxury and comfort to be found in this particular series of trailers.
Models cover the range of external length from 25'11" to 28' and have fixed width of 8'5.5".
This is probably the series of trailers that sits in the middle between the affordable models and the extremely luxurious ones.
You can find the Eddie Bauer starting at around 84k$

---
Airstream Classic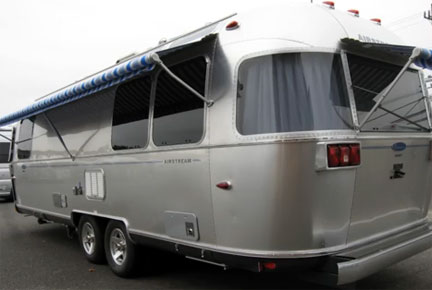 The Airstream Classic is the best example of a travel trailer that combines the vintage with the modern, and functionality with luxury. It has spacious living areas and even separate sleeping space. The interior of the travel trailer is luxurious and comfortable, where you will feel like at home no matter where you go. It also has a lot of storage space for longer travels.
It has fixed dimensions: exterior length of 31'3" and width of 8'5.5".
The Classic can be found starting at around 120k$

---
Airstream Land Yacht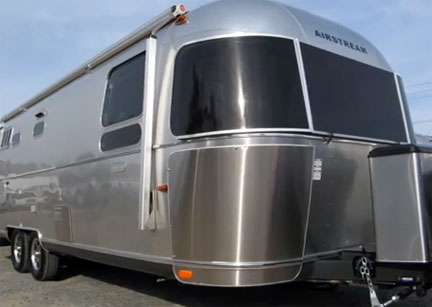 This is the ultimate trailer that you could purchase. Airstream created this to be the Titanic of the road with an exterior length of 28' and a width of 8'5.5". It has a sleeping capacity for 2 to 5 people.
The reason why this trailer is so special is simple – it's because of the large amount of features that it has inside. This is basically like stepping into a five star hotel room with a bathroom and a kitchen with full extras. If you are looking for a fully equipped and luxurious trailer this is the best you can expect to find.
This particular trailer starts at around 145k$

---
Custom Work

Those are the most popular trailers that are being sold by the Airstream Travel Trailers right now. People can also ask for a customized version that is going to be made with according to specific requests that people can make. The quality is always top regardless of the model you pick and you can expect the people at Airstream to always provide the very best for your investment.
You can contact Airstream at their website and they will be more than happy to answer any questions you might have about their trailers and the kind of specifications that each of their models has.
Summarizing: Airstream Classifieds is the perfect place to find your Airstream trailer, whether you are looking for something old, new, vintage condition or the latest model.
Presentation of 2012 Airstream International Signature 30' camper
---
Visitor's Story......
The Airstream camper trailer is said to be lightweight and easy to tow behind any vehicle. Up at Sturgis in South Dakota, they had quite a few of theses camper trailers and they look just as nice as all the rest of the campers.
Any camper whether a 1984 or a 1985 or newer can be more lightweight as innovations have allowed designers to make camper shells out of lightweight materials even though most of them are made of aluminum, not fiberglass.
Camper trailers that are lightweight travel better and the designers figured this out in the early 70's.
In early days, campers were made of different materials that added more weight after the already weight problem with accessories and customized interiors. Now the Airstream satisfies all weight needs and requirements. Travel to Tennessee and you see Airstream campers everywhere. These are popular camper trailers even in other states.
All you really need in a camper is the accessories and furnishings that allow for comfort. Some older models have had problems with separation of the chassis and the shell. These models were older than the 80's models. Other than that, I have not heard too many bad reviews of these popular campers. If you need more information, many websites have available information on various models and years.
If you find an Airstream camper trailer that needs a little work, you might just have yourself a good deal. These campers were made strong and at the same time lightweight. The interior is easy enough to customize to your tastes. Therefore, buy a camper of this type and fix it up the way you need it for camping. Camping and fun go together no matter what type of camper you take to the campgrounds. Enjoy the summer everyone.
 About Us / Privacy Policy / Resources
Go from Airstream Camper Trailer to Pop Up Campers Trailer Home
 Snowmobile Pull Behind / Pull Behind Campers