Beach Camping Tips - F
AQ's
Beach camping has its own rules but it provides both – relaxing atmosphere and all you need for adventure, just remember these tips…

No matter what type of camping shelter you use, from a tent to a luxury motor coach, beach camping is a unique experience.
We will answer the questions people have most often asked about beach camping.
Q: What do I need to bring when I go beach camping?
A: Most of the supplies and gear that one would bring camping anywhere else can be used for beach camping as well. But there are some things you will want for the beach that you won't use camping in the woods.
Q: Do I need to bring anything special for beach camping?
A: At the beach, especially an ocean beach, you will want to make sure you have sunglasses, sunscreen with at least an SPF of 15, a beach umbrella, blanket and plenty of drinking water.
Q: How do I protect our food fro sand when we are dining outside?
A: Go to the outdoor section of your home improvement or discount club store and get food tents preferably plastic ones. This will protect your dinner from blowing sand and/or insects.
Q: Can I drive my motor home on to the beach?
A: Most beach campgrounds have designated areas for parking your RV where any utility hookups are located. It is probably not a good idea to drive a large motor home onto the beach. There will be little traction and you may have to be towed out.
Q: Is it safe to take my kids to a beach campground?
A: As with any place you take your kids you must watch them carefully. Just to be safe, you may want to have the kids wear life jackets when they are near the water, this is no substitute for carefully watching them. If they are all very young, consider hiring a mother's helper to help keep an eye on them.
Q: Will salt water damage the paint on my mobile home?
A: It can, so you may want to hose your rig down every other day if possible. If that isn't possible take it to a truck stop and wash it there as soon as possible.
Q: Why do some beach campgrounds, like at Cape Lookout, N.C., restrict RV's access?
A: Cape Lookout is part of the National Park system and access to some beaches is restricted to protect the environment and wildlife.
Q: What kind of sports and recreational equipment should we bring? A: Again, this depends on the particular park or campground. Volley ball is very popular with young people on the beaches of Florida and California. Fishing gear is appropriate for all ages. Jets skis and water skiing are also very popular. If you have a boat and the campground allows it, cruise the area at your leisure.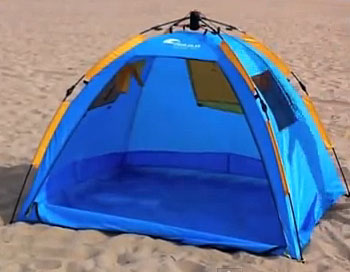 Q: Can I bring my dog to the beach campground?
A: At most campgrounds you can, but it is best to check with each campground you plan to use. Your dog must be under your control at all times and you must clean up after her.
Q: How do I get rid of my trash?
A: At most commercial campgrounds there will be a place to dispose of your garbage. However most state and national parks have a carry it in carry it out policy.
Q: Will there be utility hook ups at the beach campgrounds? A: Again it depends on the campground, check before you make a reservation. Most campgrounds do have water, electric and sewer hook-ups. Some even have wireless internet available.
Camping Parks in US,  Campground Parks in Canada

We hope that you will find the answers to your questions about beach camping and that you will give this kind of exciting camping a try. Load up your gear and head to one of the more than 500 U.S. beach camping parks.
15 Beach Camping Tips
For some people, going on a vacation can mean doing just one of two things—either to relax or go on an adventure. Well, if you prefer to enjoy both at the same time, you should go beach camping. The beach provides the perfect venue to unwind or take a dip, while camping is the perfect outdoor adventure. To make the most of your trip, there are some things you need to do.

1.    Choose a destination
The world has plenty of beaches, but not all of them would allow you to pitch a tent. So make sure you choose a spot that's perfect for beach camping.

2.    Ready the supplies
For a fun and worry-free camping, make sure you have everything you need—camping gear, kitchen supplies, bedding equipment, toiletries, first-aid kit and items for recreation.

3.    Get the car ready
If you're driving up to the campsite, make sure your vehicle is up for the trip ahead. Be sure to double your efforts to check and maintain your car to avoid road problems.

4.    Know who's coming along
If your children are coming with you, it's best to stick to short trips that will leave little room for tantrums. If it's going to be beach camping with friends, however, you can go crazy as to how far you will go.

5.    Prepare for the trip ahead
Weeks before the scheduled trip, make sure you know how to pitch a tent, or at least someone in the group does. It would also help if you or your companions know how to cook outdoors.

Once you reach the beach…

6.    Pick a safe campsite
Steer clear from dunes or cliffs as they're not protected. Your best option is at the rear of the trees or bushes that provide shade and protection from strong winds.

7.    Track the tide
Before choosing a spot for your tent, be sure to watch where the tide reaches. Make sure you'll well away from it if it rises. You don't want to be floating inside your tent, do you?

8.    Clear the site for the tent
Remove all rocks, sticks and other objects that might make sleeping uncomfortable. You should also choose a spot where water doesn't pool, in case of a downpour.

9.    Check sources of water
It's important that you have a source of clean water in the campsite, in case your supply runs out. If there's none nearby, find other options. Better yet, know how much water you need to bring along when you research about your destination.

10.    Put on sunscreen
These days, even sun worshippers know that UV rays are no longer safe. So make sure you lather on plenty of sunscreen when you're out on the beach. Remember to wear a hat and sunglasses as well.

11.    Follow warning signs
Signs are installed for a reason, so make sure you don't ignore them. Even if curiosity is eating you up, resist the temptation to venture to a site that's marked restricted or hazardous.

12.    Don't leave children unattended
Even if they're using floating devices, you still need to keep an eye on them. You'll never know when the current changes and carries them away.

13.    Keep everything inside
Anything you want to stay dry, you should take with you inside the tent. Fog and morning dew can wet clothes and other stuff.

14.    Don't litter
Dispose your trash properly to preserve the beauty and cleanliness of the beach camp. Bring garbage or trash receptacle, just in case.

15.    Don't destroy anything
Leave the site the same way it was when you arrived. Don't cause any damage and don't vandalize the area.

Got everything down? Good. Now, you're ready to go.



 About Us / Privacy Policy / Resources
Go from Beach Camping Tips to Pop Up Campers Trailer Home