Earth Traveler T250XL Specs Travel Trailers below 1,000 lbs
Ultra-light Earth Traveler T250LX: specifications, construction details, standard features, options, and more...
        The first part of this article provided detailed description of the overall concept of the Earth Traveler T250LX as well as the presentation of the latest model. The truth is that the designer (an company founder) Mr. Angel Irlanda came up with the truly braking existing standards and expectation model. Thanks to its hybrid design taking the best of Teardrop (hard shell and shape), pop-up (compactness and expandability), as well as Tents (low weight and modularity), the model T250LX starts with the Dry Weight of only 250 lbs, and believe or not, it provides the sleeping space for 2+2 family.....
You either go back to: --> Ultri-Light Earth Traveler T250LX
Or continue to specs and other technical details below.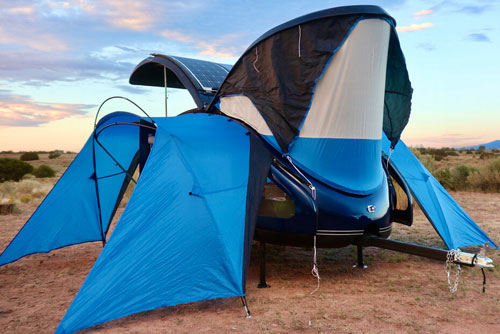 Fully expanded Earth Traveler T250LX 
Earth Traveler T250LX: View from the back
Specifications (T250LX)
---
External length
External width
External height
Interior length (1)
Interior width (1)
Interior headroom (1)
Exterior Length open (2)
Exterior width open (2)
Exterior headroom open (2)
Dry weight
Cargo
GVWR
Tongue weight (3)
Tongue height
Ground Clearance
Sleep


11 ft
5 ft
5 ft
10.5 ft
4.91 ft
3 ft
11 ft
11 ft
3ft -to-7.2 ft
250 lbs
850 lbs
1,100 lbs
35 lbs
15"
13"
2 adults + 2 kids
---
1. Road (closed) configuration, headroom at the maximum point
2. With deployed side walls and pop-up roofs
3. With standard features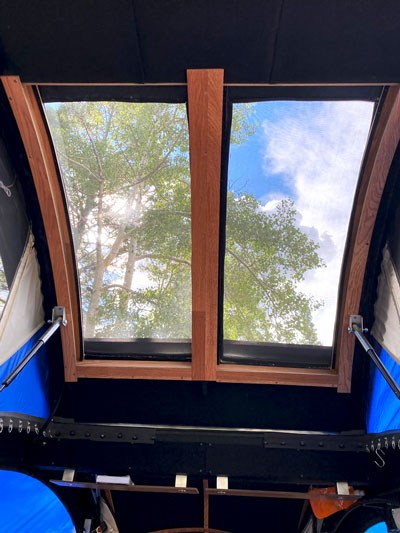 Earth Traveler T250LX: Skylight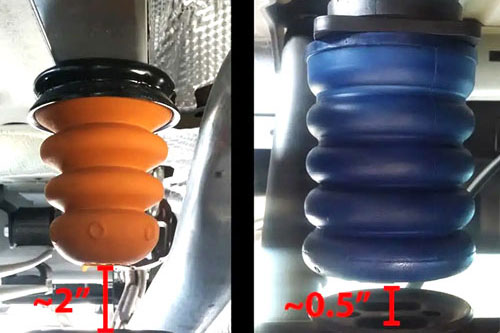 Left: traditional Bump Stops  , Right: SumoSprings Trailer Helpers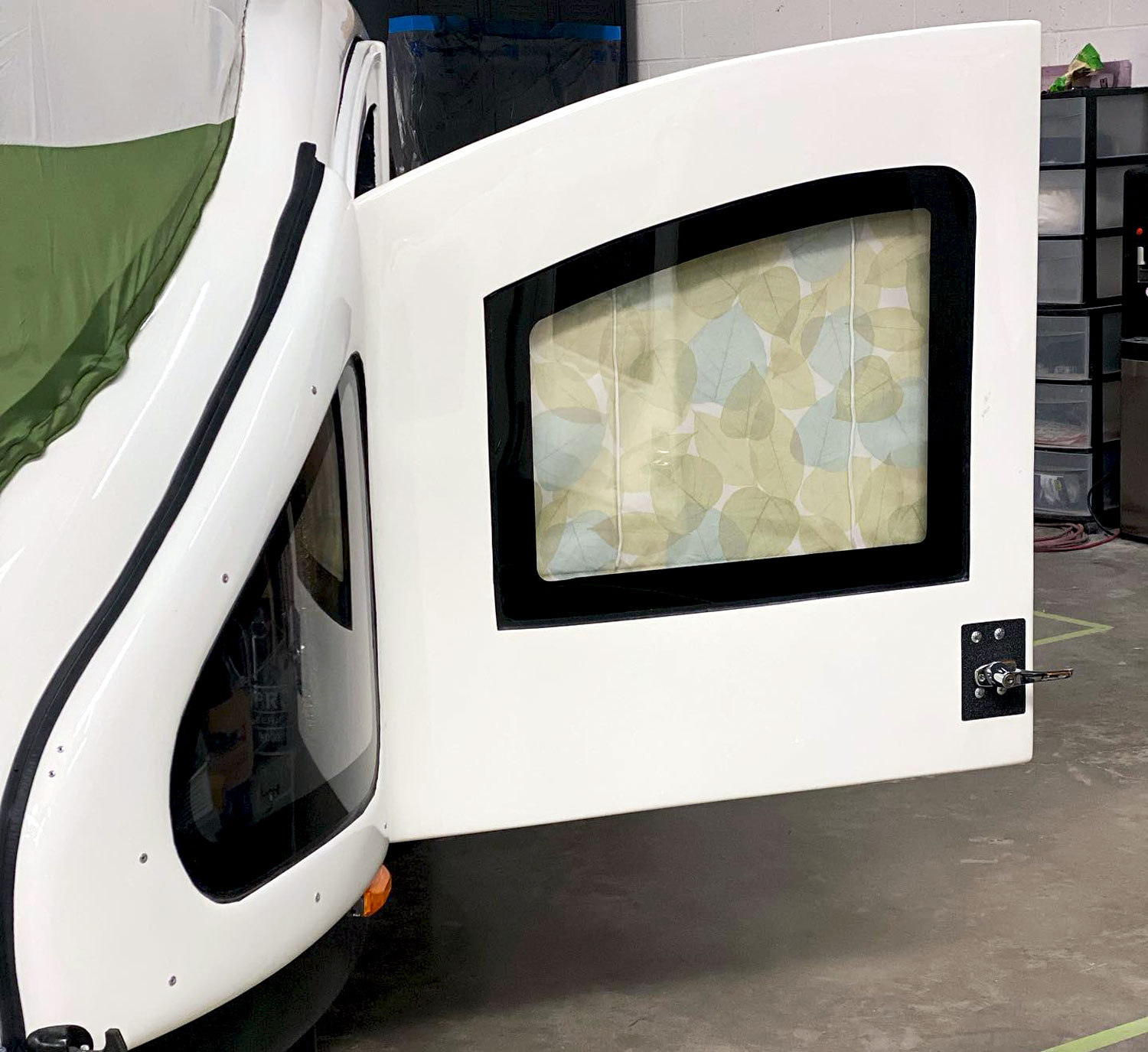 Earth Traveler T250LX: side doors are part of the folding-down wall.
T250LX Construction
Shell: Monocoque, 100% Kevlar/Carbon fiber
Structural Elements: Composite, Core-cell
Frame: Aluminum, (basically its a 36" long yongue)
Insulation: Ceiling and walls
Suspension: Timbren Axle-Less (1,200 lbs) w/ SumoSprings Trailer Helpers (2,000 lbs).
Wheels: Special-Trailer ST145/R12 radials w/aluminum rims (mounted with a 5 on 4-1/2 bolt pattern)
Doors: Two 28" x 28" (both sides) w/windows and curtains
Sidewalls: Two deployable 3' x 6' w/custom cots and side weatherproof tents
Roof: Two pop-up roofs on hurricane hinge w/waterproof, "Instant set-up" tents (front and rear).
Windows: Six (Two 28" x 21" front-side vented windows w/mosquito screens)
Skylight: Ventilated, 46" x 48" w/mosquito screen and blackout cover
Interior finish: Medium texture non-skid coating
Seals: Double Gasket on all openings
Hitch ball: 1 7/8" (or 2")
Standard Features
Earth Traveler T250LX: Interior storage (out of 3 sections, opened the "middle" one.
Interior Features

Two 72" x 21" x 4" outdoor lounge cushions
5 LED lights
5" deep under-the-floor storage compartments (10.20 cu.ft)
12" deep under-the-floor storage compartment (19.6 cu.ft)
50 lbs D-ring hangers throughout the interior of the main shell
6 Cargo D-Rings Anchors 233 lbs capacity
Two 6" x 24" top shelves
Two cup holders (front)
Window curtains

Earth Traveler bottle opener
Earth Traveler: here on 4 Stabilizer Jacks, lifted above the ground level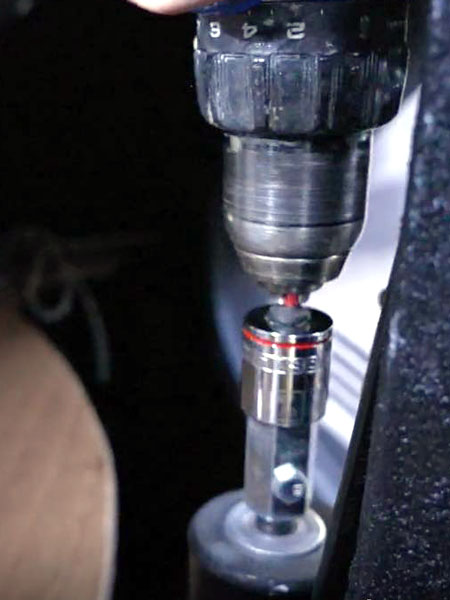 Earth Traveler T250LX: Stabilizing Jacks are sort of "Big Screws". Their position is adjusted by rotating (here by using the drill....
Exterior Features

Running lights DOT approved
24" x 4.25" portable 5.22-gallon water tank w/50 hose system
Front exterior universal chrome anchor point (500 lb max working load)
4 x stabilizing jacks
         Note that Stabilizing Jacks allow for lifting the trailer to the extent that you can even change the wheel. In practice, this offers better stability for the trailer on the campsite (especially with folded-down side walls doubling the trailer's width). Jacks are adjustable from the interior (either easily with a battery-operated drill or more "laboriously) with a hand tool).
Spare tire (kept in the under-the-floor storage)
Options
Folding, removable table (here inserted into the tongue holder)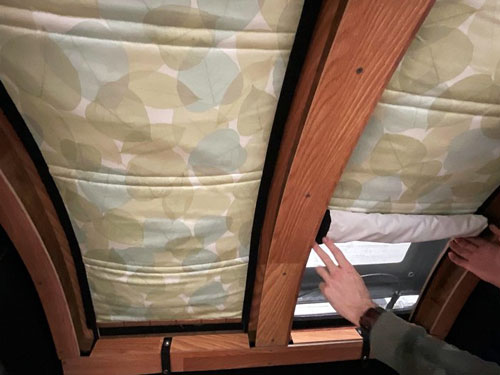 T250XL: Skylight with Darkening Shades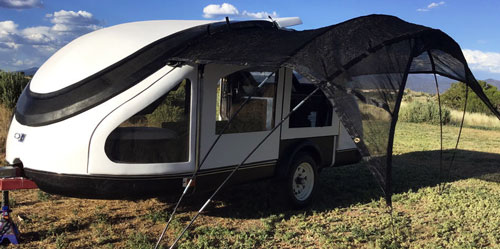 Earth Traveler T250XL: Here with Awning
Add-ons

While the company lists Pop-up Front and Rear Tents on the list of options, both of them are coming as part of the standard package. Both tents open instantly when the corresponding roofs are lifted, offering headroom of up to 7 1/4 ft high.
Similarly, while the Side Tents are on the list of options, both of them come as part of the standard package. However, side tents still need Rainfly tents to protect their mesh ceilings from rain. And it's not clear if Rainfly tents are included or optional.
UV Awnings (available as protection for both side-wall tents)
Skylight Darkening Shades Kit (22" x 44", top-down/bottom-up, made from aluminum)
Foldable and removable Table (for interior and outdoor use)
Propane tank storage compartment 17" L x 5" W x 7" H (located on the tongue, designed to fit 2 x 16 oz propane bottles for a small grill.
Clear Bra (It's a self-adhesive, and virtually invisible, clear-coated polyurethane film that provides the protection for trailer's paint finish, greatly reducing the damage caused by sand, gravel, dirt, and other road debris).
Interior Cot (adjustable height, 75" x 35" sleeping area designed for up to 300 lbs; it opens the floor area for the storage of extra camping gear)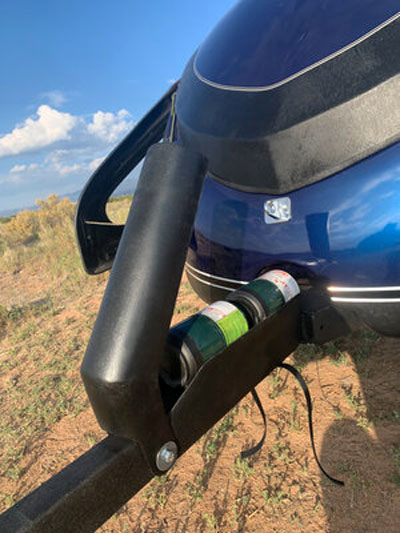 Tongue-located storage for  two 16 oz propan bottles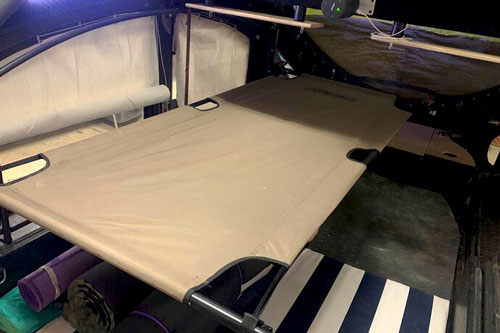 Earth Traveler T250XL: Interior cot rated for up to 300 lbs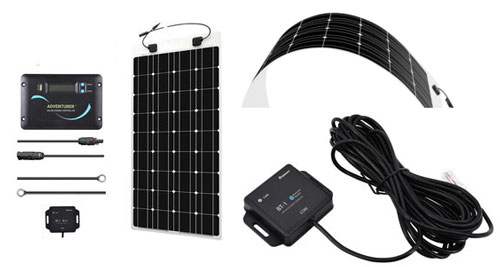 Solar Energy Kit
Accessories

Renogy 100W/12V Solar System including flexible Solar Panel(s), battery, 30A PVM Negative GND Controller w/LCD Monitor Screen, Adapter kit, Cables, and BT Module (Bluetooth Interface for remote control). It comes with full protection (reverse current, short-circuit, reverse polarity)
Tire Pressure Monitoring System (Bluetooth-controlled, vandal-resistant).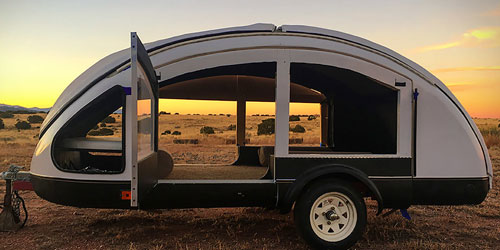 Earth Traveler T250XL: Even without "expansion" the shell is surprisingly spacious and thanks to 6 windows and skylight - "flooded" with sunlight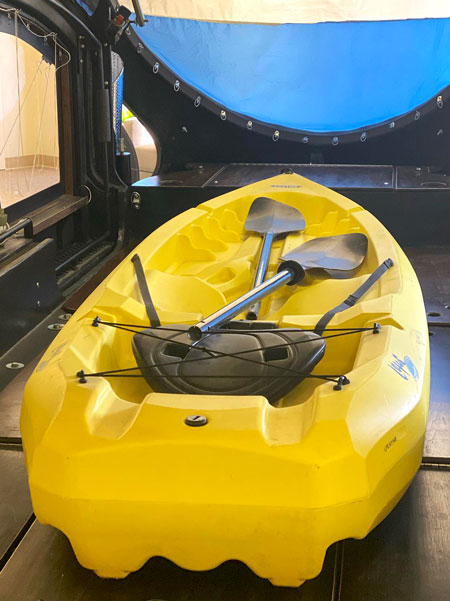 and you can take advantage of this space :-)
Summarizing: The Earth Traveler T250LX provides a weather-protected, large and comfortable, towable sleeping place for 4. But unlike typical travel trailers, with its dry weight starting at 250 lbs, it is "feather-like" light, so it can be towed by the smallest, fuel-efficient cars (including electric ones)! So, if Mr Irlanda's Fiat 500 could do it, you can also do it!
Go back to: --> Travel Trailers under 1,000 lbs
Unless otherwise stated, all pictures are the courtesy of Earth Traveler LCC
---
Note:  Check with the manufacturer and / or authorized RV Dealer for the up-to-date list of features, options as well as latest specifications. These written above may not be accurate and certainly are subject to change by the factory. We are not responsible for any inaccuracy, the above text is provided only for the general information.
This review was written based on publicly available information for the benefits of the community of RV-ers. We do not receive any gratification or financial benefits from RV manufacturers, dealers, and any other promoters of RVs. 
We are NOT involved in sale and/or retail of RVs!