Earth Traveler T250XL Ultralight Travel Trailers
Ultra-light Earth Traveler T250LX with its 250lbs dry weight, provides a hard-shell, weather-protected, expandable, and towable by small cars sleeping place for four.....
        Modern travel trailers are made from different materials, typically frames from metal, while shells and interior features, from a combination of metal, plastic/fiberglass/composite materials, as well as wood. Each of these materials offers specific advantages like mechanical strength, reduced weight, weather resistance, elegance, etc… and so most of us assume that's the only realistic solution.
However, as A. Einstein said:" Everyone knows that something can't be done, and there comes one who doesn't know that it can't be done, and he does it".

          This was exactly the case with Mr. Angel Irlanda (now, founder and owner of Earth Traveler LLC, Santa Fe, New Mexico). As the story goes (in his own words) - he had a frustrating tent-camping journey due to windy weather (In his case, it was the inability to find the travel trailer for the family of 4 that can be safely towed behind the literally "pocket-sized" Fiat 500). This bad experience motivated him to find a better solution and then - he made it happen!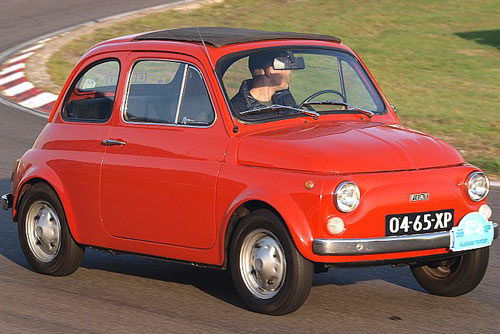 Knowing that this was Mr. Irlanda's towing car we can understand his proudness (Fiat500 was a "cult"), but also frustration when it comes to towing behind a trailer.
Here Fiat500, Version  USA (Source: Wikipedia, Author AlfvanBeem (Netherlands))
And his future "Solution" - Earth Traveler T250LX
He set ambitious goals, namely:

Ultra-lightweight travel trailer that can be towed by the smallest vehicles (his reference point was the Fiat 500)
Comfortable and easily expandable sleeping area for a family of 4 (2 + 2)
Basic Version with flexibility that allows the buyer to add options according to needs as well as towing capabilities.
      Implementation of radical changes requires "Out-of-the-Box" thinking. And truly, when in 2019, the first T300 Earth Travelers come out from the factory, they were clearly defying not only existing standards but also expectations.

From Tent to Towable Trailer
Earth Traveler: Vision
 ....   and here in the "Materialized Form" as T250LX, with deployed pop-up roofs and associated tents
 ... and here with folded-down sidewalls and associated tents (plus awnings)
How it all Began
        All non-structural elements of the T300 travel trailer were made from a resin-reinforced mixture of bird feathers and fiberglass. No wonder, the shell was not only "feather-light", but inherently, it had exceptional thermal insulation and good resistance to weather elements (no wonder – these are known characteristics of birds' feathers). This unique material also offered surprisingly good mechanical strength and was cost-effective.
For reliable and lasting design - all T300's load-bearing components were made from traditional composite core-cell materials. The result was astonishing: the T300 weighed only 300 lbs (136 kg), while its mechanical robustness allowed you to take it also on off-road journeys. Given these characteristics as well as its size and sleeping capacity, it left the competition far behind.
      But this was still not enough for Mr. A. Irlanda and his team. Soon after, he came with an even lighter version of Earth Traveler: T250LX. It shares the physical characteristics of T300 (overall concept, shape, dimensions…), but as its name suggests, it weighs only 250 lbs (113 kg).
This time it was achieved by replacing feathers, resins, and fiberglass with a more advanced composition of Kevlar fabric weaved with carbon fiber (while keeping core-cell for load-bearing components).

To give you a better perspective, here are a few words about carbon fiber, Kevlar fabric, and Corecell.
Carbon fiber is made from thin, twisted-together synthetic filaments of crystalline carbon. It is about five times stronger, twice stiffer, and significantly lighter than equivalent steel. Molded into carbon-fiber-reinforced plastic, it is used in modern aerospace (airplanes' body and wings), and automotive industries). But there is a major catch – it's rather an expensive material, which has a clearly visible impact on the price of T250LX.

Kevlar fiber is made from thin, twisted synthetic filaments composed of carbon and nitrogen atoms. It's lightweight and has high strength and sturdiness, but it's also very flexible, so it can be significantly stretched without breaking. For that reason, it is a material of choice for bullet-proof products.
The combination of Kevlar and Carbon fibers offers the best of two words: High strength, lightweight, corrosion, fire and weather resistance, as well as (thanks to Kevlar) – dent/shock endurance.
Corecell™ is a structural foam core material based on SAN (Styrene AcryloNitrile) polymer characterized by high toughness and impact resistance. Typically, it's used for the construction of high-performance structures.

Earth Traveler Concept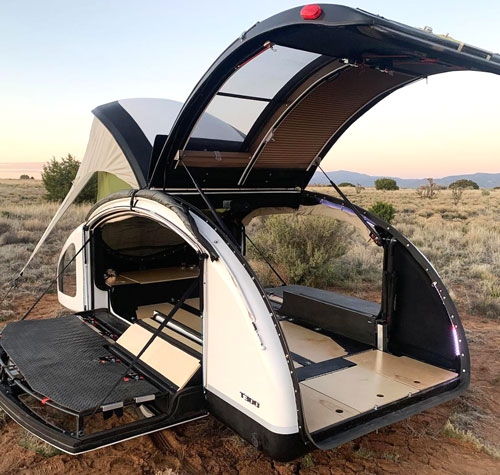 Earth Traveler T250LX: Popping-up roof (front and rear) and folding down side walls are significantly expanding usable space
          Both models (T300 and T250LX) represent hybrid designs, combining the key elements (and coming with it, benefits) of Teardrop, Pop-up, and Tent(s). Namely, the weather-resistant hard shell as well as its aerodynamic shape enhanced by a "flattened" front-end (Teardrop), compactness on the road, coming with effortlessly expandable space on the campground (Pop-up) as well as low weight and flexibility of tents.
For simplicity, throughout the remaining part of this article, we will focus on the newest and lightest model – T250LX. Note, however, that in the meantime, the T300's shell also underwent modifications. According to the manufacturer, the new monocoque shell is entirely made from Fiberglass Composite materials (without mentioning feathers). This most likely had an impact on the weight (now starting at 400 lbs/182 kg) and price ($+)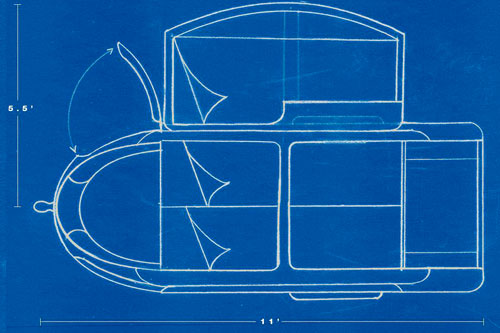 Earth Traveler T250LX (Campsite Configuration): Footprint with an opened front door (access to the storage), and folded down curb-side wall... (the street-side  footprint is a symmetric image of the curb-side one) 
        The Earth Traveler shell itself is built as a "one-piece" (monocoque), self-supporting structure (the frame exists only in a very shortened form, and basically consists of the tongue). Each section of the trailer's roof (front and rear) pops up independently, creating this way generous headroom (up to 7.25 ft). They act like sort of "hatchback" doors, - once lifted, they allow you to freely (and comfortably) stand up inside the trailer. Gas struts make the lifting process effortless, while the aluminum Hurricane Hinge (w/built-in rain gutter and vinyl trim insert) promises good reliability and waterproofness. Both - front and rear sections are factory-equipped with a tent, "automatically" unfolding when the roof is lifted. Tents provide weather protection and privacy.
        In the same spirit, each sidewall (curb and roadside) opens down expanding this way the interior space. Thanks to their structural strength and support, these drop-down walls can be used as extra sleeping space for kids (in practice, possibly even for adults). To make it easier, each side wall comes with a custom tent. Given the fact that the interior of the trailer has enough space for two (it comes with two 72" L X 21" W x 4" H lounge cushions), altogether the Earth Traveler can sleep up to four adult persons.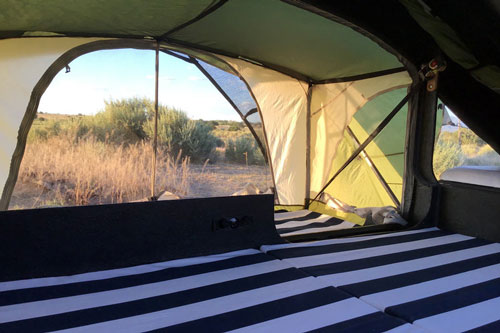 Ultra-Light Earth Traveler T250LX: View from the inside w/folded-down side wall, as well as deployed side tent and Rainfly.
          Because the numbers are more convincing than words, here is the picture:

The width of the trailer increases from 5 ft (in road configuration) to 11 ft (once the trailer is open).
The Interior headroom increases from 3 ft to 7.25 ft once the pop-up roofs are opened.
The external length of 11 ft does not change!
        It's worth noting that you can access the interior of the trailer even when both side walls are in their closed (road) configuration. For that purpose, each side wall includes a large 28" x 28" door. Additionally, at the front of the trailer, on each of its sides, there is a small door to access the spacious under-floor storage (12" deep, with a capacity of 19.6 cu. ft).
The bottom line is - While the T250LX is designed for up to 4 persons, thanks to its "adaptable" design and incredible towability by almost any car, it will also greatly serve a single person, and/or a couple.

Suspension:
           The Timbren Axle-less suspension is part of the strategy to keep the trailer's weight as much down as possible. It's an independent suspension with all its advantages especially seen when driving on bumpy terrain. According to the manufacturer (Timbren) – "The 1200 series of Axle-Less trailer suspension is not only durable but also provides a ride that's so smooth you will forget you are pulling a trailer…. Its benefits have more to do with what isn't there than what it is"!
       To make the ride even smoother and "well-controlled" (especially in an off-road environment), the suspension is assisted by SumoSprings Trailer Helpers. Made from micro-cellular urethan, they are designed to be compressed, to absorb the impact from the trailer's body earlier than traditional Bump Stops. The compression process is adaptive, in the sense that increased load progressively increases their firmness. They greatly help to absorb bumps, and shocks, as well as minimize sways with a clearly visible effect – a smoother, more comfortable ride, and improved safety.

Timbren Axle-less suspension (this one supports up to 1,200 lbs load)
Tires
            Earth Trailers come with ST145/R12, load range E tires on aluminum wheels. ST stands for Special Trailer which means that they are optimized for trailers. Their design takes into account the fact that trailer tires are not exposed to friction caused by braking and steering, so they do not require the same level of traction as traditional tires. This, in turn, allows for optimization of the design for a lower-stress environment (different orientation of metal radial cords compared to traditional tires, a different profile of tread, etc… (however, as a result, they cannot be used for cars and light trucks). But do not worry, ST tires will do an excellent job for trailers. They are praised for their durability, lower rolling resistance and heat buildup, longer tread life, as well as good handling on the roads.
Load Range E defines the tire's load rating, in this case, it's up to 1,520 lbs/per tire at 80 psi.

"Luxurious" Towable Upgrade from Tent
Earth Traveler T250LX: Interior
Earth Traveler T250LX: Interior
Standard Features
            To make it clear – the Earth Traveler concept represents a "luxurious" upgrade from the traditional tent. But let's make it clear, in this case, the "luxury" only means that you have:

Solid weather-protecting walls and a roof with a sort of "Spartan" interior, offering sleeping space for 2 persons (interior is about 58"-wide, and comes with two 72" L x 21" W x 4" H outdoor-rated lounge cushions);
Effortlessly expanding (up to 7.25 ft) headroom for more comfort.
Easy side-wall expansion to provide 2 more, above-the-ground, tent-based sleeping areas w/ custom cots.
Towable, feather-like weighing shelter (starting at 250 lbs), that you can safely (and fuel-efficiently) tow behind a small (potentially electric) car.
When it comes to "extras" – note 5 LED lights, two 6" x 24" top shelves, and two cup holders at the front, as well as a handy, foldable, and removeable table.
Everything else depends on the towing capacity of your car and your imagination. It's because with the trailer's Dry Weight of just 250 lbs, you have up to 850 lbs available for cargo (it's almost 3.5 times more than the trailer's dry weight)!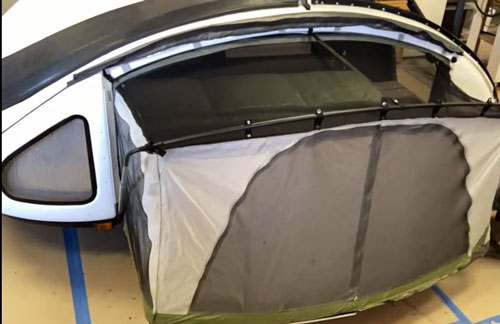 Ultra-Light Earth Traveler T250LX: Deployed side-tent (note its mesh-ceiling necessary for good ventilation)
Ultra-Light Earth Traveler T250LX: Rainfly is necessary to protect the side-tent from the rain....
          As mentioned above, spacious under-floor front storage (12" deep, with a capacity of 19.6 cu) is easily accessible through the front side doors. Another one (shallower, 5" deep with a capacity of 10.2 cu. ft) is located under the floor along the length of the cabin. It is accessible from the doors on both side walls and from the back.
Additionally, the interior cabin is factory equipped with D-ring hangers throughout the interior of the shell (each rated at 50 lbs), and six, Cargo D-ring Anchors with 233 lbs capacity to secure any larger and heavier camping gear when on the road (note that the proper distribution of cargo and securing its position against displacement is crucial for the safe towing).
"Spartan"-like interior does not mean it's rough and "cold" with an impression of being "unfinished". Just the contrary, you will find that exterior elegance extends also to the interior. The opening skylight (46" x 48") and six large side windows not only let sunlight infiltrate the interior but also create an inside-out "connection" with the outdoors. In other words, inside the weather-protected space, you will still feel like camping under an open sky and in touch with Mother Nature.
The pop-up front and rear tents offer generous (up to 7ft 3") headroom so you can easily stand up with all the necessary privacy you may need. All ventilated windows (including skylight) come with insect nets so you can keep them open allowing for a free airflow across the shell (obviously, traditional nets in pop-up tents add their contribution to the ventilation process).

Options
As Mr. Irlanda said (company founder and owner) said:
"Since cars vary significantly in their power and tow capacity, I designed the Teardrop Trailer interior with a semi-modular concept for the planned amenities to keep the weight at a minimum and avoid unnecessary add-ons that could compromise the weight. In this way, customers could customize their Teardrop Trailers according to the capacity of their vehicles."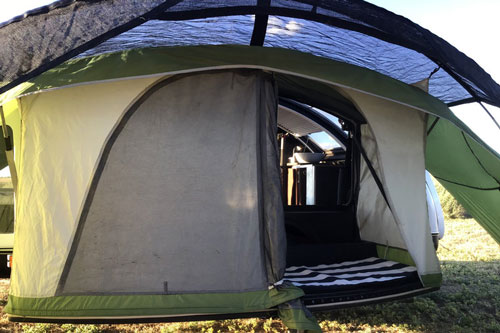 Ultra-Light Earth Traveler T250LX: Here with the UV-protecting awning
           Following this philosophy, the list of Options (Add-ons and Accessories) is quite long and gives the customer a chance to optimize the basic version of the Earth Traveler to his/her individual needs.
The list includes many items, here mentioned only these increasing camping comfort (the full list is available at the end):

Awnings offering protection of side-wall tents from sun radiation (UV and heat).
Height-adjustable interior cot offering 75" x 35" sleeping space for a person of up to 300 lbs, "floating" above the trailer's floor. It opens the floor area for storing extra camping gear.
Skylight Darkening Shades. While watching the starry sky, may be very romantic, sometimes we may just need "darkness" to isolate ourselves from the surrounding world.
Foldable and removable Table. It's small, by certainly handy inside the trailer (where it can be "inserted" in a few places). But you can also use it outdoors after inserting it into the special holder" on the tongue.
Propane tank storage compartment 17" L x 5" W x 7" H (located on the tongue, designed to fit two 16 oz propane bottles for a small grill). Obviously, a hot meal in nature is always welcomed!
Ultra-light Earth Traveler T250LX: Flexible solar panel
Accessories

Renogy 100W/12V Solar System. It's the whole package including all you need to generate, store, control, and consume about 100W of solar power. Thanks to a Bluetooth interface, you will even be able to control it from your mobile phone. Easy to install on the roof (it's also a safe way to transport the panel), but I guess you can use it also as a portable one. Another important note – it comes with full protection against mistakes …. (To be seen – as my friend used to say: "We can always make it worse" 😊
Ultra-light Earth Traveler T250LX: Aerodynamic shape creates the downward force increasing trailer's stability on the highway...
Safety
           One of the problems of ultralight travel trailers is their stability (and coming with it safety) on the road (especially on highways at higher speeds). In the case of Earth Travelers, it is achieved by design, namely:

Shape of the Frontal hood
        When towed, the air flowing over the trailer's "flattened" nose creates a downforce, keeping it firmly on the road.

        Earth Travelers have a low center of gravity (at least in their "Dry Configurations). Basically, most of the trailer's mass is located at the floor level, while the upper part consists only of an ultra-light shell and empty space (air). That's why Earth Trailers are inherently more stable not only on highways (high speed), but also on bumpy roads.

To continues to Specs, Construction details, list of Standard Features, Options and Accessories go to:
--> Earth Traveler T250XL Specs
or, go to --> Ultralight Trailers Trailers under 1,000 lbs
---
Unless otherwise stated, all pictures are the courtesy of Earth Traveler LCC
Note:  Check with the manufacturer and / or authorized RV Dealer for the up-to-date list of features, options as well as latest specifications. These written above may not be accurate and certainly are subject to change by the factory. We are not responsible for any inaccuracy, the above text is provided only for the general information.
This review was written based on publicly available information for the benefits of the community of RV-ers. We do not receive any gratification or financial benefits from RV manufacturers, dealers, and any other promoters of RVs. 
We are NOT involved in sale and/or retail of RVs!