EZ Pop Up Tents
EZ pop up tents are a brand of tent-like shelter made of canvas and fabric with purpose to provide shade and protection from rain...
They are great for camping trips, craft shows, wedidngs and tailgating.
It only takes few minutes (or less if you did it already few times) to set up this pop up tent.
This is due to the fact that EZ-pop-up tents' frame usually comes assembled so all you have to do is to expand the canvas of the tent.
They are built with an aluma-steel frame and a weather resistant polyester top which makes them very durable shelters perfect for any situations where you may need a shelter. Usually EZ-pop-up-tents are available in five sizes and many different colors.  Additionally they may have optional add-ons-sidewalls and half-walls, rain gutters and custom graphics.
This type of pop up tents is especially great during hot summer days since they can help protect from the exposure to sun. No wonder, they are often seen at the beaches, in the parks, at festivals run in the nature. Most vendors use these tents to highlight their products at trade shows.
Thanks to their easy use and light weight, EZ tents are very popular.
So if you are planning to organize a party or any kind of event, these tents are the perfect choice since you can set up several of them in just a few minutes. Since they come in various sizes, EZ tents may suit different occasions.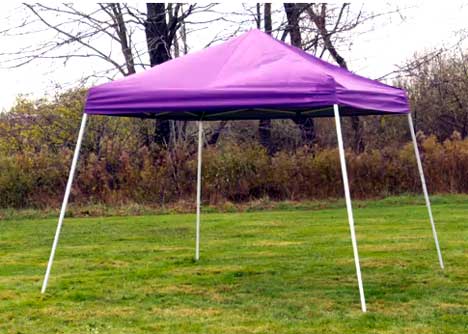 EZ Pop-up Tent by ShelterLogic

Instruction how to set up EZ pop up tent:1.    First you have to find a smooth, flat site where you will set up a pop up tent. Make sure that rainwater doesn't collect at that spot. Clear away all the rocks, sticks and debris. Make sure that there aren't any branches or power lines to touch the tent.
2.    Pull the ends of the frame apart until it is fully extended. (ypu may need an extra pair of hands for that);
3.    Place the canvas over the extended frame. Align the strips and secure the top to the tallest trusses. Attach the strips to the outside corners of the canopy.
4.    Take the diamond-shaped part of the trusses on the bottom and on the top and push hands together while lifting the canopy. In this way, you will open the frame. Keep walking backward until the canopy is fully opened.
5.    At the each corner of the canopy, there is a snap button, which you should push up into position until it locks into place. Apply this step until you have secured all the corners.
Although they are very useful and functional items, EZ pop up tents are vulnerable to wind so if the wind starts to blow you will have to take down the tent in order to avoid any damage.
....actually few "motion pictures" are much better than words, so let's witness the process of setting-up the EZ tent.

---
You can get a two man or a four-man tent that usually fits one to two people and their belonging comfortably.
Back in 1983, we bought a little one-man tent for our dog Kelly. She would go in there whenever she was bored or just needed to get away toy her own safe place. We always had people stopping by and she would try to get away and hide.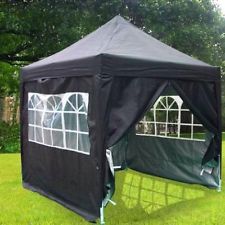 EZ-pop-up tent (Gazebo style)

After we bought the tent pop up she called that home and never again tried to crawl under our popup trailer for hiding. Buy 1984, we had another dog and decided she needed her own space as well, so she got a pop up tent as well.
She was as happy as could be with all her toys and her food and water. We travel all over the country and see many people who use these tents for dogs and the kids. It gives them a place all their own and they can invite friends over and not clutter up the camper.
You see many of these tents, but I never seen so many as I seen in West Virginia or maybe it was Washington. Well one of those states, they were all over. People had them for the kids, the dogs and just for keeping their belonging in as well as firewood unbelievably. One family had five kids and a dog; they all had their own little pop tent to call their own space.
The Ez pop up tent was designed for hikers in mind, but today people find many uses for them and they are easy to store and fold away to a small little package that fits nicely in the trunk or under the bed in the popup trailer.
 About Us / Privacy Policy / Resources

Go from EZ Pop Up Tents to Pop Up Campers Trailer Home

Pop Up Tent Campers Trailer / Pop Up Camper Offroad 
Camping Parks in US,  Campground Parks in Canada