Kelly Blue Book Value Horse Trailer
Use the Kelly Blue Book to determine the market value of Horse Trailers.
      The Kelly Blue Book is used all around the world by people who own cars to determine their true value.
Even though most people think that this book is only made for helping to estimate the price of a car, it has information about many other vehicles including horse trailers.
However, before going further, let's see some basic information about horse trailers, so you will be better prepared to open relevant Kelly Blue Book's "pages".... 
        The last decades brought unprecedented changes to the RV industry, due to new trends as well as growing expectations within the community of RV-ers: The two most important changes seem to be:

Turning attention from crowded campgrounds to Mother Nature
And as a result:

Exploring unbeaten paths in higher comfort than hiking with a backpack.
      In a way, it's a return to the not-that-remote past when backpacks and tents were dominating adventures to nature, this time however, by taking advantage of new means of travel made available by relevant industries. No wonder, these days, the RV industry offers countless versions and models of (extreme) off-road (and off-grid) travel trailers. Also, mountain bikes became a mandatory part of the camping gear package taken on journeys into nature. And recently, one more "stub" of this new trend is also taking over – I would call it a return to a more remote past dominated by "Journeys on the Horse's Saddle". For that to happen you will need the Horse Trailer. 
Vintage Horse Trailer (Source:  desertclassics.com)
It shouldn't be surprising to see that modern-day horse trailers underwent a similar transformation as the whole RV industry.
        The most important characteristics defining a modern Horse Trailer are:
a) Capacity and Size (1 vs 2 horses)
We will focus here only on small-size horse trailers used for recreation (compared to models used for commercial-scale transport).
Note, that horses will not appreciate dark, confined spaces (especially on bumpy roads). And to enjoy your Horse-Saddle trip, you need a "friendly" horse instead of a scared, and anxious one!
Also, if you are not a "Lonely Adventurer", it may pay off to purchase a 2-horses trailer….
b) Configuration
Two dominant configurations for horse trailers are Bumper Pull and Gooseneck. They define requirements for towing vehicles (in short words: SUVs or flat-bed pickup trucks). The first configuration is less expensive but more difficult to tow. The second one makes the towing experience easier (for both - driver and horse), but at an extra cost!
Rarely, for larger horse trailers the well-known "Fifth Wheel" configuration is also used.
Bumper-Pull horse trailer with a classic tongue (Source:   East Coast Horses
c)  Stability, weight, and towing requirements
Horse-based adventures will lead you far from highways. It doesn't mean that your horse trailer must be ready for extreme off-road conditions (possibly, your towing car and horse trailer may take, but I doubt the horse will!). It means, however, that it should be ready for unpaved roads.
Note that the two-axle Bumper Pull trailer will be more stable than the single-axle one.
d) Horse loading
The most popular is "Straight Load" and "Slant Road". The first one is typical in trailers for 1-to-2 horses. They walk straight into the trailer and during travel face the driver. Trailers are usually longer, but narrower. The loading method follows a "Walk-In, Back-off" procedure. This is a "weak spot" of straight-load trailers because you have to "convince" the horse(s) to walk backward.
Slant Loading is a dominant design for larger trailers transporting several horses. Horses are standing at an angle position compared to the travel direction, so you can pack more of them and easier unload them ("Walk-in, Walk-out" process). But there is a catch – the unloading process is based on the "First-In, Last Out" basis, instead of "As-Needed".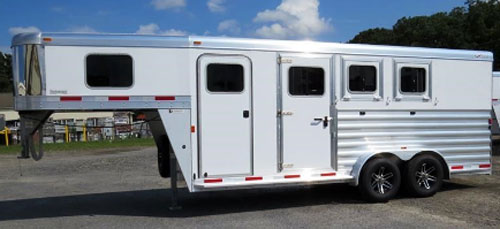 Gooseneck-type horse trailer (Source: Crossroads Trailer Sales Inc.)
e) Safety of horse(s) on the road
You have to take into account that in contrast to recreational RVs (and travel trailers), where you can lock cabinets, drawers, and tight the gear, the horse wouldn't appreciate such safety measures. On the other side – you want to bring it to your destination in a good (and ready to "use") shape. That's why the horse trailer as well as your driving skills must guarantee that the horse will not come out from the trailer like from the boxing or bull ring!
f) Configuration, living quarters, and amenities.
It's a difficult decision. If you consider 1-day adventures, then you can save on large and costly horse trailers with leaving quarters and required amenities (note that in such cases you may also need a suitable towing car, which will largely increase the initial cost).
Keep in mind, however, that shorter (2-3 days) "Saddle Trips" can be comfortable enough with a rooftop or a classic tent. Such a solution will make saddle trips affordable for many nature-&-horse lovers.

Summarizing: Horse-Saddle-Journeys open the doors to imagination. You will not have to follow existing paths, instead, you may go where there is no path. In other words, it's much more than an Extreme Off-Road trip, it is a "No-Road" one!
Kelly Blue Book
These days you will find many websites giving you access to the requested information. However, the Kelly Blue Book is the one with  the reputation built over years of serving customers....   
       Determining the value of a horse trailer can be quite difficult. Often the price depends on the seller and not on a standard value. Because of this very often purchasing a horse trailer can be a lot of trouble, especially if you don't know much about them.

In order to have a safe and pleasant shopping experience, you should buy a Kelley Blue Book before you buy a horse trailer. Without a book such as the Kelley Blue Book you can easily be cheated if you are planning to buy one, or get a bad deal if you are planning to sell one. This is why you should study carefully a Kelley Blue Book for horse trailers before you buy or sell anything.
The Kelley Blue Book for horse trailers has been made to make the horse trailer business much easier for each side, both the buyer and the seller of the trailer. For more than 75 years, the Kelley Blue Book has been providing reliable information and helping owners of vehicles determine the value of their cars, trailers, motorbikes and campers.
There are some other books as well where you can find information about the value of a horse trailer, but non of them are as easy to use and as reliable as the Kelley Blue Book. On the internet there is not much useful information, and in general people don't know a lot about these vehicles.
Before the Kelly Blue Book standardized the value of a horse trailer, people were on the mercy of sellers and dealers, or they could spend hours looking through the yellow pages and comparing prices to come up with an estimate.
Using the Kelley Blue Book to determine the value of your horse trailer is easy. You can do this by looking at the manufacturer, the model and the year of making of the horse trailer. Besides this the book also takes other information into account, such as the mileage, the condition and other information about the horse trailer.
In the end the book gives you the value according to the characteristics of this vehicle. This is not only useful if you want to sell your horse trailer, but also if you want to compare prices and gather information before deciding which horse trailer to buy.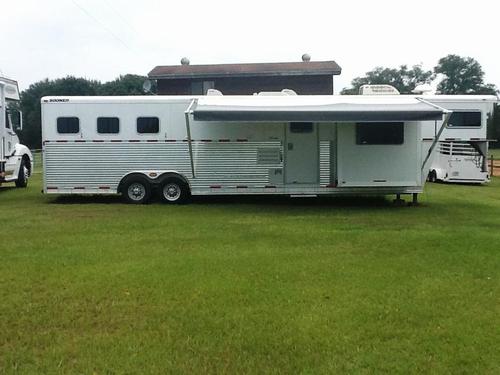 ---
Conclusion
While Kelly Blue Book is a reputable resource for determining the value of cars and trucks, it may not be the best option for determining the value of a horse trailer. This is because horse trailers are a specialized item and their value can vary significantly based on factors such as age, condition, size, and features.
Instead of relying solely on Kelly Blue Book, it's a good idea to do your own research and check multiple sources to determine the value of a horse trailer. You can check online marketplaces, dealer listings, and classified ads to get an idea of what similar trailers are selling for. You can also consult with professionals in the equine industry, such as trainers, vets, and other horse owners, to get their opinion on the value of a particular trailer.
In short, while Kelly Blue Book can be a helpful resource, it should not be the only source you rely on when determining the value of a horse trailer.
Visitor's Story
Although horses are not the average family's pet, there are a number of people who rear horses both as pets as well as for racing purposes.

Especially those that live in the country side have a special interest in raising horses for a variety of purposes. When the horses are raised as pets, they do not need to be transported often. However, if they are used for commercial purposes such as racing, then they would have to be transported to and from.
In order to take care of their safe transportation, a good horse trailer is necessary. The trailer would not only help transport the horses from one place to another efficiently, but protect them safely from hazards during transportation.
Horse trailers come in a variety of configurations. They are available in different shapes, sizes and builds. Most of them can be towed using a variety of different vehicles including a regular family car. However, you need to understand that towing any load places a burden on the engine. So you need to choose a car that can adequately handle the load.
A load that is heavier than the towing vehicle itself can lead to instability on bends. So you need to choose an appropriate vehicle for towing based on the size and weight of the horse trailer. The Gross Vehicle Weight Rating would be the number that you need to look up when deciding on the tow vehicle to use.
Every vehicle manufacturer would publish a vehicle tow guide, which is normally available at every dealership. You should always get a printed copy for your vehicle from your dealership if you are planning to use any kind of trailer for your vehicle.
You can also use the Kelley Blue book as a price list guide for determining the price of the horse trailer. The book also has pricing information on new cars, old cars, motorcycle and even RV's pricing.
 About Us / Privacy Policy / Resources
Go from Kelly Blue Book Value Horse Trailer to Pop Up Campers Trailer Home
 Kelly Blue Book Boat Values / RV Values Kelly Blue Book / Kelly Blue Book Travel Trailers / Kelly Blue Book Canada /  Kelly Blue Book for School Buses / Kelly Blue Book Fifth Wheel / Kelly Blue Book Camper