Kwik Kampa 2
Ultralight Xpedition camper
The agility and 1 minute set-up time make this almost indestructible ultralight travel trailer perfect for extreme adventures on unbeaten paths…
      Kwik Kampa-2 is the second-generation camper trailer designed by Phil Savory, founder, and owner of Stockman (Melbourne-based Australian manufacturer of ultralight travel trailers). In Phil's words, it's an almost indestructible, multipurpose travel trailer that can be towed by any car. Basically, whenever the towing car can go, the Kwik Kampa-2 will follow…..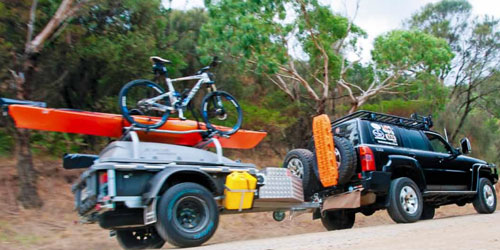 Kwik Kampa 2 on the move (above) and closer look-up it (below). Visible LPG tank holder.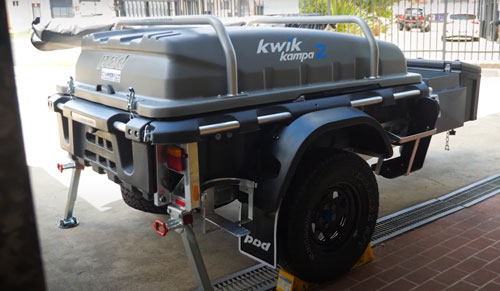 Pod Structure
       Stockman makes 3 versions of pods: Pod Trailer, All-Roada and Extreme Off-Roada. The main difference between them is the suspension, designed correspondingly as "four-leaf slipper springs" for beaten roads, "fife-leaf eye-to-eye springs" for off-road, and "Cruismaster independent coil-spring" for extreme off-road conditions.
The pods are made from rotomolded recycled, UV-stable polyethylene. The 0.28" (about 7 mm) thick structure (tub and lid) is robust but lightweight. For obvious reasons, it's a corrosion and mold-resistant structure.
Note: Rotational Molding (roto-molding) process is a cost-effective method to manufacture molded structures of almost limitless sizes. During the process, the mold is simultaneously heated and rotated (both horizontally and vertically) so resins are smoothly distributed inside of the mold and tend to 'fuse" on its inner surfaces. The result is a seamless product with a uniform wall thickness and more material in corners usually exposed to shocks and stresses. Obviously, these properties are of great value in an Off-Road environment.

Stockman's Pod with lid
Stockman Pod (Full version of travel trailer with stone deflector)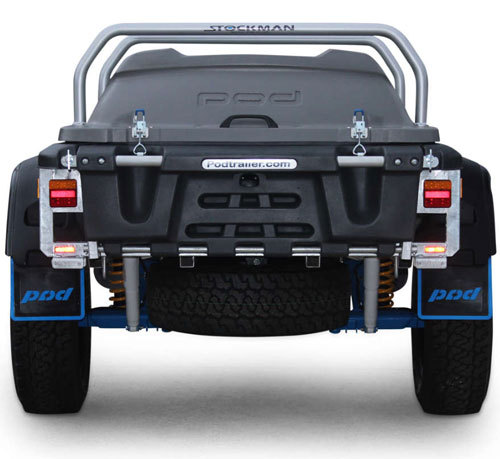 Stockman: Pod (Extreme version seen from the back)
         A one-piece, fully molded tub is hermetic (no seals, no joins). The lid is sealed with rubber all way around and kept firmly on the tub by two rear latches. As a result, the camper is pretty much water-and-airtight, and so its content is protected from moisture and rain as well as from the omnipresence of dust on unpaved roads. The UTE-style tailgate (UTE stands for Utility Vehicle) offers access to under-bed storage, but also can serve as a "platform" facilitating getting in or out of the bed, or a sort of handy table. In the "transport" version, it helps to load and unload the pod. A decent departure angle helps to mitigate the tailgate's exposure to the water when crossing creeks.
         The custom tent installed on any of these pods makes the Kwik-Kamp-2. Note, however, that if needed, the tent and lid can be easily removed making the tub available for the transport of any "stuff" (whatever it will be).

Kwik-Kampa-2 Xpedition
       Let's face it – even a good, durable, and shock-resistant camper will have questionable value if its set-up/fold-down process is too complicated.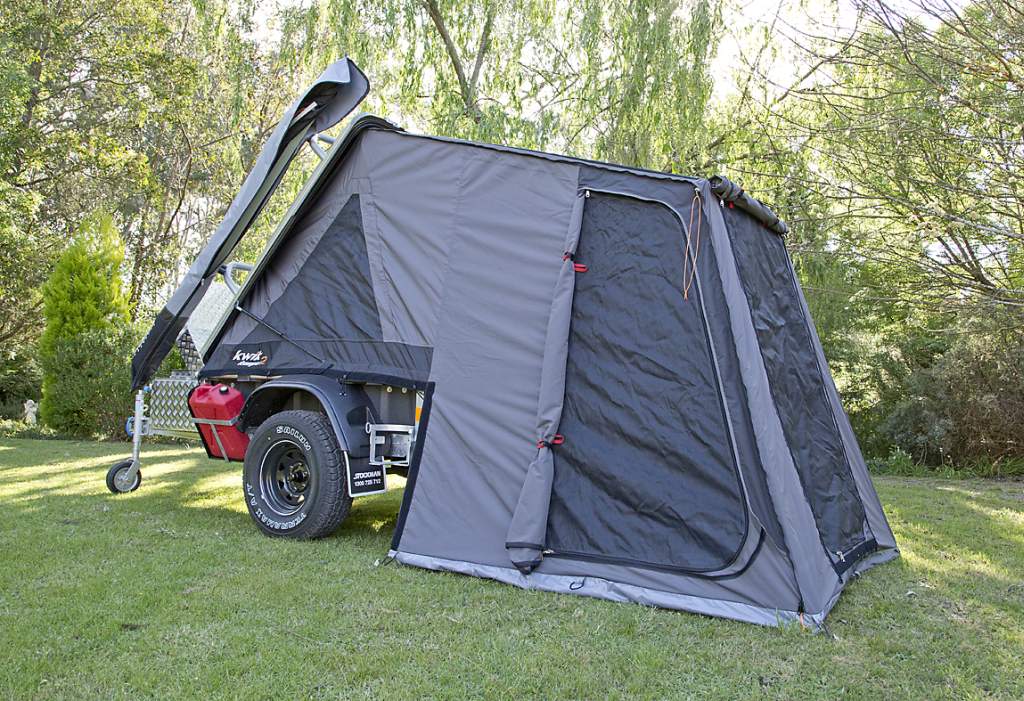 Kwik Kampa 2: Unfolded tent ready for overnight stay
Kwik Kampa 2: Illustration of what you get
Off-road adventures are rather "less-predictable", with not only randomly chosen sites for night stays but also no foreseeable arrival times. With no campground facilities (light) and possibly "unfriendly" weather, it's crucial that the camper's set-up process is easy (keep in mind that the Kwik-Kampa-2 was designed for the Australian Outback)! Well, the good news is that the Kwik Kampa-2 can be set up in about 1 minute!
        Once the rear stabilizers are deployed and 2 rear latches released, you slightly lift the lid, and the gas struts effortlessly finish the job opening it to an angle of about 70 degrees. This gives you access to the bundled tent. Before starting to set the tent, you will have to remove all "stuff" stored under the lid (note that the tub offers an under-the-lid storage space). Once ready, you just pull the top bow of the tent to the rear and push it upwards. This will activate the remaining gust-struts and the tent will just smoothly pop up in front of you. To finish the process, you will have to pin the floor down to the ground and set two rear poles to keep the tent upright.

The integrated tent includes a 4" (10 cm) supa-foam mattress creating a comfortable 78.7" long (although relatively narrow – only 49.2" compared to 60" for a queen-size bed) sleeping space. The rear part of the tent with a footprint of 6.6 ft x 5.9 ft (2m x 1.8m) creates a comfortable full-height entrance. Three zipped, insect-mesh-protected doors provide not only easy in/out access but also good ventilation.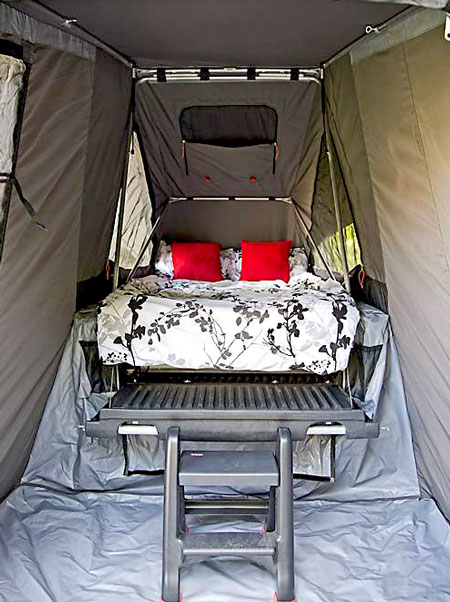 Kwik Kampa 2: Sleeping space (see the benefits of the tailgate)
     The tent is made from WeatherMax 80 (known as highly breathable and still extremely water resistant) fabrics or Australian-made 9.4oz fabrics. The latter is made as a blend of rip-stop nylon & polyester. According to Stockman. It offers enhanced wear and dirt resistance, as well as excellent waterproofing (much needed in the extreme off-road environment), but poorer than WeatherMax 80, breathability. However, this disadvantage is quite well compensated by a sizable tent's roof vent and large doors and windows. Both fabrics show good mold resistance so they can be folded down when wet. They are also noticeably lighter than traditional canvas 😊, but that property comes at an extra cost ☹.

Well, just watch how the tent is unfolded!
          With the same easiness, you can open the custom-designed, self-storing, swift-around awning with built-in roof rails (It requires 4 poles to keep it upright). After a "little practice" you will find the setting-up process easy and fast, which is crucial when you must quickly create a protected area in bad weather conditions.
The pod's lid creates a nonpermeable roof partially protecting the tent. A gap between the lid and the tent's roof creates an open area for airflow so the flap in the tent's roof can be effectively used for ventilation.
Note that the lid itself is equipped with Stockman racks designed to securely carry a wide range of camping gear (bikes, surfing boards, kayaks….).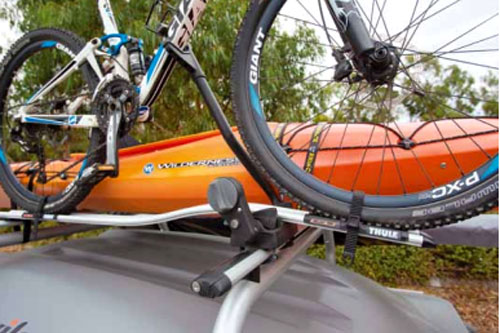 Kwik Kampa 2: Stockman rack allows for carrying various "toys"
Kitchen
        Stockman offers 3 versions of slide-out kitchens:

Drifta slide-out w/2-burners Coleman cooktop.
2-burners Smev stove, clip-on sink tub (stored in the toolbox), and underneath-mounted 17.2 gallons (65 l) molded freshwater tank
And for the Xpedition version:  Stainless-steel, trailer-length, slide-out rear kitchen with laminated work surface, 2-burners Smev stove, hand pump and wash tub, and underneath-mounted, 17.2 gallons (65 l) molded freshwater tank.
      All versions are housed in an aluminum box located on the A-frame between the pod and the front storage box. Note that the A-frame (tongue) is quite long so it can easily accommodate both boxes.
You will notice that offered cooktops are stand-alone models instead of built-in ones. The main reason is that stand-alone models come with good wind protection "walls" which is crucial for outdoor cooktops.

Kwik Kampa 2: Slide-out Timber Kitchen
Stainless steel kitchen
Storage
      The full-length slide-out drawer beneath the bed with access from the tailgate offers two 2.8 cu. ft bins for storage for all kinds of stuff (clothing, personal belongings.…. ).
The standard front storage box (either checker plate protected or made from the same roto-molded plastic as the pod) is mainly dedicated to larger items (according to your needs it can be a small generator, low-profile porta-Potti, fridge, general-use camping gear, tools…).
       As mentioned earlier, there is a substantial storage space under the lid when the camper is in a "road configuration" (folded tent). However, knowing that you must remove everything before setting up the tent, you should use it for bigger camping gear that anyhow you will need when staying for a night (a folded table, chairs, etc).
You will also have two 5.3 gallons (20l) jerry can holders and one holder for a 10 lbs (4.5 kg) LPG bottle.
Note that the range of available lid-mounted Stockman racks can accommodate bikes, kayaks, surfing boards etc..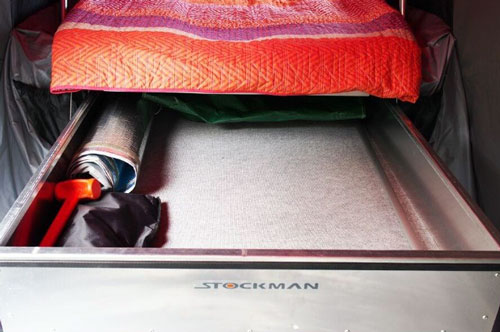 Under the bed slide-out storage
Options
        Among numerous options (see below in technical specs), the most interesting is the electrical package. It includes a 96Ah AGM battery, 240V (110V for US)/25A charger, and an Anderson plug coupling with the towing vehicle.
You may also opt for two 12V cigarette-type power outlets and Velco-mounted LED lights. They will provide a minimum but certainly noticeable comfort when camping in the middle of nowhere! Also useful will be an optional electric water pump and a Coleman LPG water heater w/shower.

Specifications: Kwik Kampa-2 Xpedition
---
Overall length
Exterior width
Exterior height
Pod (tub floor)
Tent length
Tent width
Dry weight
GVWR
Tongue weight
Freshwater tank
LPG (1)
Awning
Sleeps

12.1 ft
74.8"
57"
6.6 x 6.6 ft
78.7"
70.9"
992 lbs
1,653 lbs
198 lbs
12.2 gals
10 lbs
8.2 ft x 16.4 ft
2

370 cm
190 cm
145 cm
200cm x 200cm
200 cm
180 cm
450 kg
750 kg
90 kg
65 l
4.5 kg
2.5m x 5m
2

---
1. Option 20 lbs (9 kg)
Kwik Kampa 2: chassis
Construction:

Chassis: Reinforced hot-dipped galvanized RHS steel frame (2" x 2" x 0.08" /50x50x2mm frame)
Body (tub & lid): Roto-molded, about 0.28" thick recycled, UV-stable polyethylene
Tub floor: Vinyl 6.6ft x 6.6ft
Axle: Single
Suspension: Cruismaster independent coil-spring w/shock absorbers (leaf-spring for On-road and Off-road versions)
Wheels: 16" A/T
Brakes: Electric 10" disk (option)
Design: water and airtight (rubber seals around the lid)
Coupling ball: 2" (50 mm) standard, DO35 (off-road option)
Jockey wheel: 8" swing-up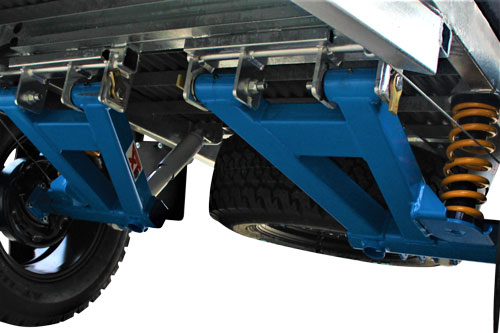 Suspension (here in an Extreme Expedition version with shock absorbers and spare tire)
DO35 swivel hitch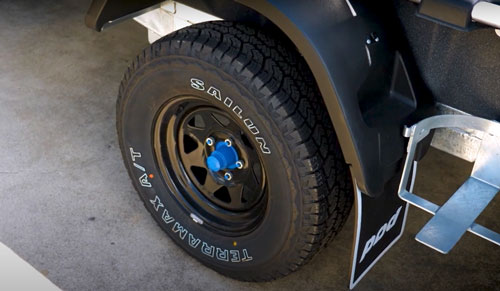 AT tires
Tent

Gas-strut assisted tent under hard pod lid.
Fabrics: Weathermax 80 or 9.4oz Australian-made canvas
Bed-size: 78.7" x 49.2"
4" Supa-foam mattress w/topper and bedding
2 x windows w/insects' mesh
3 large doors w/insects' mesh
79" x 79" vinyl tub floor
Roof vent w/insects' mesh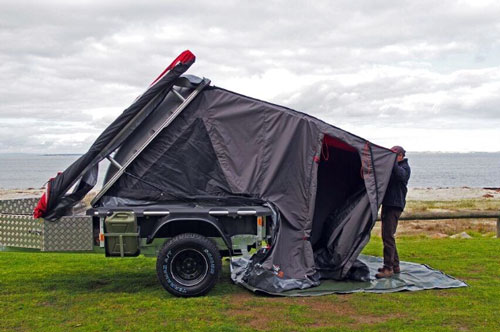 Kwik-Kampa 2: Unfolding the tent
Awning:

Self-storing, swing-around fly 8.2 ft x 16.4 ft w/build-in roof rails
Unfolded awning
Kitchen:

Trailer length slide-out rear kitchen (stainless-steel or timber) with laminate work surface, 2-burners Smev stove, clip-on hand pump, and washtub, 17.2 gallons molded freshwater tank.
Note that the On-road version comes with a simplified Drifta slide-out w/2-burners Coleman cooktop while the Off-road version with a slide-out kitchen w/clip-on sink tub (stored in the toolbox), 17.2 gallons molded freshwater tank, and hand pump

Slide-out timber kitchen
Underbelly - visible freshwater tank
Standard features

Hard-shell pod lid
Large, underbed slide-out storage drawer (2 x 2.8 cu. ft bins)
Front alloy storage box
Gas bottle holder
Two holders for jerry cans
Lid-mounted rack (Stockman Bars)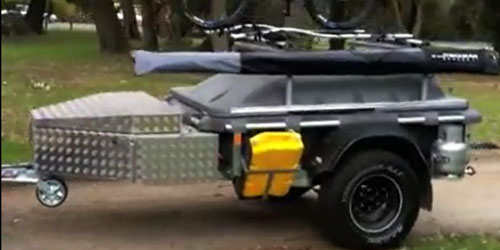 A-frame mounted storage box w/toolbox and slide-out kitchen. Also visible jerry can (one of two)
Options:

96 Ah AGM battery w/25A, 220Vac (110Vac for US) charger and LCD monitor screen
1 x LED tent light (comes with battery and Velcro-type attachment)
2 x 12V cigarette outlets (tent)
Anderson plug coupling w/towing vehicle
Electric water pump
Coleman LPG Water Heater w/shower
Interchangeable roof rack
5.3 gals (20 l) water jerrycan
Awning walls
Kids Extension: 120" x 80" main tent
Summarizing:
     The easy and short setup time is a real asset during adventures on off-beaten paths when typically, you are almost always on the move. The agility of the Kwik-Kampa-2 makes it an ideal trailer for short adventures …
Given the fact that this travel trailer proved itself in the demanding wilderness of the Australian Outback, it will certainly meet RV-ers' expectations everywhere in the world... :-)

Go back to --> Top Extreme Off-Road RVs
Or:
--> Ultralight Travel Trailers
And this may be right solution for some adventurers: A combination of Stockman's Extreme Pod and Rooftop tent (RTT) 
All pictures  a courtesy of Stockman and CaravanCampingClassified.com.au, 
Note:  Check with the manufacturer and / or authorized RV Dealer for the up-to-date list of features, options as well as latest specifications. These written above may not be accurate and certainly are subject to change by the factory. We are not responsible for any inaccuracy, the above text is provided only for the general information.
This review was written based on publicly available information for the benefits of the community of RV-ers. We do not receive any gratification or financial benefits from RV manufacturers, dealers, and any other promoters of RVs. 
We are NOT involved in sale and/or retail of RVs!