Pop up Camper Tables
Can you imagine camping without a table? So let's find what is available on the market...

Pop up campers, also called folding trailers cannot provide a permanent living space while traveling, since they are folded up while driving.
Pop ups are convenient because they can be packed up into a small trailer, so they don't slow down driving at all and they are also very fuel efficient.
However, this is also sometimes the cause of some discomfort: every time you go to a camping place, you have to raise the roof and arrange things inside the camper. Due to this fact it is essential to have furniture inside the camper that easily unfolds and folds up when the camper has to be "packed up".
Characteristics
There are many manufacturers that make new and innovative furniture which makes traveling much easier. These pieces of furniture such as chairs, tables and dinettes designed for RVs such as pop ups are lightweight, and they can be very easily folded and unfolded on need.
Some tables can be even converted into sleeping places at night: you only need a mattress and you have an extra comfortable bed. The best tables for pop up campers are designed to use as little space as possible, and offer as much comfort as possible. Some tables even have racks for some storage possibilities. If you want to buy a table for your pop up, get a folding one that you can also use outside.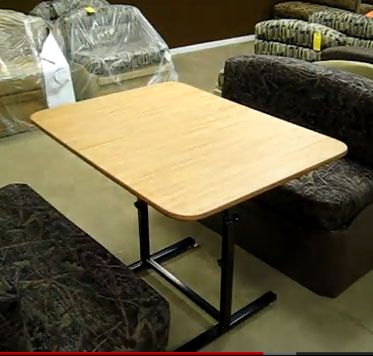 Where to buy pop up camper tables
There are more places where you can find high quality tables for pop up campers. The best brands for pop up camper tables are Coleman, Camco and Adco.
There are some other famous brands as well who make furniture for luxurious boats and RVs, such as Glastop and Villa International. These are two manufacturers that make the most amazing and most innovative RV furniture, including tables that can be used for pop ups. Their products will make traveling more comfortable and easier as well, but they are more expensive than brands such as Coleman and Adco.
Online stores such as Amazon are suitable both for new and second hand tables for pop up campers. There are many auctions every day, so you always have a chance to buy something on a discount price.
Other places where you can look for a pop up camper table are RV supply stores, such as Best Motorhomes, Camping World and RV Supplies. Some of these online stores have shops that you can visit and take a look at the tables before you buy them.
---
Visitors Story
When you think it is time for another pop up table, you can find beautiful tables online as well as at a dealer or supply store.
Last year in Virginia I seen, a tent pop up camper with a solid oak table with a pattern design on the top side. It was just a great table with durability and stylish look. This pop up camper table added so much charm to the interior.
Whether you have a 2 wheeler or a 5 wheeler camper trailer, you can spruce up the interior to suit your tastes very easily and affordably. Table designs with a little added windows treatment can make a big difference. Even if you find a used popup camper, you can spruce it up by just adding a few finishing touches of your own.
Now with the truck pop up and the van conversion, finding a table like the pop up camper table may be a little different, because of the room and size available for closer confinements. No matter what you have, you can always fix it up, touch it up and have a whole new look.
Pop up tables come with many different styles and materials. This person in Washington had an old time original table in his camper, but the rest of the décor was newer and had been upgraded.
Example of the new RV Table mechanism
The guy just could not part with the table, because of durable construction and it really was in pretty good shape for its years. As I say, it is all a matter of what you like and what your style preference might be.
Pop up camper tables might become a little old looking and then you can find a table at area dealers or online. Maybe you might even prefer to construct your own great looking table.
 About Us / Privacy Policy / Resources
Pop Up Campers Trailer Home


Pop up Camper Curtains / Pop up Camper Canvas Replacement