Pop up Camper Curtains
Pop up camper curtains can change the way you feel about your camper and vacations

Pop up camper curtains are not only great to provide privacy, but also to enhance the decoration of the small room.
They are also great to block out sunlight and keep the inside of the camper cooler. Curtains for pop up campers are made of a durable material, because of the harsh weather conditions that they have to endure, and the constant raising and packing of the camper.
The best curtains for pop up campers are made by companies such as Coleman, Jayco,Viking, Starcraft, and Rockwood. There are some other manufacturers as well who sell curtains to replace old ones that fit with any type of pop up camper. Most of the times you can also get custom made curtains from these companies.
Pop up camper curtains are usually made of medium-weight cotton, muslin or cotton blends. The curtains have a standard size, so they can all fit easily on the window. The standard size of pop up camper curtains is 52'' x 54''.
Curtains can the attached to the windows in more ways: you can usually use snap glides, flex tabs, snap tapes, small glides, or Coleman glides, which are most often used on Coleman pop up campers, but not only.
These attachments have the same function, and it only depends on your preference which one you choose. Prices of new pop up camper curtains range between $70 and $100.Here are some standard pop up camper curtains: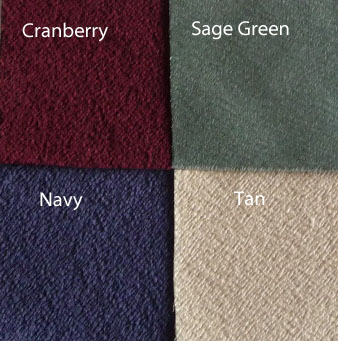 Coleman pop up camper curtains
Since Coleman is known for their high quality pop up campers and other recreational vehicles, their curtains are also very durable.
They can be found in all kinds of colors in the standard 52'' x 54'' size. Coleman pop up camper curtains come with snap glides, flex tabs, snap tapes or small glides. Coleman glides are typical for this company, their solution similar to small glides but wioder for a better and more secure fit.
Canvas Replacements, where you can also purchase potty curtain packages and Coleman Fleetwood dressing room curtains. Colema [products can be found on the websote of the company and at eBay store called canvas replacements.
Jayco pop up camper curtains
While it is difficult to buy pop up camper curtains straight from the producer, there are certain places that offer similar curtains to the original ones found in pop up campers. Jayco style pop up camper curtains are small and they fit with the standard sizes of the Jayco curtains.
---
Visitor's Story
There are many great looking window treatments for tent campers and truck pop up trailers. The pop up camper curtains and blinds add a touch of privacy and enhance the décor.
Vans even are decorated with fashionable curtains. Once you know what you need and the sizes, it is just a matter of finding the right color.
Camping in Arizona and Arkansas are two places for sure you would use pop up camper curtains to block out the sun and help keep the camper cooled down. If you have air conditioning, curtains are definitely needed to block sunrays.
Blinds and curtains can be found online or through a dealer. Some people make their own curtains and this way they get exactly the right size and color or pattern.
Pop up campers curtains for 2 wheeler and 5 wheeler campers do not have to be plain just because they are in a camper trailer. Whatever the need you can always find something available for whatever you want.
Shades, blinds and curtains are just some of home comforts you can have in a tent popup camper.
Pop up camper curtains also work for screen tents, I seen some pretty nifty setups in my time, and the one I remember is a screen tent with mini blinds attached to allow some day light and then they were closed for nighttime privacy. Now this was an idea I never thought about.
I am not really the decorator type, but my wife sure does like to change pop up camper curtains on a regular basis. We have a few sets and she changes them for different occasions and holidays.
She keeps us up with the times with curtains and all the other decorating ideas. We are so happy out on the road and this is what it is all about.
 About Us / Privacy Policy / Resources
Go from Pop up Camper Curtains to Pop Up Campers Trailer Home