Review of Canvas RTTs
Australian Manufacturers
Review of manufacturers and models of canvas-based (soft) rooftop tents; construction, basic specifications, pros and cons….
      Despite at least as many cons as pros, the Soft-Top (canvas-based) rooftop tents are taking the market by the storm!

It's probably true that their popularity is growing due to "attractiveness" of something new, something different from classic ground-based tents. Nevertheless, the number of manufacturers of soft rooftop tents is mushrooming.
We started the presentation with review of North-American Manufacturers and models of soft rooftop tents (see: --> Review of Soft Rooftop Tents: Part-1
Given the fact that the "market is crowded", below is the continuation from the previous page, this time it is the presentation of Australian companies.

23ZERO
        The 23ZERO – Australian manufacturer of camping gear was founded some 25 years ago by enthusiasts of outdoor activities. While Australian Outback was certainly great inspiration for robust, reliable and practical designs, the North-American market was guarantee of success. That is why, today the company's design and manufacturing teams operate in both countries - Australia and USA. 
Currently the Australian plant offers one model of soft rooftop tent: Dakota – designed for local conditions.  The US-based branch has four models in its portfolio, correspondingly: Litchfield, Bundaberg, Byron and Sydney.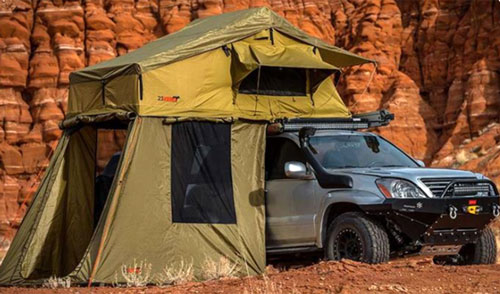 Original Australian model: Dakota (w/annex room)
      There are slight construction differences between mentioned rooftop models as they are designed for specific markets. They share however many common properties and features reflecting close collaboration between both design teams.
All tents are made from polycotton ripstop canvas (although the Australian model Dakota uses stronger canvas 320gsm versus 260gsm for US models). They all come with Denier Rainfly and Denier Oxford poly-ripstop annex room.  The internal frame is built from aluminum tubes (5/8"for US model Litchfield and Australian Dakota, and 1" diameter for remaining US models). However, all tent's models have oversized 1" awning loops. The alloy base is a sandwich of alloy sheets and high-density polystyrene foam. The frame is attached to the metal base with stainless-steel hinges. 
Good tent's ventilation is always a design goal. For that purpose, all 23ZERO's rooftop tents have adjustable fly and side-vents ensuring adaptable airflow. On the other side of the "equation" – all seams are heat-sealed to limit unwanted (uncontrolled) air (heat) exchange.
Access to the tents is provided by 82" high sliding alloy ladder (the largest model Sydney comes with two ladders).  All tents come with sturdy (600gsm) PVC travel cover w/D-ring tie downs.
The annex room is one more common element shared by all 23ZERO rooftop tents. It has adjustable height (68" to 82") to accommodate different vehicles).  Its length is fixed (98") while width follows the tent's dimensions. All annexes have robust (550gsm) PVC tube-style floor (removable for easy cleaning) and one large window with insect mesh.
The main differences: US models versus Australian
2-layers Sky-View window(s) (outer ripstop polycotton and inner ultra-fine insect mesh). 
3" thick closed cell high density mattress with polycotton cover versus the same but just slightly thinner 2.6" Australian one.
Snow Support Kit is a standard feature for all US models (obviously snow is not the common event in Australia).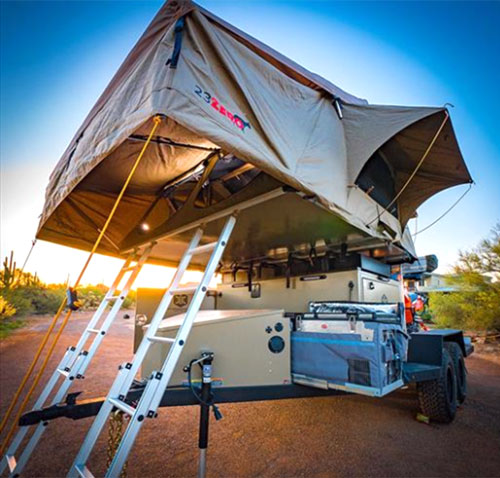 And an US model: Sydney Rooftop Tent with its massive 87" mattress and  2-ladders for more room to share.
---
Model

Dakota (3)

Litchfield

Budaberg

Byron

Sydney

Closed

55 x 47 x 14

56 x 48 x 14

62 x 48 x 14

72 x 48 x 14

87 x 48 x 14


Open (1)

55 x 122 x 51

56 x 121 x 50

62 x 121 x 50

72 x 121 x 50

87 x 121 x 50


Mattress (2)

55 x 94.5

56 x 96

62 x 96

72 x 96

87 x 96

---
All dimensions in inches
(1) - Does not include fly overhang or window awnings
(2) – Mattress size: Double (Dakota and Litchfield), Queen (Budaberg), King (Byron) and Oversized King (Sydney). Height represents inner dimensions.
(3) - Dakota's dimensions and weight are approximate (the tent is specified in metric units)
---
Models




Dakota (5)

Litchfield

Budaberg

Byron

Sydney

Weight (4)

[lbs]

139

138

150

159

205

Tent's

Overhang

55 x 27.6

56 x 27

62 x 27

72 x 27

72 x 27


Annex

Footprint

59 X 98.5

60 x 98

66 x 98

76 x 98

89 x 98

---
All dimensions in inches
(4) - Weight with the annex room
(5) - approximate weight (Dakota's weight is specified in metric units as 63kg)
Gordigear
         Gordigear – an Australian company dedicated to design and manufacturing of expedition camping equipment was established at the turn of this century.  Given the challenges of vast areas of Outback and fascination of Australians with outdoor adventures it is not surprising that the local market of expedition gear is crowded. It seems however, that Gordigear found its place and especially with opening branches in US and Germany (as well as large distribution network) it's products also gained acceptance abroad. Company's philosophy "adding value, not cost" sounds promising….. 
Gordigear offers three models of Explorer roof-top tents (all belonging to the class of soft, canvas-based, A-frame-shaped RTTs). These are correspondingly: Explorer, Explorer Plus and Explorer Plus 165 (wider version).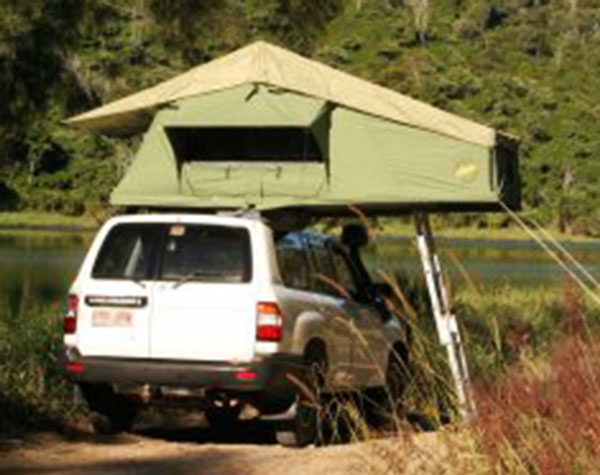 Explorer Plus

        All Gordiger rooftop tents are made from breathable, water and mold-proof, ripstop poly-cotton, PU-impregnated fabrics. The seams are double-stitched and tamed with high-quality Amann thread to make them waterproof. The supporting structure is made from anodized aluminum tubing, while base is made as a 1" thick aluminum-polyurethane sandwich providing strength and thermal insulation. 
The tent comes with 3+ inches thick foam mattress w/removable cover, doors with zipped (YKK-type) covers and insects' nets, four internal storage pockets, 300D waterproof Oxford rainfly, two Velcro-sealed cable inlets (to bring power from the car), telescopic anodized aluminum ladder (max 6.5 ft, 265 lbs load), HD 1000D PVC travel cover w/zips and bungee cord (as folding aid). 
Two screened vents together with raised rainfly help to keep tents well ventilated. Tents can be mounted to open to either side of the vehicle or to its back.
According to the manufacturer, with a little of practice, the tent can be set-up or folded in no more than 3 minutes (sounds good). 
---



Open size


Closed size

Mattress

Weight

Static load

Sleeps

Explorer


95 x 57 x 51


48 x 57 x 14

90.5 x 57

106 lbs

600 lbs

2

Explorer Plus


126 x 57 x 51


48 x 57 x 51

90.5 x 57

108 lbs

600 lbs

2

Explorer Plus 165


126 x 67 x 51

48 x 67 x 14

90.5 x 67

139 lbs

600 lbs

3
---
Notes: 
Originally tents are specified in metric units (cm, kg). The values in inches (size) and pounds (weight) above are close approximations.
Main difference between Explorer and its Plus version is the extra roof (rainfly) over the entrance. The covered entrance can be used to zip an optional Annex room (extra sleeping space or dry storage room).
         It may be worth to mention that Gordigear provides very good tent user manual with illustrations (photos) of every part and every step.
       Note that the company also manufactures trailer tents (models Savannah and Taiga). They are designed for traditional trailers and share some characteristics of rooftop tents (sleeping above the ground level at around 35" to 45"). While they are easier to set-up/fold down, not quasi-permanently attached to your vehicle (car), more spacious, they do not provide adequate protection against wildlife!
ARB
        ARB was founded in 1975 by Anthony Ronald Brown - an enthusiast of 4WD expeditions into Australian Outback. Today it may be hard to believe, but back then such expeditions largely relied on standard commercial equipment and camping gear, definitely not designed for extreme conditions. Frequent failures of camping gear (broken roof racks and bars, damaged tents etc…) is never a fun, especially when it happens in the middle of nowhere. No wonder, this bad experience inspired Mr. Brown to make it better and that how the company ARB (A.R. Brown) was born.

Today, ARB is the biggest Australian manufacturers of 4WD accessories (including rooftop tents) with large international distribution network across the globe (in US represented by Arbusa).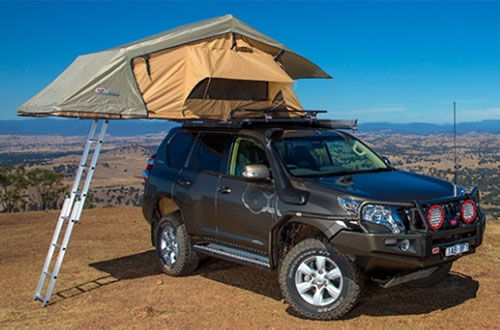 Simpson-3 rooftop tent (here without the annex)

      Simpson III Rooftop Tent – it's a flagship of ARB's touring and camping gear. The tent is made from high quality, UV and water resistant, breathable, "rip-stop" poly/cotton fabrics. 25mm anodized aluminum poles (corrosion resistant) guarantee strength and durability. The tent comes with Oxford polyester flysheet, retractable anodized-aluminum ladder (265 lbs load), high density 2.5" foam mattress (w/ removable cover) as well as insects screened doors and windows. While it is designed for mounting on ARB-made roof racks, it is also compatible with popular Thule or Rhino roof bars with suitable load ratings. All weather vents help to prevent (or at least to minimize) condensation, while all-weather entrance door protects tent's interior from weather elements when open. 
     The tent can be unfolded on either side of the car as well as off its rear side.  When it comes to folding the tent, the cleverly designed "bungee" cord system helps to speed-up the packing process.
It may be worth to mention that the Simpson III rooftop tent is also available as a Combo Package with an Annex.
In an open configuration, the Simpson 3 roof-top tent offers sleeping space with 55" x 94.5" (140cm x 240cm) footprint and 51" (130cm) height (max). The tent weights 154 lbs (70kg) including ladder.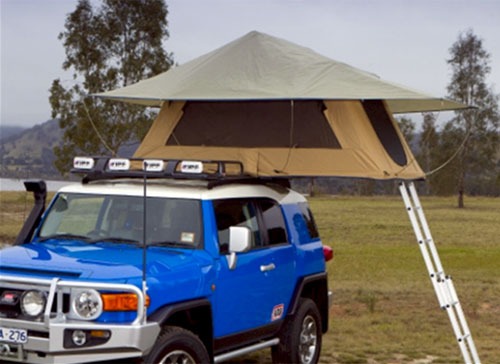 Kakadu rooftop tent

Kakadu Rooftop Tent
       Kakadu is the latest addition to the line of ARB's touring equipment. While it shares many components with the Simpson III tent, it is specifically designed for warmer climates. Following the design goals, Kakadu features larger windows without exterior awnings allowing for better airflow and more natural light (panoramic views is an extra bonus). Protection from rain is provided by interior shutters and extended flysheet. 
When opened it offers the same footprint and height as the Simpson III rooftop tent. When closed it measures correspondingly 55" W x 47.25" L (140cm x 120cm) and just 8" (20.3cm) height.  Kakadu's weight (including mounting rails and ladder) is about 130 lbs (59 kg).
TJM RTTs
      TJM (founded in 1973) today is a "grown-up child" of enthusiasts of Australian Outback. Their combined initials (Loyd Taylor, Cliff Jones and Steve Mollenhauer) made the company name, but what kept them together and contributed to the company success is not only the name TJM. It's the passion for 4DW activities in rough, demanding vastness of Australian Continent.  Their first products were bull-bars protecting the vehicles from encounters with Australia's abundant wildlife. Now their product line includes 4WD gear (racks, protection bars, recovery equipment….) but also rooftop tents and awnings. In 2011 TJM extended its operations to US (TJM-USA).
      Currently, Australian TJM offers 3 models of rooftop tents:  Darche-2 (comes in three versions: Panorama, Intrepidor and Hi-View) as well as Boulia and Yulara. All these models are also available in the US. 
The earlier versions of TJM rooftop tents (Boulia and Yulara) are manufactured from durable (ripstop), breathable 280gsm polycotton fabrics. The fly is made from waterproof, 420D polyester. The base is made from high-strength aluminum similarly as poles (although 3/4" diameter tubes w/ 50 mils thick walls does not seem to be extra-sturdy).
They come with dual pop-up window awnings, 2.5" high-density foam mattress (w/removable cover), fully screened windows and door (fire-resistant nylon) w/YKK zips, pull-out veranda, retractable 6.3' aluminum ladder (requires an extension if your vehicle is higher) and HD 1000D water-rot-proof poly cover w/ PVC coating..
 The annex room is optional. It zips to the rooftop tent and providing privacy and space for two stretcher beds (if needed).
According to the manufacturer, they can be set-up within 10 minutes (it sounds a bit long, especially in rainy day).
---
Parameters

Size open

Size closed

Mattress

Weight

Boulia

94" x 55" x 51"

47" x 55" x 11"

94" x 47"

?

Yulara

" x 55" x 51"

47" x 55" x 11"

94" x 47"

?
---
      As it can be seen, Yulara is wider of two mentioned rooftop tents and features large sheltered canopy over the tent's entrance. Also, with just 11" of height in travel configuration both RTTs stand well compared to competition.
Unfortunately, neither site provides information about the weight of both tents (and frankly, it is important piece of info).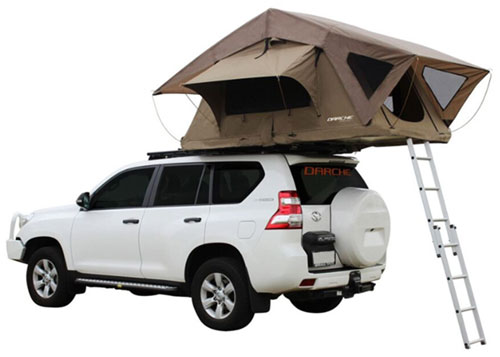 Darche Intrepidor-2 RTT
       Darche-2 series is the new generation of TJM rooftop tents. They are made from sturdy (260gsm -to-340gsm depending on the model) double-pass ripstop poly-cotton canvas, checker plate alloy base and alloy poles (0.63" diameter, 40 mils thick walls). They come with (6.9' -to- 7.5', depending on the model) retractable, aluminum ladder and (2"- to 2.5" thin, depending on the model) foam mattress w/ zip-off cover. In fact, they are designed with the goal to minimize the weight. The 
Just to give an idea, following are basic characteristics of Darche-2 models:
---
Darche Models

Panorama-2

Intrepidor-2

Hi-View-2

Open size

94.5" x 56" x 49" 

94.5" x 55" x 49" 

94.5" x 56" x 49" 

Weight

136 lbs

121 lbs

127 lbs
---
Note: H (49") represents the height at the peak of the tent (center)

---
Please continue: --> Next Page
You will find the review of South-African companies Eezi-Awn, Bundutec, Front Runner and Howling Moon RTTs....
Or go back to the first part of the presentation of Manufacturers of soft rooftop tents at: --> Previous Page
You will find the review of the following North-American manufacturers of RTTs: Tepui, Tuff-Stuff Overland, Smittybilt, Adventure Sole,Yakima, Mombasa Outdoor, Cascadia Vehicle Tents,  Hinterland, Odin, Bigfoot and the Canadian company Treeline.  
If interested, read pros and cons of the Soft-Shell (canvas-based) rooftop tents at: --> Soft Rooftop Tents
However, if you want to learn about hard-shell rooftop tents, please see: --> Hard-Shell RTTs.
You will see that these are quite different "animals" with unparalleled advantages.
Note: All pictures are courtesy of mentioned manufacturers
Note:  Check with the manufacturer and / or authorized RV Dealer for the up-to-date list of features, options as well as latest specifications. These written above may not be accurate and certainly are subject to change by the factory. We are not responsible for any inaccuracy, the above text is provided only for the general information.
This review was written based on publicly available information for the benefits of the community of RV-ers. We do not receive any gratification or financial benefits from RV manufacturers, dealers, and any other promoters of RVs. 
We are NOT involved in sale and/or retail of RVs!
---