Soft-Shell Roof-Top Tents
South-African Manufacturers
Roof-Top tents originated in Australian Outback and African bush, but recently gained popularity across the world; see key players and models of rooftop tents
        Roughness of vast territories of Australian Outback and South African bush, risk of dangerous encounters with wildlife as well as "unpredictable" weather created the demand for something "safer" than traditional ground-based tents. 

To large extent, vehicle-mounted rooftop tents were offering the most precious asset – Safety.
Some 50 years later, rooftop tents became popular across the whole world. But quite often the increased security of sleeping well above the ground is not the main reason of rooftop tents popularity. It is rather "location, location and location…. and coming with it panoramic views, sort of "fashion" etc…
Below you will find the continuation of our presentation of manufacturers of rooftop tents and their products – this time from South Africa.
Eezi-Awn
         With over 31 years of experience, Eezi-Awn -  the South African manufacturer of rooftop tents can be considered as an industry veteran. Long years of operation gave the company clear advantage over competition. Eezi-Awn rooftop tents (as well as retractable awnings, roof-racks and 4WD camping gear) are well recognized for their quality. No wonder that today Eezi-Awn is present on 4 continents including such countries as US, UK, Australia, Switzerland, Belgium and obviously African neighbors -  like Zambia and Kenya. 

Series-3 rooftop tents

Currently, Eezi-Awn offers following series of soft-rooftop tents:
1. Lower-end lightweight and inexpensive tents designed for 2 persons
        These tents are built from ripstop Teflon-coated polycotton (260gsm) stretched onto aluminum frame, which in turn is attached to PU-laminated, aluminum-reinforced plywood base.  Custom aluminum interlock system locks the boards together when the tent is open.
Each tent comes w/ reinforced PVC flysheet, foam mattress w/cover, fully retractable anodized aluminum ladder, heavy duty PVC travel cover.
Jazz: Available in 2 sizes: 47" (or 55") x 96" x 51"
Fun: Available size 55" x 96" 51".
The Fun's roof is extended over the entrance to provide protection from weather elements. It also allows for attachment of an optional Annex Room.
2. Larger and more sturdy tents designed for 2 to 4 persons (2+3 kids).
        These tents are made from HD 340gsm wax-coated ripstop polycotton fabrics stretched onto aluminum (or for larger units power coated steel) frames. The base is similar to all Eezi-Awn designs – it is a Polyurethane-coated plyboard reinforced with aluminum hardware. Custom aluminum interlock system locks the boards together when the tent is open.
They come w/ reinforced PVC flysheet, 2.6" foam mattress w/cover, fully retractable anodized aluminum ladder (2 for the Family model), heavy-duty PVC travel cover, two elongated interior storage pockets, zip-up privacy panels on mesh-windows and bungy system to assist tent's closing.
T-Top Xklusiv: available in 4 sizes with width correspondingly: (55"/63"/71"/87") x 96" x 51"
They come with extra standard features: slide-out anodized-aluminum roof extender and Annex (Add-a-Room). The Annex' dimensions match the tents' width x 79"L x (adjustable from 79" to 87") H.
Series 3: available in 4 sizes correspondingly: (48"/55"/63"/71")W x 96" x 51"
Family Rooftop Tent – it is basically a largest version of Series-3 tents (87" x 96" x 51") designed for 4 people.
A removable interior partition screen and two access ladders allows for privacy.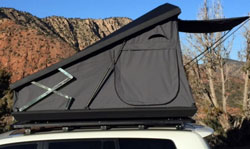 Eezi-Awn new design - Stealth hard-shell RTT

And finally, the latest news: Recently Eezi-Awn introduced the model of hard-shell rooftop tent – The Stealth. 

  Note that all Eezi-Awn soft (canvas) rooftop tents are built on laminated plywood base. This contrasts with typical (and probably more practical and sturdy) solutions when the base is made as a sandwich of PU insulation and aluminum sheets.
The shower skirts w/zip-up doors are available for All Eezi-Awn rooftop tents. 
Bundutec
          Bundutec, like many rooftop tents companies has its roots in South Africa. It's a family business founded (and operated) in 2010  by Mr. Martin Rautenback. Located in Johannesburg (South Africa) today, after just few years the company has its representatives in several countries including Australia, USA, Russia, UK, Dubai…. No wonder - harsh conditions of African bush not only inspired Mr. Rautenback to design strong, durable and easy to use rooftop tents but also gave him chance to test them in very tough conditions of Botswana's Kalahari.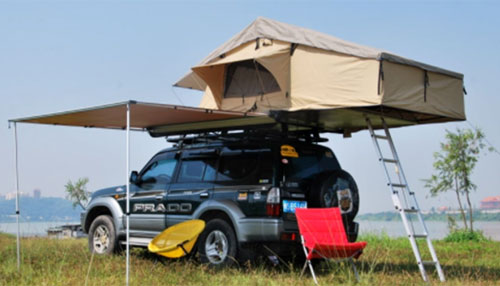 Moremi soft-rooftop tent

Currently BunduTec offers two rooftop tents: 
BunduFlip – this is a canvas-based (soft-roof) tent. Its slightly modified Australian version is known as Moremi)
BunduTop – This is a hard-shell tent with built-in electrical opening/folding system.
 The BunduFlip is built from poly-cotton rip-stop canvas on all- aluminum structure. The 1" base is made as an aluminum and polyurethane sandwich, while poles are made from anodized aluminum.
The tent comes with 3" (7.5cm) high-density foam mattress (45.3" x 90.5"), shade awnings around, zipped windows covers and an aluminum ladder.
BunduTec's real achievement is the mechanically-assisted opening/folding system. Simply speaking setting-up and folding processes are done semi-automatically in less than 1 minute! There is no need to work on poles. Like most rooftop tents, the bedding (after flattening) can be left inside when folding the tent. It will not interfere with the closing process
      The Australian version (Moremi) comes as a package with a lightweight, waterproof Oxford flysheet, zipping-on rubber floor, annex room w/floor, HD PVC travel cover, telescopic ladder (extends up to 6.6' /200 cm) and an interior LED strip. The foam mattress is a bit thinner (2.4" versus 3" for BunduFlip) and comes with a removable cover. 
Specifications:

Closed:   49.2" x 49.2" x 11.8" (125 x 125 x 30 cm)
Opened:   49.2" x 94.5" x 40.5" (125 x 240 x 103 cm)
Weight:  121 lbs (55 kg)
Front Runner
  Front Runner was born literally in the middle of nowhere (or more precisely, in the middle of South African bush).  Legend has it that one night, a group of friends gathered around a campfire out of frustration by endless failure of their camping gear decided to take the "matter" in their own hands.  Indeed, it did not take long before the new-founded company came up with line of roof racks, tents (including roof-top ones) and all kind of camping gear and accessories specifically developed for tough conditions of African bush.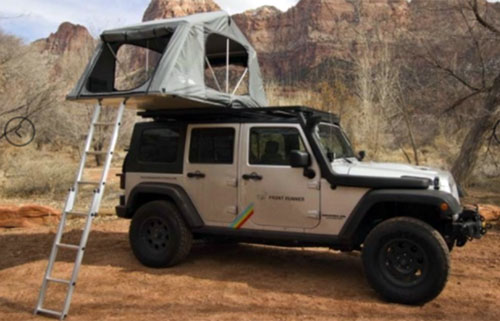 Front Runner RTT: note unobstructed view from all windows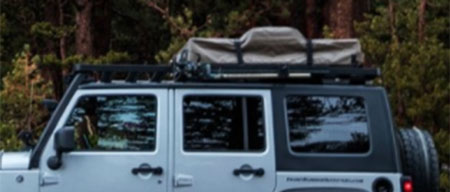 And closed (road configuration)

      Today, Front Runner (since early 90's operating from Johannesburg - South Africa) despite its relatively young age enjoys well-deserved reputation for quality, durability and "ingenuity" of their products. Undeniably, their ideas are coming directly from hard-way gained experience during off-road adventures into African bush. And their prototypes, before hitting the market, first go through severe tests in the same bush.  
      The Front Runner roof-top tent is the company's flagship. It's a soft (canvas) type model designed for 2 persons (49" x 53" x 7.9" closed and 134" x 53" x 55" opened) and weighting only 93 lbs! It has very low profile (<8"), however the ladder stored on top of the folded tent adds extra 4 inches so the whole box is 12" high and not really aerodynamic.
Manufactured with heavy-duty, PVC coated poly-cotton it is waterproof, UV and mold resistant and at the same time breathable. The aluminum base has layer of thermal insulation however the tent is not advertised as the 4-season one. 

The tent comes with rainfly, 2" high high-density foam mattress wit detachable/washable cover, zipped privacy panels insects' screens on all windows and doors, two interior storage pockets, overhead Velcro loops (to hang some stuff), retractable aluminum ladder with foot friendly treads, tent cover and mounting kit.
The tent can be mounted to open out over either side of the vehicle and the rear!
       Please note that Front Runner is also well-recognized for its impressive portfolio of roof racks and bars. In other words, it is kind of one-stop/one-shop solution.
Howling Moon
        Howling Moon was founded in South Africa some 40 years ago. Like most renowned manufacturers of "expedition"- grade camping gear, they seized opportunity created by challenges of African bush and answered genuine demand for safe and sturdy outdoor equipment. It was not surprising when some 20 years later, the company opened its branch in Australia (let's face it – in terms of roughness Outback shares many similarities with African wilderness. Then when the market for rooftop tents also gained "traction" in western hemisphere (although mostly for other than safety reasons), the company established footholds (presentations) across the Western World (including Europe and US).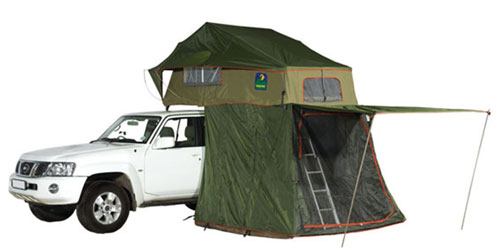 Tourer with the Annex Room
Model Deluxe
        Although there may be some small differences between models of rooftop tents offered for Australian and African market (mainly the choice of models) it seems to be safe stating that currently Howling Moon offers two series of soft-shell rooftop tents. These are correspondingly: Deluxe and Touring. Both series include several versions of sizes: with width of 1.2m, 1.4m, 1.6m. 1.8m and 2.4m (roughly 47", 55", 63", 71" and 94"). The first four sizes are suggested for 2 persons while the largest one for 4.
Deluxe tents are some of the first Howling Moon designs and probably the most copied. It offers comfort with simplicity at lower price.
Tourer tents have large extension over the entrance ladder allowing you to stay dry in bad weather. They are better suited for adding an optional Annex Room fully covering the entrance and ladder. Obviously, they are more expensive than comparable Deluxe models although difference in price is not that big. Additionally, the Tourer series (all sizes) comes in so-called "Stargazer" version. Stargazer tents have two additional windows on the roof that can be opened so you can enjoy sleeping "under the stars" in full safety (for that purpose the rainfly has to be removed (actually "unclipped)).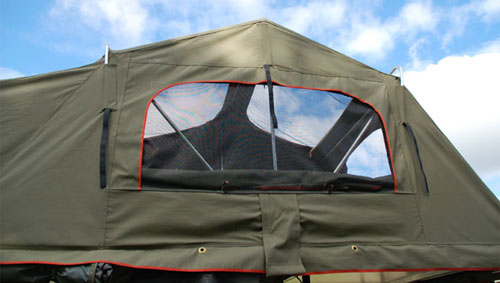 Tourer - Version Stargazer 
For completeness of information – the African manufacturing center also offers the Classic rooftop tent (introductory model to rooftop camping) as well as the Stargazing versions of some Deluxe RTTs.
Recently Howling Moon also introduced the first model of Hard-Shell RTT – Lunar.
     All Howling Moon's soft-shell rooftop tents are built to last! (according to company's claims, only highest quality materials are used throughout the tents – like for example military grade fabric, anodized aluminum, stainless steel….)  

The canvas fabrics is a 380gsm blend of cotton and polyester woven into ripstop structure (cotton gives superior thermal and sewing properties, while polyester – strength). The fluorocarbon coating offers waterproofness while preserving breathability. Additional treatment (emulsion) offers UV & heat - degradation resistance and fungal-protection.
The base is made as a vacuum-laminated sandwich structure comprising on each side 1mm (40 mils) aluminum skins and high-density polystyrene in-between. The end effect is the "super-lite", strong base with good properties of thermal insulation. The canvas holding structure (poles) are made from duraluminum. 
For improved ventilation, Tourer tents have an extra window above the ladder (allowing for cross-ventilation).
Tents come with 2.75" high-density foam mattress (optional in some models), large windows and door w/insects' nets, YKK zips, side awnings extensions, interior storage pockets, apex air-vents, bungee cord system (to assist folding down the tent), durable nylon rainfly, waterproof PVC travel cover (w/UV-protection) and 2-pieces sliding anodized aluminum ladder ("foot-friendly, no slip" rungs, 300 lbs load). 
Interestingly, unlike in other rooftop tent designs, the mattress is rolled when closed rather than creased.
---
Open size (1, 2)

Closed size (3)

Weight (4)

Tourer


94.5 x W(open) x 47

51 x W(closed) x 14.2

106 to 216 lbs

Deluxe

94.5 x W(open) x 47

51 x W(closed) x 14.2

See (5)
---
All sizes in inches (approximate values based on metric sizes) in format L x W x H
W(open) comes in following choices:  47", 55", 63", 71" and 94" (corresponding to original metric sizes of 1.2m, 1.4m, 1.6m, 1.8m and 2.4m). Note, that Deluxe is not available in W=71" (1.8m)
W(closed) comes as: 51", 59", 67", 75" and 102" (following W(idth)
Weight Tourer: 106 lbs (for 47"), 141lbs (for 55"), 146lbs (for 63"), 159lbs (for 71") and 216lbs (for 94").
Weight Deluxe: 106lbs (model 47"), 123lbs (model 55"), no data for wider models 
Howling Moon also offers a variety of vehicle awnings, gazebos, classical ground-based tents  (Dome and A-frame shapes), and trailer tents as well as other camping accessories.

---
If you want to start from beginning the review of manufacturers of soft RTTs go to: 
--> Review of Soft-Shell Rooftop Tents Part-1
You will find the presentation of North-American manufacturers of RTTs: Tepui Tents, Adbenture Sole, Tuff-Stuff Overland, Smittybilt, Yakima, Mombasa Outdoor, Cascadia Vehicle Tents, Hinterland, Odin Designs, Bigfoot Tents and one Canadian company Treeline  
Or go to presentation of Australian manufacturers of soft RTTs by selecting:  --> Review of Soft-Shell Rooftop Tents Part-2
You will find the reviews of the following companies: 23Zero, TJM, Gordigear and ARB

If you are interested in rooftop tents see also:
--> Pros & Cons of Rooftop Tents
Actually it is suggested to read both mentioned articles to make an "educated" decision regarding Roof-Top Tents :-)
Note: All pictures are courtesy of mentioned manufacturers of rooftop tents
Note:  Check with the manufacturer and / or authorized RV Dealer for the up-to-date list of features, options as well as latest specifications. These written above may not be accurate and certainly are subject to change by the factory. We are not responsible for any inaccuracy, the above text is provided only for the general information.
This review was written based on publicly available information for the benefits of the community of RV-ers. We do not receive any gratification or financial benefits from RV manufacturers, dealers, and any other promoters of RVs. 
We are NOT involved in sale and/or retail of RVs!
---