Small Pop Up Camper
Even small pop up camper can offer you the great vacations!

Small pop up campers are more comfortable substitutes to tents and a less complicated versions of trailers. Their size is perfect for a weekend getaway with the family or friends.
The size of pop-up campers vary between 8-15 feet in length, but the smallest one can be even 6 feet long. A small camper is usually around 10' times 10' ( the box, not the set up camper). The set up size is between 17' and 21' for a small pop up camper. With such sizes these recreational vehicles can be easily transported and stored.
Besides small sizes small pop up campers are also lightweight. The weight of such a recreational vehicle is around 1500 pounds, and some models can weigh less.
Even though these campers are called small, they have fairly many utilities and space, and they offer a lot of space compared to their size when flat. Like other recreational vehicles, the slide out compartments create a quite comfortable sleeping area and leave enough living space.
Small pop up campers have water heaters, and most brands include sink faucets, kitchen area, outside shower, small fridge, sometimes even air conditioning and water capacity of 1-20 gallons. Even in small pop up campers beds are double beds, so they are suitable for a small family. Not all of them have air conditioning, but they can be hooked up to water, heating and conditioned air at camping sites easily.
Presentation of the 2006 CampInn 560 Ultra Tear Drop Camper
A small pop up camper could be described as an upgrade from a tent, they share many similarities, such as the canvas sides. While all pop up campers are convenient and easy to use, small pop up campers are ideal for their size and their weight for a mini vacation. Also called small tent campers or a small folding campers, these vehicles weigh less than any other camper, therefore they can be easily transported.
The price range of a new small popup camper is around $4,000-$12,000, but you can find second hand ones already around $500.
Pros and Cons of a small popup camper
Pros
The greatest benefit of small pop up campers is their size. When they are folded down almost any van or SUV can tow them, and you don't need any special equipment such as extra side mirrors to transport these campers safely. They are small enough not to obstruct the driver's view. Thanks to their size storing them is also very easy, they don't require much space. They are easy to use and don't require any major skills.
They are bigger than they look, and offer some amount of comfort for camping and shorter journeys.
Another main reason that makes these recreational vehicles so popular is that they are reasonably priced. They are cheaper than most other campers, and they have the same function. They are the cheapest options for camping after tents.
A small pop up camper can be very easily maintained. Before folding and storing it only has to be wiped down and dried.
Small pop up campers might have less space than other recreational vehicles, but they can be set up with various accessories such as screen rooms which create a perfect dining area.
These campers offer much more comfort than a tent, while they maintain their outdoorsy feel. You can sleep in the middle of nature and enjoy the fresh air, but be safe from rain and cold. They are great for families with small children or adults who no longer want to sleep on the ground.
A small pop up camper requires minimal space, while it offers comfortable sleeping area for at least 4 people. You don't have to lie on the cold hard ground, but have a good nights sleep.
All pop up campers, even the small ones have some kitchen utilities, such as a small stove with 2 or more burners and some dinette features. You don't have to eat anymore from cans when you travel, you can easily cook a nice dinner in a small pop up camper.
You will have a toilet that you can use any time you want, so you don't have to stop every time while driving or go outside at night.
Cons
While pop up campers have a lot of pros, they also have some features that are less convenient.
Setting them up and taking them down can take a long time, and it can become tiresome after a while.
Before you use them you have to unfold them each time, which isn't exactly and effortless job, and it can be frustrating.
If you want a luxurious comfortable place for your travels, a small pop up campers won't fulfill all your needs.
Most brands have a bathroom or at least a toilet, but they are very basic and small, usually only covered with a curtain. These recreational vehicles therefore do not provide a lot of privacy. They are not as spacy as most other campers, and they were rather made for smaller trips than longer travels.
Small pop up campers have a soft side, which doesn't protect you completely from a windy weather. While they will keep you dry, you will surely feel the effects of a storm if you are sleeping in a small pop up camper.
Small pop up campers have less utilities and amenities than other campers, because they size doesn't allow the same comforts. They also don't have much storing place, so if you want to move around inside you have to think of bringing less things with you.
The canvas of these campers is very sensitive to moist, and if not wiped properly before storage it will mildew and rot.
Some people prefer tents to small pop up campers, because they believe that the difference between these two is very minimal, and such a camper doesn't offer much more comfort than a tent does.
Most popular pop-up campers:
Some of the manufacturers of small pop up campers include the following: Jayco, Rockwood by Forest River, Fleetwood, Coleman, Starcraft, Viking, Coachmen and more. Coleman, Starcraft and Forest River (also called Rockwood) are known as the best ones in the USA.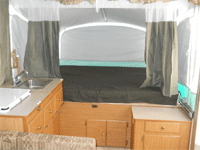 Fleetwood
Fleetwood campers ( now Coleman campers also belong to this company), have been popular for over 40 years, because of their durable and reliable vehicles. The are lightweight and can be often as small as 8' (box size). Even the smallest ones have a stove, queen size bed and kitchen area.
More about Fleetwood pop-up campers here!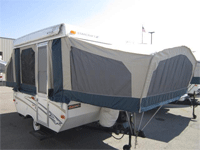 Starcraft
Starcraft campers have an even longer history, having simple designs with lost of features. They have toilets and showers, and surprisingly big inner spaces for compared to their size.
More about Starcraft pop-up campers here!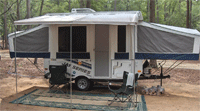 Jayco
Easy to maintain and set up, Jayco pop up campers have a lifter system that will never rust, so it can be used again and again year after year. It has been designed for family camping.
More about Jayco pop-up campers here!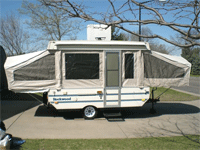 Rockwood
These pop up campers made by Forest River are some of the best, because of their superior construction and fiberglass exterior.
More about Rockwood pop-up campers here!

Coleman
This company is an expert in camping accessories and equipment, and their small pop up campers will provide you with a comfortable camping experience. Coleman small pop up campers are lightweight as a tent, but they have nice beds and a better protection from rain. The fabric of the pop up campers is made of a material that will not mildew.
More about Coleman pop-up campers here!

---
Visitor's story

Traveling in a small pop up camper is just as comfortable as the larger pop up trailers. I have friends that have a smaller pop up camper and they seem to have all the space they need.
The size does not always matter as long as you are enjoying yourself and having the adventures of a lifetime.
A small pop up trailer takes a little less space, which is how many people place two small pop up camper trailer on one lot.
Small pop up camper trailers have the same accessories as the larger pop up campers do and can be easier for some people to maneuver.
I met a guy a couple years ago who was just hilarious in his adventure story telling.
He said that he had to get the smallest pop up camper there was because his wife would make him help do the inside cleaning.
They were in Utah and he decided he did not want to clean anymore so he went out and bought a small pop up camper. Small pop up camper trailers he says are just as easy for one person to clean.
His wife just gave up asking for his help and now he enjoys sitting around telling stories and amusing everyone around.
One thing he did say was that while in Vermont last year they found a small pop up camper that was so small that he did not think anyone could ever be comfortable. Therefore, I guess there are some really small campers for people who want a real small cozy feeling.
Small pop up camper trailers are easy to tow around no matter where you travel. The ability to take along your need supplies is still available with a small pop up camper trailer.
 About Us / Privacy Policy / Resources
Go from Here Small Pop up Camper to Pop Up Campers Trailer Home
Coleman Ultralite Travel Trailers  / Coleman Pop up Camper Part and Accessory / Coleman Pop up Camper Sales / Coleman Pop Up Campers Trailer