Fiberglass Truck Shell Toppers
Truck camper shells are also known as toppers or caps and are very important accessory for truck campers which main purpose is to cover the pick-up bed entirely and to create large utility space that can be used either for camping or as storage space.
Generally the height of the camper shell toppers is the same as the height of the truck.
They are usually made of fiberglass or aluminum.
Although fiberglass truck camper shell toppers are quite costly, they provide greater storage options compared to aluminum camper shell toppers.
At the same time, they are the most versatile because they can be easily manufactured with different designs and styles. Also they can be custom made designed according to the exact size and paint of the truck.
The most famous manufacturer of fiberglass truck camper shell toppers are LEER and Century.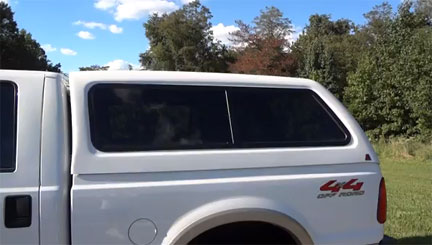 LEER shell topper on F-250

LEER is known as "the king of the caps" because this company has became the world's renowned brand of fiberglass camper shells since 1971. The toppers from LEER are superior in design, style, function and quality compared to all other fiberglass truck camper shell toppers brands.
Most camper shell toppers manufactured by LEER are of the same height as the truck cab although some models are a bit taller. Most models can accommodate a roof rack thus adding to their cargo-carrying capacity. They fully secure and transport cargo protecting it from the sun, rain and snow and of course they fully protect the cargo from the theft. Some models have SUV-style side windows with twist-out vents.
LEER's fiberglass truck camper shell toppers models are 100XQ, 100XL, 100R, 100XR, 100RCC, 180CC, 180XL, 180XR, 122.

Fiberglass LEER shell topper - inside view

Century is another great name in manufacturing fiberglass truck camper shell toppers that is present on the market from 1960. The company has been producing camper shell toppers from cab-high through mid-rise to high-rise designed for every budget and needs. That's why the company has become one of the premium manufacturers in the industry.
There are several models of fiberglass truck camper shell toppers manufactured by Century: these are Royal, High C-Ma, High C-Sport, Ultra-Sport, Ultra, High C, T-Class, Ultra CF, High C CF Series.
Royal camper shell toppers have SUV style side windows with twist-out rear vents with screens. Rear door have no frame, have curved glass with rotary latches and teardrop handle.
High C-Max camper shell toppers are ideal for the owners who need more space as this model provides additional 20% more space than other truck camper shell toppers. The door is full height and provides easy loading and unloading. Also, it provides more interior space.
High C-Sport is mid-rise camper shell topper. As High C-Max model, it provides more space. It has custom-fit styling with 1/3 side sliding windows with screens.
Ultra-Sport truck camper shell toppers offer two features that buyers look for the most. These are 1/3 side sliding windows with screens which provide good airflow and all glass rear door with rotary bolt.
Ultra camper shell toppers have classic style, sturdy double T-handles which provide secure access to the truck bed.
High C toppers are mid- rise and have height approximately 3-4" above the cab height which provide more usable interior space for cargo.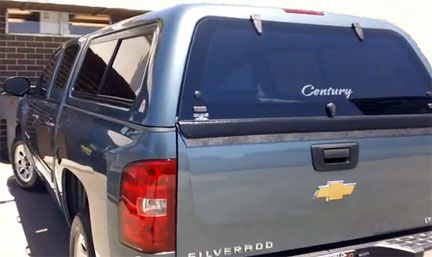 Century fiberglass shell topper on Chevy

T-Class is one of the most popular model of fiberglass camper shell toppers,  offering a ½ side slider window and rear bay picture window.
Ultra CF is commercial fiberglass topper providing a secure workshop. It is perfect combination of style, feature and function.
High C CF Series is also commercial fiberglass topper, which provides more space for cargo.
---
Visitor's story.....

Unlike the soft toppers for trucks, the fiberglass truck camper shell topper is sturdy and allows for many different uses.
The canvas top rolls backs and the hard camper top is not that convenient.
Back in 1984, in Maine, I had the chance to visit a camper show, which had a few toppers for truck shells.
The fiberglass I feel is far better than the aluminum toppers that were seen back in 1983 and earlier.
Truck shells as you know are just as nice as many pop up campers.
You can have them customized for whatever way you plan to use it. If you need a topper that rises up for more room, you will find these as well. You never have to settle for something you do not want with today's internet.
You can find anything and everything you want. Back a few years ago, after wireless came around, I met a person in a Maryland campground, we were discussing fiberglass truck tops, and we found quite a few different styles on the internet.
You can find so many different styles and designs along with different materials used for construction. If you want a new or used top, you can find one by looking online at various websites either for the classified ads or manufacturer's of the toppers. The price is affordable for the fiberglass tops and they last foe years.
The fiberglass truck camper shell topper will last for a long time and will provide for everything you need to do some traveling and camping. If you do have a chance to find one that is used, you might just be getting a great deal. They seem to out live the trucks themselves.
Look around and see where you find the toppers and compare prices for used and new topper before you decide which one is right for you.
 About Us / Privacy Policy / Resources
Go from Fiberglass Truck Camper Shell Toppers to Pop Up Campers Trailer Home
Truck Camper Soft Tops /  Boat Camper Tops /  Pull Behind Camper
Explore: Campground Parks in US;   Campground Parks in Canada