Fifth Wheeler RVs
Learn about Fifth Wheeler RVs, see the features, dealers and more....

Introduction to 5th Wheelers

One of the most popular types of recreational vehicles are the fifth wheels which are designed to be towed by a pick-up truck equipped with a device called a fifth wheel hitch.
They can have all the amenities of a conventional travel trailer but are easier and safer to tow than travel trailers.
However, they require more caution and skills than motor homes.
These campers are very spacious thus being suitable for full timers. They have some benefits over motor homes as they provide more interior space because they don't have driving and engine compartments as motor homes do. When compared to all other trailer types, fifth wheels have the most storage space.
As far as amenities are concerned, fifth wheels offer all the conveniences of home, including showering, sleeping, cooking, dining, entertainment and storage. Moreover, some manufacturers offer luxury models that are very roomy and very elegantly furnished. Options include air conditioning, heat, large screen LCD TVs, washer/dryer, fireplace, refrigerator, microwave, oven, range, water purifier, sky lights and many more.
With a raised front section that attaches to a hitch in the bed of the towing truck which provides additional sleeping or storage space, this type of campers are ideal for families with children. Fifth wheel trailers are produced in sized ranging from 24 to 40 feet. Most units that are now being produced have at least one slide-out room while larger sizes units usually have three or more. Some more luxurious models may have two bathrooms.
Although many fifth wheels call for a heavy duty pick up trucks, there are some models that can be towed by a light duty pick up trucks.
Offering plenty of space, these motor homes are considered as excellent choice for families who enjoy camping only a few times a year as well as for those who use them for daytime activities.
Fifth Wheeler RVs Manufacturers
The top fifth wheel campers manufacturers are Coachmen, Keystone, Dutchmen, Palomino, Northwood, Crossroads, Forest River, Jayco.
Coachmen company has been the leader in the RV manufacturing since 1964 thanks to great products, great prices and great value. Coachmen offers a great line of recreational vehicles starting from Class A and Class C motor homes to travel trailers and fifth wheels. The popular models of Coachmen fifth wheels are Brookstone, Chaparral Mid Profile, Chaparral Lite, Chaparral Open Trail, and Chaparral Signature.
Brookstone fifth wheelers are designed to provide the most livable amenities offering plenty of storage thus making the Brookstone extremely convenient for long rides. Inside and outside of this exquisite recreational vehicle is constructed with lot of attention. It is fulfilled with lots of standard feature, which makes the travelers feel at home.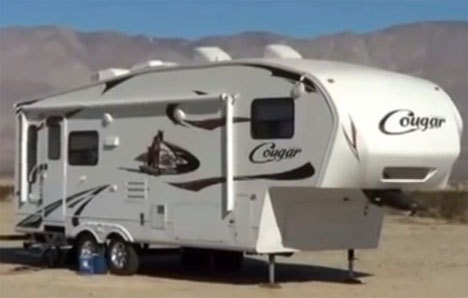 Keystone Cougar 5th Wheel Trailer

Keystone is at the very top among the recreational vehicles manufacturers in North America. They produce luxurious fifth wheels offering maximum comfort and convenience. Their products are made of the high quality materials using top brand name appliances. Keystone fifth wheels are easy for towing, great designed and perfect for vacationing and adventuring. Models produced by keystone are Carbon, Cougar, Laredo, Outback, Avalanche, Fusion, Raptor, Alpine, Montana.
Dutchmen Manufacturing has a very long history in producing quality and durable fifth wheels that provide the most enjoyable travel time.
They offer all the amenities you enjoy at home thus making them very popular and wanted among campers.
The company offers over 30 variations of fifth wheels with high-end equipment and highly quality construction.
The most known models are Colorado, Denali, Infinity, Comfort, Monte Vista, Victory Lane, Tundra.
Palomino produces high quality and excellent fifth wheels with beautiful interior and durable aluminum structure. The spacious interior is fulfilled with luxurious amenities to provide you the maximum enjoyment. All models are designed with plenty of storage allowing you to bring all the stuff you need. Palomino models are Puma, SabreSilhouette, Columbus.
Northwood is fairly young company but is among the top leading manufacturers of excellent and quality fifth wheels. There are models that are very spacious with stylish furniture and top brand appliances. the exterior is made out of aluminum frame construction. Models are Arctic, Fox, Nash, Snow River.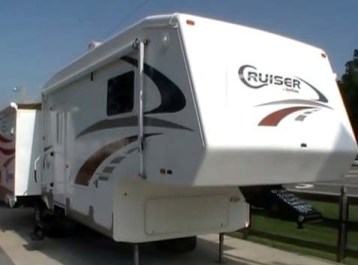 CrossRoad 5th Wheel Cruiser
Crossroads builds beautiful fifth wheelers, which enable you to experience freedom of traveling through lovely landscapes.
Each Crossroads fifth wheeler model offers full comfort since they are equipped with all the amenities you may wish for in a recreational vehicle. Starting from luxurious interior, comfortable space for living and sleeping through the features like easy towing and being lightweight, these innovative motor homes are considered as new generation vehicles.
Jayco is another famous manufacturer of fifth wheelers RV. Their models are not only lightweight but are well equipped and luxurious providing full comfort on the road.
Being lightweight, they provide easy towing and the interior of each Jayco fifth wheel model comes with standard luxuries, stunning kitchens, and spacious sleeping area.
With all these extraordinary features, Jayco's fifth wheels are marked as very popular in the camping world.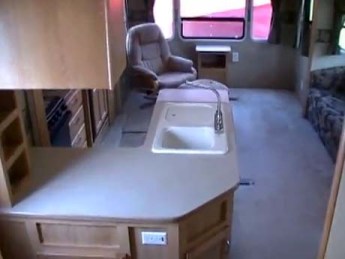 Crossroad 5th Wheeler - kitchen with an "island" is something you will rarely find in RVs

---
Visitor's story....

There are many different types of recreational vehicles that can be used for camping but fifth wheeler RVs are one that highlight among all the others.
These recreational vehicles are designed to be attached and towed by a pick-up truck. They are named after the way the RV camper is hitched to the towing vehicle and the unit is attached to the pick-up by a fifth wheel hitch.
Fifth wheeler RVs are two-leveled units that provide spacious and very comfortable living on the road. They are equipped with all the comforts of home and are perfect solution for family vacations as well as weekend getaways.
There are many different makes and models offered on the market with variety of the floor plans. The prices for this large travel trailers vary depending on the manufacturers, size, whether the recreational vehicle is new or used. Also amenities and appliances included in the vehicle also affect the price significantly.
Their prices range from $15,000 to more than $100,000. The higher quality and the more luxurious amenities are included, the higher price of the vehicle will be.
The best place to start if you have just recently become an RV enthusiast with a thing for 5th wheels is the websites that can offer you a lot of information on fifth wheel RVs.
For instance, on rv.net, you will be able to get in touch with a great community of RV users, vendors and buyers. There, you can find out a lot of information about 5th wheels and what models may be to your liking. The fifth wheel RVs are also called 'fivers' and they are widely used for trips across the country.
Because most models are able to offer you the comfort of a fine home, the best thing about them is that you will not have to spend all your nights in motels, changing bed after bed, for uncomfortable sleep. Instead, you can sleep in your own fifth wheel, where the bed is cushion and soft, just as you like it. You can also have a decent meal and take a shower, so why spend money on accommodations that you already have with you, on the road?
You will need to know certain thing about fifth wheel RVs when you are on a shopping spree. For instance, your truck towing capacity must fit the fifth wheel's size and weight. There may be some catch with what your truck can do, so search thoroughly in order to avoid any accidents from happening to you, while on a trip.
If you are into camping, fifth wheel RVs are just the thing for you. You will need to make some research on your own to see which is the one that can handle the job, but, in the end, you and your family will be very happy with your purchase.
Stick to fifth wheel RVs when searching for 5th wheels and you will not be disappointed.
 About Us / Privacy Policy / Resources
Go from Fifth Wheeler RVs to Pop Up Campers Trailer Home
 Cardinal Fifth Wheel / Fifth Wheel Floor Plans / Fifth Wheel for Sale / Fifth Wheel Haulers / Cougar Fifth Wheeler / New Fifth Wheel Campers