Jelly Stone Campground Park
Going camping is the type of experience you never forget, especially at Jellystone Camping Parks; they are affordable, magical and fun...
Sometimes you just get the urge to escape the city and urban life for a little while, and this usually results in going camping.
There's no better way to relax, let loose, have fun, all without spending much money.
The best way to go camping is at a Jellystone Park.
The parks are clean, safe, and the best possible place to go to have a good time outdoors.
Jellystone Parks are different from other camping parks in the U.S. These parks are a franchise, which ensures that all parks are of the highest quality and they all include the same basic features. Despite of strong similarities, every park is unique and has something special to offer, guaranteeing to be an amazing place to have fun.
Jellystone Parks are friendly to all types of campers, whether you just like to pack-up a bag and tent, or if you are an RV enthusiast. If you enjoy the luxury of a cabin, then that is available to you too.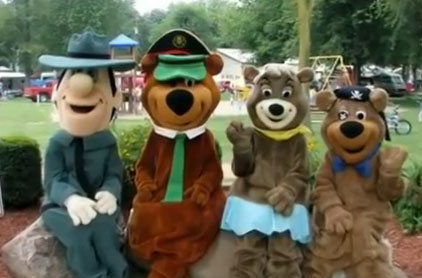 Yogi Bear's Jellystone Park at Barton Lake (Fermont, IN)
Each park offers a great way to escape the world and to get back in touch with nature. But along with the basic camping experience like campfires, other amenities and features are available to further enhance your camping experience. Organized activities run by recreation directors are included to allow you to have a great time with your family. Things like:

Arts and Crafts
Swimming
Watching a Movie
Bingo
Karaoke
Live Bands
Mini-Golf
Arcades
Wagon Rides

Experience the magic of a Jellystone Park vacation without having to hear anyone complaining about being bored! Besides all these wonderful activities you can participate in, kids can also visit Yogi-Bear! It's a once in a lifetime experience that you will remember forever.
Not every park offers all the above amenities, so check the park in your area in order to see exactly what your local Jellystone Park has to offer.
Besides these wonderful amenities, there are also special weekends you can come to camp that offer even more fun and special activities. If you think your family has seen it all when it comes to camping, then come to a Popular Theme Weekend, and be ready to be blown away. These Popular Theme weekends include:

Mardi Gras
Yogi Bear's Birthday
Christmas in July
Halloween

...another Yogi Bear's Jellystone park - this time in Tunkhannock, PA
One of the very best parts about Jellystone, is that most of these features are actually included in your vacation. You don't have to pay anything extra. Not only at Yogi Bear campgrounds can you have a great time outdoors, but you can also relax knowing your wallet is happy with you, as well as your family.
Jellystone Parks are all equipped with a convenience store just in case you were to forget anything, or if you realized you need something you didn't think you would. Basic things like food, camping supplies, and toiletries are always available to you should you find yourself needing them. Needless to say that camping's staff is always available for guests….

Going camping is the type of experience you never forget. There's just something amazing about sleeping outside and roasting sausages over a campfire. And the best way for you and your family to experience that magic is at a Camp Jellystone Park. It's affordable, fun, and magical, where else would you go camping?

---
Visitor's story....

These campgrounds have some great activities for the entire family.
I have heard about the one down in Florida that has built a water park and has a paintball field.
If you have ever heard about paintball games, this is the place to see the action.
Although I would never try this sport because I do not like any kind of pain, I like to watch the action.
The parks do also include beach camping parks and other types of parks as well. The campgrounds are kept clean and up to date on facilities and other things like those that take you off roading on the well-kept trails. There are guidelines to follow, but that is expected anywhere you ride. The parks offer you an enjoyable stay and want everyone to remain safe while camping on the grounds.
After looking through a directory of campgrounds, you can visit the websites of these campgrounds and find out what they offer as far as activities and other types of entertainment.Most of the parks offer festivals, live musical entertainment, and they have special venders selling their goods. With all this waiting for you at a Jelly Stone park, you might not need to look for another campground again.
Jelly Stone Campground Park provides other services and special needs accessories for people with disabilities. You may want to call ahead for reservations to ensure you have a site when you arrive at any of the campgrounds.
If you are looking for beach camping parks, checkout the directory and see which ones would have this feature. However, with a water park, who really needs a beach for swimming.
 About Us / Privacy Policy / Resources
Go to: Pop-up Travel Trailers and RVs
or to:  USA Campsites /  KOA Campground Parks / Ontario Campground Parks / British Colombia Campground Parks / Alberta Campground Parks