Alberta Campground Parks
Find best RV Parks and campgrounds to explore stunning beauty of nature in Alberta; discover Banff and Jasper National Parks in Canadian Rocky Mountains…
Alberta is the most populous of Canada's three Prairie Provinces.
It is also one of the most exceptional vacation destinations in Canada.
Alberta is bordered by the Canadian Rocky Mountains where nature created some national parks of stunning beauty.
The "Must-to-see" includes: Banff National Park which is Canada's oldest national park, Elk Island National Park, which host to both the largest and the smallest terrestrial mammals in North America, Jasper National Park, which is the largest national park in the Canadian Rockies, Waterton Lakes National Park and Wood Buffalo National Park.
The Canadian badlands are also a popular tourist destination. Other attractions that usually find a lot of interest from tourists are: Alberta's Sports Hall of Fame, Blackfoot Crossing Historical Park, Alberta Railway Museum, Devil's Coulee Dinosaur Heritage Museum, Lac Cardinal Pioneer Village Museum or the Olympic Hall of Fame and Museum.
Explore Canada's first and oldest national park and a UNESCO World Heritage sit - Banff National Park with Parks Canada interpreters and guides....
The truth is that you will need quite a lot of time to fully live an unforgettable experience in this seemingly remote province. But it is worth to find it!
---
Bridgeview RV Resort
1501 2nd Avenue West
Lethbridge, AB  T1J 4S5
 (403) 381-2357

Bridge View RV Resort is located in the wooded area at the outskirts of Lethbridge. It is open all year round what is not that usual given local climat. The sites are equipped with either full hookups including power, water and sewer or partial hookups with power and water. The prices differ according to season.
If you love dogs and you are traveling with your pets, you will like this park. They have a dog friendly policy and as expected in such case - on the premises there is a very nice dog run area. You won't get bored here, for guests there is a pool, but most importantly, Resort's staff organizes many activities, for example dancing, pancake breakfasts…. etc.
The park is close to the Oldman River, where you can enjoy water sports and fishing. Nearby you can also find golf courses.
The RV Resort is located in proximity of Lethbridge - the largest city in southern Alberta. Those missing the busy city life, shopping, fine dining and any other city attractions certainly will be able to find all that there.

Picture is worth thousand words, for movie just multiply that number... The bottom line: see the presentation of the Bridgeview RV Resort
---
Camp 'n Class RV Park
4107 50St,
Stony Plain
 AB T7Z 1L5
(855) 455-2299

Camp 'n Class RV is a city RV park, located in the heart of the town of Stony Plain. It is fully serviced, gated and 24/7 monitored (I guess required due to the location). It has 77 full-hookup RV sites with up to 100 amps at every site, plus cable TV and internet.
It is a very comfortable RV Park (the name "Camp 'n Class" obliges): for example shower bays have instant hot water & heated floors!
 
There is a shopping mall about 20 minutes away, but thanks to the location in the heart of the city, whenever you turn, you will find places where you can eat, dine, do shopping…. Your main problem may be the choice between fresh market grocery stores, coffee shops, farmer's markets and restaurants.

Heritage Park is just across the street from the campground. For golf fans, there are over 60 golf courses within a 35 km perimeter from the Camp 'n Class RV Park. The area also has 14.5 km of paved trails where you can bike or walk.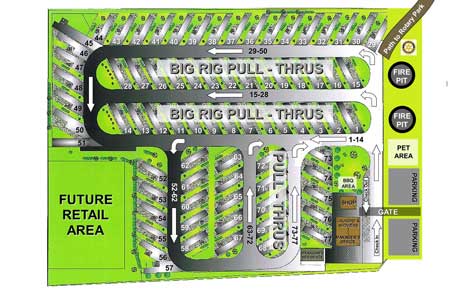 Map of the Camp 'n Class RV Park
Source: www.campinclass.com

---
Mount Kidd RV Park
Kananaskis, Alberta (Canada)
T0L 2H0
(403) 591-7700

Mount Kidd RV Park is open all year long, with limited RV sites during the winter season. It is a large campground located in the Canadian Rockies.  They have 229 campsites, each equipped with water, sewer, electrical hookups, picnic table and fire pit. Some sites have also TV connections.

You will find here comfort and friendly ambiance thanks to convenience store, coffee counter and social areas that are great for meetings with friends.
Those loving outdoor activities will find here many paths for bicycle ride, but also hiking trails and the tennis courts within the park.
The Kananaskis Country Golf Course and the Nakiska Resort are very close to the park. During the winter time you can enjoy cross-country skiing at the Ribbon Creek or at the Peter Lougheed Provincial Park.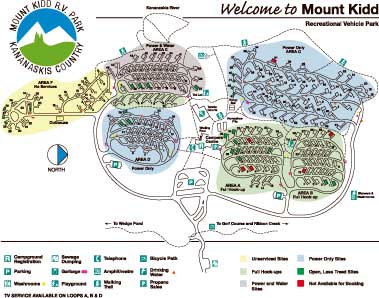 Map of the Mount Kidd RV Park
Source: www.mountkiddrv.com

---
Spring Lake Resort
499 Lakeside Drive
Spring Lake, Alberta T7Z 2V5
 (780) 963-3993


Spring Lake Resort is located next to a small lake with a beach area. They have RV sites with full service of water, sewer and 50 amps power.  The local convenience store at the campground offers good selection of most important items you may need at the camping.
For outdoor activities you can chose sunbathing at the private beach, reading a book by the spring fed lake or simply relaxing at the scenic walking trails. Bird-watchers may find here good opportunity to get "close-and-personal" with "flying wildlife"….

Spring Lake Resort is only 30 minutes away from West Edmonton. This big and bustling city offers fine dining, shopping and lots of sightseeing. There are golf courses in the area. If you stay at this campground, you should consider visiting the Royal Alberta Museum, Alberta Aviation Museum and the Telus World of Science.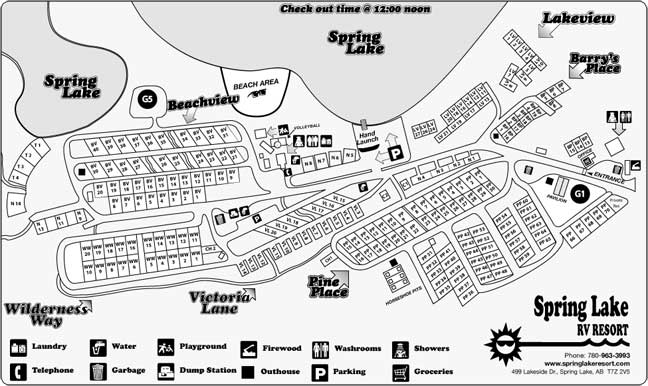 Map of the Spring Lake Resort
Source: www.springlakeresort.com

---
Spring Creek RV Park
1 Spring Creek Gate
Canmore, Alberta, T1W 0A7
(403) 678-5111

Spring Creek RV Park is located in Canmore in the scenery of beautiful Canadian Rockies. In general, this is a seasonal RV Park, but you can also camp here during the winter. At that time however the RV Park provides only electrical services and some Park's facilities will be closed. Each site has picnic table and fire pits, but obviously these pleasures are rather limited to the warmer times.


Please note that this campground offers sites only for RVs, no tents are allowed. 
The campground has lots of useful facilities for RV-ers, such as an LP filling station, sanitary dump stations, coin laundries and showers and even washroom with wheelchair access.

During the summer months nature graciously opens to visitors: you can enjoy swimming, boating, hiking, golfing, fishing, horseback riding and explore natural trails.
Downtown Canmore is a walking distance away, you will find there restaurants for fine dining and of course shops!.
---
Visitor's story.....

Although Canada is an all time favorite place for some campers, one has to remember that sometimes they do have restrictions in line during certain times of the year.
There are areas around Alberta campground parks that are protected and you need to follow the rules and guidelines that they post.
This helps to keep the area beautiful and free from any debris.
A directory will provide you with names and locations of the campground around this area.
If you need beach camping parks, you may want to look at parks that have a small lake or private swimming hole for campers. In all, camping in Canada sure does not provide much free time since people are always checking out the land and surrounding parks.
If you find yourself to be one who enjoys the outdoors, you will have the time of your life in this area. If you need, more information on area parks a directory will tell you what facilities and hook ups are available at that specific campground.
One thing to keep in mind when traveling to Canada or even before you make your reservations, you will need a passport. The new law took affect this year and requires all entering and leaving Canada to have a passport.Always keep passports in a safe area that no one would think to look in a camper or RV motor home to protect your identity and safe return home, if you by chance a burglary take place. .
Once you finalize your camping plans to Canada, you will have a great time at any of the Alberta campground parks you decide to stay at in Canada.
Just remember to follow all their guidelines and bans that may be in affect at the time you decide to go camping in the area.
Here are a few campgrounds in Alberta:
1. Lost Lemon R.V. Park & Campground
11001 - 19 Avenue
Blairmore, Alberta, Canada T0K 0E0
403-562-2932

2. Wetaskiwin Lions RV Campground
P.O. Box 6793
Wetaskiwin, Alberta, Canada T9A 2Y9
780-352-7258

3. Hubbles Lake RV Resort
53117 - Range Rd. 14
Stony Plain, Alberta, Canada T7Z 1X2
780-963-2845
 About Us / Privacy Policy / Resources

Go from Alberta Campground Parks to Pop Up Campers Trailer Home
 Directory of Campgrounds: Tent and RV Trailer Camping Parks USA /   KOA Campground Parks / Ontario Campground Parks / Jelly Stone Campground Park /  Alberta Campground Parks / Campground Parks In Canada (CA) / Quebec Campground Park (QC) / Manitoba Campground Parks (MB) / Nova Scotia Campground Parks (NS) / Manitoba Campground Parks (MB) / Newfoundland and Labrador Campground Parks (NL) / Prince Edward Island Campground Parks (PE) / Saskatchewan Campgrounds Parks (SK) / New Brunswick Campground Parks (NB) / Ontario Campground Parks