Ontario Campground Parks
Find RV parks and campgrounds in Ontario that can be your gateways for exploring Canadian province famous for its Niagara Falls, archipelago of Thousand Islands and numerous nature parks...
Ontario is the most populous province among the ten making the country.
In this province you can find the nation's capital city, Ottawa and also the most populous city, Toronto.
Interestingly, the metropolitan area of the capital includes also Gatineau located across the Ottawa River in the province of Quebec.
Symbolically this expresses a compromise made by two most populous and powerful provinces and two biggest Canadian cities – Toronto and Montreal fighting for the political dominance in the country.
Obviously number one destination in Ontario is the Niagara Escarpment including the famous Niagara Falls but also Bruce Peninsula National Park, Point Pelee, Georgian Bay Island National Park which consists of 63 small islands, Pukaskwa and the Thousand Islands. Visiting Niagara Falls do not forget to take a ride on the legendary Maid of the Mist; also consider visiting nearby picturesque small city Niagara on the Lake.

And this is a breathtaking helicopter tour of the area of Thousand Islands (Must-to-see)

Thousand Islands is an archipelago of more than 1800 islands stretching along the waters of St. Lawrence River near an old capital of Canada – Kingston.  Taking the Thousand Islands cruise seems to be one of "must-to-do" when in Ontario and it will certainly offer unforgettable memories. One of numerous attractions is the Boldt Castle located on the Heart Island. It is a heartbreaking story, the castle was built by George Boldt for his wife, but just shortly before an opening it was abandoned due to the death of his wife in 1904.

If you want a break from the outdoors, you can go shopping and sightseeing to Ottawa, visit the Canadian Science and Technology Museum, Canadian War Museum, Museum of Civilization and the Canadian Museum of Nature.

---
Cedar Beach Park
15014 Ninth Line
Stouffville, ON
L4A 7X3
(905) 642-1700

Cedar Beach Park is located in a convenient place about an hour away from Toronto. It is open between April and October. This is a large camper park with 519 fully serviced sites and pull-throughs offering both 50 and 30 amp power. It also offers sites for tents.
Here you will be close enough to enjoy all the sights and fine dining of Toronto, but far enough to experience the silence of the countryside.
 
Cedar Beach Park has two swimming pools and a hot tub. Kids are welcome and will not be bored as there are numerous playgrounds for all ages. You can also use the tennis and basketball courts, but also play beach volley ball, badminton, and tether ball. If you stay here you get a free admission to recreational activities run by campground staff (dances, corn roast, fireworks, bingo, line dancing, euchre, kids crafts and kids sports).
The park is situated on the sandy shore of Musselman's Lake, so it is ideal for many water sports including swimming and boating. The RV Park has fishing, canoe, kayak and paddleboat rentals, so you don't have to carry heavy equipment with you. While there are plenty of activities that you can enjoy at the campsite, there are also nearby attractions for example 17 golf courses, Paramount Canada's Wonderland and many walking, biking & hiking trails.
---
Presentation of the Wawa RV Resort

Wawa RV Resort and Campground
Wawa, ON
P0S 1K0
705-856-4368

Wawa RV Resort and Campground is located in a quiet, rustic area and it is a private family-owned park. There are lots of trees that will offer you shade during your summer stay. The campground has 12 sites with full hookups including water, sewer and 30 amps electric service and 50 partially serviced sites.

Campground's facilities make here the camping experience more convenient, there is an on-site convenience shop and the dining shelter. Drinking water is offered for free. You can have you evening barbecue at the picnic tables and fire-pits.  Kids will love the heated pull and the playground. You can use payphones on the campground. The campground welcomes groups of all kinds.

The park is not far from the town of Wawa, where you can do shopping and dining.
You can also admire scenic waterfalls and nature along hiking trails. The Anderson Lake is close by, perfect for swimming and fishing.


---
Country View Motel and RV Resort
4569 London Line
Wyoming, ON
(519) 845-3394

Country View Motel and RV Resort is a family owned and operated business with a family oriented philosophy. It is far from the highway, so you can enjoy the silence during your holiday. It is located in a well-kept park with lots of grassy sites. There are a total of 84 sites including 44 pull-thru sites with full hook-ups including water, sewer and 30 or 50 amp electric service. Each site has pits for fire and picnic tables.
The park also offers for rent cabins and place in trailers. They are equipped with fridge, stove, Satellite TV, A/C , linen for beds and all necessary "kitchen stuff" (dishes, cutlery, pots and pans) and even coffee maker. The only things you need are towels and toiletries. Please note that cabins and trailers are "non-smoking" and pets are not allowed.
It may be unusual these days, however here you have to pay "little extra" for the wireless internet. Also the use of the dump station is not included in the price for camping so you will have to pay "small" extra fees.
This place is ideal for groups because on the campground's premises there is a large pavilion that can be rented.
For fun you can fish in Albert Lake which is located right on the campground. Only catch and release fishing is allowed. For children there is a mini golf area and a playground.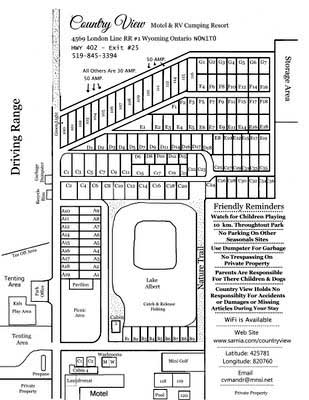 Map of the Country View Motel and RV Resort in Ontario (Canada)
Source: www.countryviewmotelandrvresort.com

---
Carol's Campsite and RV Park
2388 Richard Lake Drive
Sudbury, Ontario
P3G 0A3
(705) 522-5570

Carol's Campsite and RV Park is a family operated and owned campground located just a couple of minutes away from the highway. It is seasonal, open between May and October. They offer full hookups with sewer, water, 30 amps service and a picnic table with fire pit at every site. 
The park has security gates with a video monitoring system.

Carol's Campsite and RV Park offers paddle boats and canoes rentals for those who would love to try the nearby water sports. For on-site fun time there is a playground area and a buoy limited swim area. You can use the basketball court, beach volley ball area and also play tether ball.
The camp has a small convenient store where you can buy firewood and propane (with or without trade).
Since the park is very close to the shores of Richard Lake, you can do kayaking, swimming and sunbathing on the beach. You can also do fishing; apparently in the lake's waters there is abundance of Brown Bullhead, Central Mudminnow, Largemouth Bass, Northern Pike, Pumpkinseed, Walleye, White Sucker and Yellow Perch.


Carol's Campsite and RV Park - site map.
Source: www.carolscampsite.com

---
North Western Tent RV Park
559 Government Street
Dryden, ON P8N 2Y8
(888) 714-1947

North Western Tent RV Park is a family owned and operated camping place. This park offers cabin rentals, tenting and full hookup RV sites.


There are 45 trailer spots all in all, some of them are pull-thrus.
Hookups include water, electricity, sewage as well as wifi Internet and cable television.
You can choose between 30, 20 or 15 Amp service plans.
The site is quite small but has all basic facilities, laundromats, showers, washrooms and dressing rooms as well.
If you want to relax at the campground there is a recreation area for kids and adults. It has a children's playground, basketball and badminton courts.Off site and not far away you can find fast food & fine restaurants, grocery stores and other shopping opportunities. Dryden's downtown located in close proximity to the campground is another option where you can find lots of stores, gift shops and fine dining.
---
Visitor's story.....

Because of these news rules, people may find it easier to plan a camping trip to Canada campgrounds during the camping season.
Because some people have made reservations and then not shown up on the scheduled dates, campgrounds were losing money and people who really wanted a campsite were turned away.
Whether you want to stay at beach camping parks or other camping parks, you can make a reservation but beware, if you do not show up, you will receive a shock.
Penalties will be assessed against you ranging anywhere from ten percent up to fifty percent of the cost for not showing up or canceling at the last possible minute.
In other words, if you book a campsite six months ahead of time, and cancel two days before you are to settle in, you will receive a fifty percent penalty cost for this mishap.
Some directory sites will explain this in more depth, but the basic knowledge will help you when booking an early reservation. This new policy went into affect in the year 2005. I have never heard of any US parks doing this, but then I always show up. You may wish to make a reservation, but may sure you have every intention on keeping the campsite or you will pay percentage penalty.
Look in the directory of Ontario campground parks and find a campground that fits your need. The campgrounds up in that area are beautiful during the year and many people enjoy the area wilderness. Some campers even go during the hunting months so they can campout and do some camping while staying in Canada.
Please keep in mind the new policies and when you make reservations, discuss the cancellation cost and time frames for doing so.
Here are a few campgrounds in Ontario:
1. Big Water Campgrounds
Highway 655 North
Timmins, Ontario, Canada P4N 7C2
705-360-3100


2. Cameron's Beach Trailer Park
Big Nellie Lake Road RR 1
Iroquois Falls, Ontario, Canada P0K 1G0
705-232-4905


3. Pare Sutton Bay Park
RR 3, 841514 Waugh's Hill Road
New Liskeard, Ontario, Canada, P0J 1P0
705-647-8510
 About Us / Privacy Policy / Resources
Go from Ontario Campground Parks to Pop Up Campers Trailer Home
 Directory of Campgrounds: Tent and RV Trailer Camping Parks USA / KOA Campground Parks / Jelly Stone Campground Park / Alberta Campground Parks / Campground Parks In Canada (CA) / Quebec Campground Park (QC) / Manitoba Campground Parks (MB) / Nova Scotia Campground Parks (NS) / Manitoba Campground Parks (MB) / Newfoundland and Labrador Campground Parks (NL) / Prince Edward Island Campground Parks (PE) / Saskatchewan Campgrounds Parks (SK) / New Brunswick Campground Parks (NB) /