Wheel Chock for Campers
Wheel chocks are very useful accessories stabilizing the unhooked camper when left on the campsite.
Many of campers have faced with the unexpected situation when trying to unhook their vehicle it starts moving.
So when you have come to the desired campsite it is very important to properly secure your camper.
That's why you will need wheel chocks so your camper doesn't move when you walk out.
They are very handy for stabilizing your camper. Actually they are preventing the camper from rolling down the hill.
Wheel chocks come in many sizes and styles but when buying wheel chock they should be purchased based on the size of the tires of the camper. As there are lot of different types of wheel chocks one must know that general purpose wheel chocks are perfect for trailers, utility vehicles and pick-ups.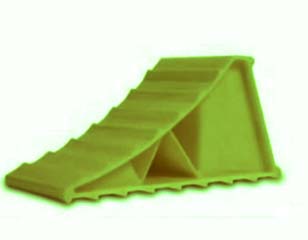 Camco's RV Wheel chocks

In order to properly prevent campers from moving the chocks should be placed on both sides of the tires when camper is parked on level ground. However if the camper sits on downhill grades chocks should be placed on the front sides of the tires and for uphill grades wheel chocks should be placed outside of the rear wheels.
Apart from different sizes and styles, wheel chocks can be made out of various materials-urethane and polyurethane, rubber, steel and aluminum.
There are many manufacturers of wheel chocks. Some of them are Camco. Valterra, Rhino Gear, Reese Towpower.
Camco's RV wheel chocks are perfectly designed to keep your camper in place so you don't have to worry whether your vehicle will move or not. They are made of durable hard plastic and are very easy to use.
Valterra wheel chocks for campers have grooved surface for better grip and nylon cord to easily remove the chock when finished preventing tires from rolling and sliding.
Rhino Gear wheel chock are recommended to be used only on flat surfaces. They keep the tires from rolling and should be used in pairs-2 per tire.
Reese Towpower wheel chocks are designed to reduce the risk of camper roll. They are extremely durable because they are made of high impact polymer. These wheel chocks fit all trailer wheels.
Wheel chocks are very useful accessories that every camper should have when going camping. They are very small and thus can be stored easily in the camper, but they are strong enough to prevent your camper from moving when not in use.
When you have decided to buy wheel chocks for your camper first you have to know which chocks are good for the camper you own. If you have a smaller camper you might need lightweight chocks, but larger campers will need large, solid set of wheel chocks.
---
Visitor's story....

A wheel chock for a camper is the same style and shape, as you would use for a truck or car.
The chock shape resembles a triangle and the angled part fits properly under the tire to prevent movement and shifting of the camper. Not only do you need this for changing the tire, but also for settling in at the campgrounds and at home.
If you have a 1978 camper or a 2003 camper, you still need to follow proper safety when parking the camper. Some states require you to have the tire chocked before leaving the camper. Pennsylvania and Oregon have the same rules as every other state. This is done for safety not only to you, but also to the people and other traffic around you.
You can buy a wheel chock at many area stores that carry safety equipment. The usual chock is a reinforced rubber with an angle to snuggly fit under the tire. Most chocks have a side handle for easy gripping to place under wheel and remove. Aluminum chocks are easy to handle and lightweight. There are chocks that have an extended handle where you can place a warning sign or a caution flag.
Other types of wheel chocks are steel chocks, molded urethane and rubber wedges. Whatever type of wheel chocks you buy for your camper should be the correct size for the tire and fit properly to prevent injury. Most wheel chocks for campers are sized according to the safety guidelines.
Sizes range from four inches up to twenty-four inches. If you try to use something other than a wheel chock, you put yourself and other in danger of moving parts and possible accidents with other cars. Use the right wheel chock before leaving your family in any camper even when parked at the campgrounds.
 About Us / Privacy Policy / Resources
Go from Wheel Chock for Campers to Pop Up Campers Trailer Home

  5th Wheel Campers / Pop Up Camper Tires / Mini Truck Campers /  How to Winterize a Camper