Mini Truck Campers
Mini truck campers come ready to fit right inside a small truck.
Truck campers are maybe the most favorite campers in America. 
They are considered as the most convenient for journeys, because on days when you don't plan on camping you can unload your camper, freeing the truck for separate use making it an excellent second car.
Truck campers are not especially cheap RVs, but they offer some unique possibilities.
For those who already own a pickup track, adding a camper is ideal option. There are various brands of campers. Each varies in design, functionality, and quality. Here are some of the truck camper brands available on the market:
 -  Lance camper is an excellent camper, which is not too big and not too small. It is light-weight camper, very practical with stunning interior design. It's construction is made out of fiberglass and is equipped with all necessary equipment such as oven, water heater, fridge and freezer, sink, shower and toilet, queen bed, dinette. All these features make this camper dependable, functional and while on the trip, you don't have to worry about anything.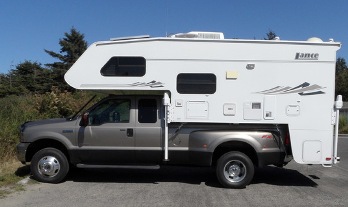 -  Bigfoot camper is produced out of fiberglass with high-density insulation and thermal pane windows. This light- weight camper is ideal for multi-season traveling. It's interior is high quality and it is equipped with dinette, kitchen, toilet, heated and enclosed water tanks, solar panel.
   -  Outfitter camper is the perfect option for all of you who want to enjoy traveling, camping, hunting, off-road exploration or discovery adventures. It is made of high quality materials and while building advanced construction methods were being used. It turned out that these types of campers are extremely durable. Equipped with all important parts that you need while on trip Outfitter is an excellent light-weight camper.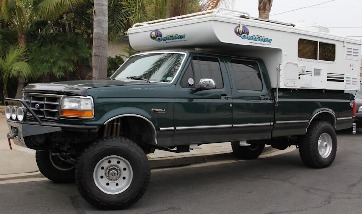 Livin Lite Camplite camper is constructed of aluminum and composite. The frame, flooring, walls, roof, and even the cabinets are made of aluminum. These ultra light campers are designed for smaller fuel-efficient trucks. It is perfect for young families and each model is  equipped with dinette, sink, oven, fridge, toilet and shower, bed or sofa and plenty of storage.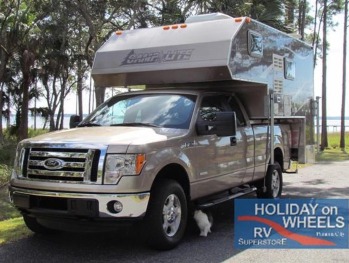 Forest River Palomino camper is very popular among weekend RVers, because it can be easily loaded and unloaded. This light weight camper has a specious interior with lot of convenient features. It has shower/toilet, standard kitchen, and closet, dinette table/bed with under storage and queen bed over the cab.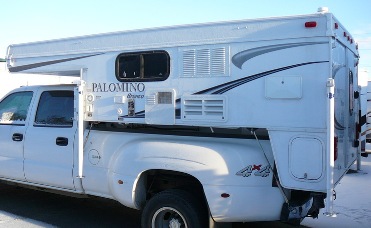 ---
Visitor's story

A short bed is what you would cal these trucks and they make campers that slip right into the small space.
From 1982 until 1997 short bed trucks where a standard size, but today they have a different purpose than they did then.
Today people by use these trucks as campers usually for hunting.
Whether you are traveling to Rhode Island or South Carolina the short bed truck and camper give you great gas mileage and are easy to handle.
Some people prefer the small truck camper rather than a bigger camper. I guest the smaller the camper the cozier the inside for warmth.
I believe the smallest truck camper would be a six foot five inch truck bed. This is small when you thing of your height verses the length of a camper. The inside is quaint and charming even for a little camper. The main thing about campers is the ability to provide comfort. These little campers do provide comfort, but do not allow for as many accessories.
If you look at the inside of a small truck camper, you see a big difference from the bigger truck campers. Although the design is the same it is a miniature version scaled down to fit a short bed truck. You have a bed and a little area for a tiny kitchen. Most of these units have kitchens that move outside to allow you to cook.
Mini truck campers have some accessories such as a comfortable bed and some windows. The rear door is standard size and allows for easy access to the inside of the camper.
If you travel around the country in a camper, you may want a bigger camper, but the little truck camper is fine for short trips or hunting.
 About Us / Privacy Policy / Resources
Go from Mini Truck Campers to Pop Up Campers Trailer Home
Build Truck Camper / 5th Wheel Campers / Luxury Motor-Home Campers / Pop Up Camper Tires / Wheel Chock for Campers