Cedar Creek Fifth Wheeler
Cedar Creek fifth wheel is maybe the best four-season camper, which you can buy on the RV market nowadays.
Every camper who decides to purchase Cedar Creek fifth wheel may consider that it is a very wise choice because such recreational vehicle may be bought at affordable price yet providing luxurious ambience, which is hard to be found in any other RV.
Cedar Creek fifth wheels have been present on the market for 10 years and ever since they have gained the popularity among experienced RV'ers.
Their size range between 26' and 41' and are equipped with lots of amenities one enjoy at home thus allowing you to travel and live in style without compromising your high standards.
Among many excellent features that cedar Creek fifth wheel may boast, this exceptional recreational vehicle has insulated tanks for cold weather, which will prevent the tanks from freezing and cracking. The interior of this recreational vehicle is extremely specious and highly comfortable. Even when the weather is not good, you can stay inside the Cedar Creek and enjoy all the comfort it offers. Also, this camper has very powerful air conditioner that can provide you heating when cold or cooling when hot, depending on what you need.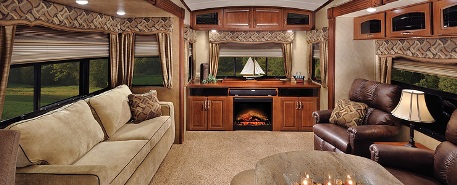 Living Room in Cedar Creek by Forest River Inc... As it can be seen  this 5th Wheel creates an exceptional travel experience...
( Courtesy of Forest River Inc. -  http://www.forestriverinc.com )

The owners of Cedar Creek fifth wheels may enjoy using clean water thanks to water filtration system that is included in this extraordinary recreational vehicle. This cold water the owners may use from the sink and shower too. The bedroom inside the vehicle is very luxurious providing beds that are mostly comfortable and attractive. There is a queen or king bed that is very soft and where owners may relax after long walks during day. Also there is a lot of storage for storing all the things you bring with you on trip.
At the end the conclusion would be that if someone is looking for a reliable and highly luxurious and above highly quality constructed recreational vehicle Cedar Creek fifth wheel makes the perfect and wise choice.
Models of Cedar Creek fifth wheels:
Model


36CKTS

36RE

30RL

34RLSA

36B4

36MBX

38FL

38RE




L/W/H


39'0" / 8'0" / 12'11"

40'4" / 8'0"/ 12'11"

34'3" / 8'0" / 12'11"

36'8" / 8'0" / 12'11"

41'0" / 8'0" / 12'11"

41'5" / 8'0" / 12'11"

40'8" / 8'0" / 12'11"

40'11" / 8'0" / 12'11"


Weight dry/cargo


12,076 / 4,313 lbs


12,055 / 4,111 lbs

10,960 / 3,008 lbs

11,569 / 2,516 lbs

13,134 / 3,114 lbs

12,495 / 4,070 lbs

13,430 / 3,120 lbs

12,920 / 3,620 lbs


sleeps


4

4

4

4

8

4

6

4

---
Visitor's story....

The model has a lot of features that would interest a buyer searching for 5th wheels.
For instance, the Cedar Creek fifth wheel is equipped with heating pads that will provide for comfort and tanks with fresh water for human use. The front storage area has compartment doors that provide for a larger space, so you can stock there more stuff.
The insulation provided for the exterior is top notch; it is based on butyl rubber and silicone, this type of insulation being considered the best there is out there and superior to that based on foam.
With these fifth wheel you don't have to worry that you are isolated from the rest of the world. It has a phone jack and cable TV connections, for your entertainment.
In the world of 5th wheels, the Cedar Creek model is one of the most popular, due to all the options that it gives to the user. The bedroom comes standard with a queen size bed – but you can ask for a king size, if this is what you need – and a large storage area right under it, saving a lot of space. A mirrored closet and a solid wood dresser contribute, as well, to the comfortable interior.
The kitchen is well equipped with a refrigerator and a microwave, so you can cook for your family any time you want. There is also a sink, where you can wash the dishes or the vegetables, along with a pantry, and a silverware drawer.
The water is filtered, so you don't have to worry about safety issues, due to the water filtration system the Cedar Creek has. There are many things that you can find in this model, so, if you search for good quality 5th wheels, then you can start by seeing what the Cedar Creek fifth wheel is all about.
 About Us / Privacy Policy / Resources
Go from Cedar Creek Fifth Wheel to Pop Up Campers Trailer Home
Air Ride Fifth Wheel Hitch / Cardinal Fifth Wheel / Fifth Wheel Dealers / Fifth Wheel Floor Plans / Fifth Wheel for Sale / Fifth Wheel Haulers / Fifth Wheeler RVs / Fifth Wheel RV Manufacturers / Cougar Fifth Wheeler