Bigfoot Truck Campers
Bigfoot is one of the leading companies in the industry of truck campers....

They produce truck campers of exceptional quality, outstanding comfort and beautiful design.
Moreover, these truck campers are equipped with lots of standard features built to meet the needs of the adventurous buyer.
Actually, truck campers made by Bigfoot are perfect choice for traveling and relaxing at any campsite.
Furthermore, they are an excellent way to explore all the natural beauties of the country. One of the main benefits of Bigfoot campers is that they can be used all year long for any adventure that you are dreaming of. No matter which type of adventure you are going to experience on your travel, Bigfoot truck campers will provide all that you may need with all the amenities of home right inside the camper.
Bigfoot has several styles of truck campers to offer. These are correspondingly: Bigfoot 1500, Bigfoot 2500 and Bigfoot 3000 series truck campers.
Bigfoot 1500 Series truck campers are lightweight aerodynamic campers available in both long and short box floor plans. They are equipped with an impressive list of standard amenities, high quality appliances and three stylish interior décors. These models are made of two-piece molded fiberglass construction; they are well insulated with a high-density 1" polystyrene insulation.
There are four models of Bigfoot 1500 Series.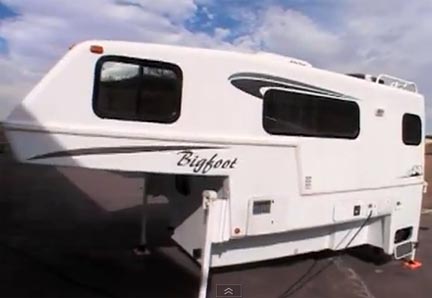 Standing-alone Bigfoot Truck Camper

---
Int

height

dry weight

[lbs]
15C8.2
15C9.3SB
15C9.5FS
15C9.5SB


15'1"
16'6"
16'6"
16'6"


7'11"
7'11"
7'11"
7'11"


7'3"
7'5"
7'5"
7'5"


6'5"
6'7"
6'7"
6'7"


1,790
2,100
1,970
1,970

---
Bigfoot 2500 Series truck campers similarly to Bigfoot 1500 series are available in both long and short box configurations. Unlike the previous models these are insulated using a 1.5" high-density polystyrene insulation. They offer plenty of standard features but with larger basement storage compartments.
Also they have enclosed insulated fresh and waste-water holding tanks. 2500 series truck campers are made of two molded gel-coat fiberglass shells that are joined thus giving the camper very durable and weatherproof design.

Let's take the tour of the 2014 Bigfoot Truck Camper series 25C94 Shortbed

---
Int

height

dry weight

[lbs]
25C10.4
25C10.5
25C10.6
25C9.4lbox
25C9.4sbox
25C9.6


17'11"
17'11"
17'11"
16'6"
16'6"
16'6"


7'11"
7'11"
7'11"
7'11"
7'11"
7'11"


8'3"
8'3"
8'3"
8'3"
8'3"
8'3"


6'4"
6'4"
6'4"
6'4"
6'4"
6'4"


2,790
2,600
2,600
2,435
2,435
2,400

lbox = longbox;          sbox = shortbox

---
Bigfoot 3000 Series truck campers are the most luxurious campers in Bigfoot line-up. These are wide body deluxe truck campers offering Fibercore wall system, enclosed, insulated and heated fresh and wastewater holding tanks. With all the amenities these campers have to offer, they allow outdoor enthusiasts greater functionality during the winter months.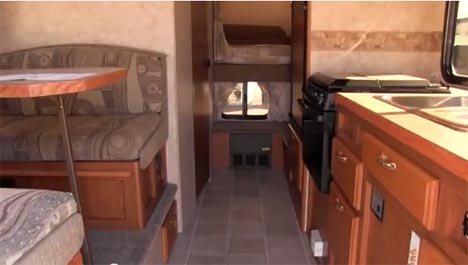 Inside view of the Bigfoot Truck Camper series 3000

---
Int

height

dry weight

[lbs]
30C1001
30C1002


18'4"
18'10"

---
All models of truck campers produced by Bigfoot come equipped with a fiberglass roof, radius corner safety glass windows with screens, molded fiberglass front cap, sewer hose storage compartment, blocking for rear awning, blocking for the roof rack and ladder, a step bracket and so on…..
Their interiors feature a foam mattress, 42" headroom in bunk area, day/night shades, a 3-burner cook top, 12 volt range hood, stainless steel sink, a cutting board, a refrigerator and much more…..
Buying a Bigfoot truck camper is an excellent decision as each model is designed with safety and comfort in mind.


---
Visitor's story.....

I do not know what it is when I hear about Bigfoot truck campers, but it always reminds me of Bigfoot the creature. They may have even taken the name from the creature since they are durable and blend into the outdoors nicely.
Although theory has it, there is no creature of this kind in Utah or Texas, you will see them on the road and in the woods, but it will be the campers. They travel nicely and set up quickly. The ability to add the outside screen tent makes this model very popular.
I have to say, some of these models are superb looking. The inside of a 1500 series I recently saw was a wake up call for anyone thinking truck campers are a little on the modest side.
This camper had enough cabinet space, beautiful wood cabinets I might add, nice open walking space with side windows that allow the sunshine to enter. The kitchen area was jus that, a kitchen station with a table and chairs to sit and enjoy the meal.
The skylight left the warm sunny light inside to keep it warm on chilly days, or you could block it to keep the hot summer heat out. This fiberglass shell was designed for less wind resistance and easy driving. The appliances are remarkable. I have to say, this was a truly comfortable unit. I would have rate this up there with some of pop-up trailers I have seen. It was wonderful and even if you want a 2001 or 2002, you are still going to have a beautiful recreational vehicle for traveling and camping.
If you see any of the Bigfoot truck campers, you should take a peek inside and see what I am saying, they are truly elegant looking for something that rides on the back of a pick-up truck.
 About Us / Privacy Policy / Resources

Go from About Bigfoot Truck Campers to Pop Up Campers Trailer Home
Truck Campers Canada / Adventurer Truck Campers / Amerigo Truck Campers / Kodiak Truck Campers / Pop Up Truck Camper Trailer
Benefits of Lightweight Travel Trailers