Dodge Camper Vans
New Doger Camper Vans designs based on Mercedes experience can provide an unexpected in camper vans luxury....
History and characteristics
The Dodge Camper Van is a model made by Chrysler Corporation, well known for their high quality vans between 1971 and 1998.
Later the company became Daimler-Chrysler and started production of new models of vans under the name Dodge Sprinter Van.

Models
1. Two4theroad Campervan
This camper is built on the chassis of the dodge sprinter van and is designed to accommodate two persons. It comes with several features providing a necessary comfort what makes it suitable for longer trips.

Main Features
This camper van has the dinette in the back, a bathroom with a shower and a toilet as well as a kitchen area with a stove, sink and fridge. It is a small van with all that you need inside for a more comfortable ride.
The Two4theroad campervan is equipped with a fuel efficient diesel engine which has a much longer life-span and lower maintenance requirements than a regular gasoline engine. If you want to have a quiet engine that runs smoothly, the diesel is definitely the better choice.

Specifications and Features:
Converted Dodge Sprinter diesel engine allowing for 20+ miles per gallon
Vehicle Length: 19'
Bed dimensions: 72" X 30 " (if splits into 2 separate beds)
Bed dimensions: 72" X 69 " (if made into single bed)
Two-burner stove
Kitchen sink
Refrigerator
Marine toilet & shower

Further options
This model can come with a table, chair, bed-sheets and sleeping bags, bathroom package with towels and wash clothes and some other extra options as well.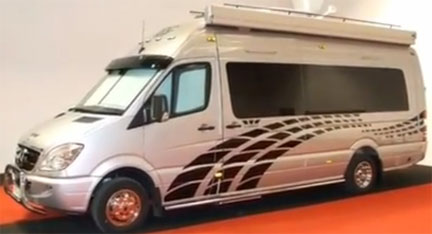 Mercedes Sprinter camper-van is an "easy-to-drive" motor-home...

2. Dodge Sprinter Van Clanhauler (Long Wheelbase)

Main Features
The benefit of this model is it longer chassis making this campervan suitable for 2 adults and up to 3 children.
The cockpit of the car is comfortable and has a good ergonomic design; all the controls are well positioned so driving it is a fun (finally that is what you are looking for when taking vacations). This model has large windows providing "quasi-panoramic" visibility. There is enough of room in the driver's section of the cabin. On top of that the seats' positions are very flexible as they can be adjusted in few directions.

Further Options
The Dodge Sprinter Van is available in a rainbow of colors. You can find it in arctic white, calcite yellow, steel blue, hyacinth blue, black blue, silver gray, black gray, stone gray,  orchid green, flame red, brilliant blue and Piedmont red. There are some new colors as well that are available from certain distributors.

Specifications
Vehicle Length: 24'
diesel engine
horsepower - 154 @ 3,800 rpm
maximum speed - 85 mph
fuel tank - 26.5 gals
range - around 550 miles
torque - 243 lb/ft. @ 1,600 - 2,400 rpm
rear wheel drive axle ratio - 3.73
steering - power-assisted rack and pinion
turning radius - 140" wb - 44.6' 158" wb - 49.5'
brakes - 4-wheel hydraulic discs with abs and traction control.
---
Where to buy your Dodge Camper Van
Motors Shop eBay
This eBay page has a collection of dodge vans for a big variety of prices.
Many of them are also available for an auction, which is one of the biggest benefits of eBay.
Here you can find models of dodge vans in all kinds of conditions, from those requiring "heavy" upgrade to kind of "sit-&-drive" like-new ones.

Auto Trader
This company is great if you are living in the USA and you would like to find a good deal for a dodge camper van in your area. When you visit the website, you have to choose the state you are living in, and the program will automatically choose the vans available in your area.
Auto Trader will give you the address and van information of the venders and distributors closest to where you live.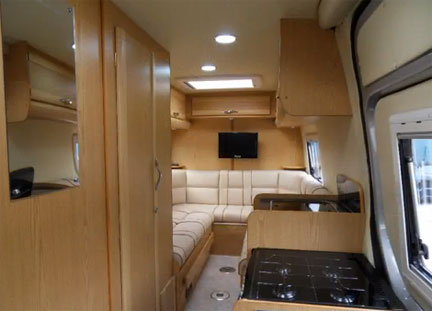 Mercedes Sprinter camper-van and its luxurious "home-like" interior

---
Visitor's story.....

A 2000 Dodge camper van comes around the campgrounds from time to time. The van is nice if you like a Dodge. I am more of a Chevy man myself.
These vans have sporty little accommodations that give a feel of traveling in a little motor home built for two. Parks are full of camper vans from a Dodge to a Chevy and all the makes in between. The 2001 pop up camper has nice qualities, but only the camper vans offer confinement while traveling.
Camping is camping and everyone has a different preference to what way they prefer to travel and camp. My son actually prefers the truck pop up camper and I prefer the pop up trailer.
I love going to New Mexico during the Christmas holidays, but I heard recently they had some snow in some areas. This has always been a great place to go, but I think I will wait a few more days. I know New York is out, since they are receiving so much rain and wet weather, so I guess I will just head south and see where I end up.
Everyone knows the campgrounds have a variety of campers and people, so this makes it even more adventurous no matter how you travel. The best thing is you have a choice of van campers, pop up campers and truck campers.
Getting back to the Dodge camper van, sharing experiences and traveling is the most important thing about camping. If you get a chance to see the inside of the 2000 Dodge camper, you will see that it does provide the comforts and actually does resemble a small replica of the bigger RV motor home.
Always enjoy your camping experiences, come back, and share the good times with everyone out here, waiting to hear about them.
 About Us / Privacy Policy / Resources
Go from Dodge Camper Vans to Pop Up-ing Home
New Camper Van / Hire Camper Van /  Camper Vans for Sale / VW Volkswagen Camper Vans for Sale / Class B Camper Vans / Camper Van Awnings / Dodge Camper Vans / Camper Van Conversion Plans / Diy Camper Van Conversion