Reese Fifth Wheel Hitches
Reese specializes in making high quality fifth wheel hitches as well as electrical wiring, brake controllers, cargo management products, trailer accessories and more...
The importance of hitches
           A hitch is a small device attached to the chassis of the car, which makes it possible to attach a fifth wheel camper to a truck.
This is what keeps the camper in place securely, and allows it to slide easily on the road together with the car.
There are several companies that make hitches, but when it comes to these products it is essential that you get a very high quality one.
After all, your safety on the road can depend on such a small thing as a hitch.

Reese, the producer of high quality hitches
Reese is a company that specializes in making products such as high quality fifth wheel hitches. They have a website where you can look at their offers and items, and even find a dealer in your area that will help you get the best Reese hitch for your RV. Besides hitches this company also sells electrical wiring, brake controllers, cargo management products, trailer accessories and more.
Main features of a Reese fifth wheel hitch
The Reese hitches are well known for a reason. They come with a side-to-side pivot to make hookups easier even on an uneven ground. These hitches are just as easy to remove as they are to install, so you shouldn't have trouble with them at all.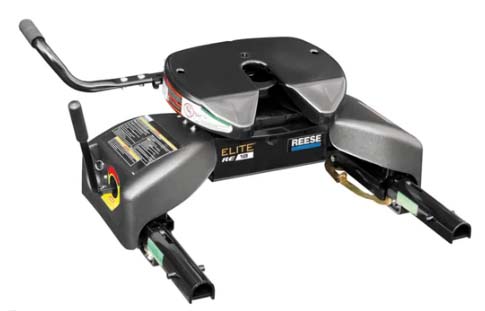 Reese Elite 5th Wheel Gooseneck Hitch

Models
1.    15K / 16K Fifth Wheel
This hitch has a limited lifetime warranty, and it has been created to be durable and easy to use. Its adjustment heights are between 15" and 18" and it has a 16,000 lbs. capacity. It comes with a durable powder-coat black paint finish, cushion handle grips and a two jaw locking system. Definitely a good choice, even if you have a limited budget.
2.    R16K Fifth Wheel
This is the newest model of fifth wheel hitches made by Reese, created to make your driving even safer with such a reliable device. It has 16,000 lbs. gross and 4,000 lbs. pin weight capacity, and a new contoured handle with a customized grip that includes universal control instructions.
This new control handle will make locking of the system more convenient, and it eliminates the usage of a separate latch. It has a patent pending king pin indicator, a new cast jaw system and even a new cast pivot beam.
The new cast jaw system has a double jaw mechanism and added grease points. The new cast pivot system will also make thing easier for you: it has a vibration isolator for a smoother ride.

Buying Reese hitches
These well known hitches can be found in almost any RV store online. However, if you want to make sure that you get the real thing, you can visit the main web page of the company and then locate a dealer that is close to you.
If you prefer to look for the products online, the best options are Reese-hitches and ReesProd.
Both of these websites have various categories and detailed description that will help you find the best hitch for your fifth wheel.
And now we are inviting for the video showing the process of installation of the Reese Elite 18K 5th Wheel Slider and Gooseneck Hitch....
---
Visitor's story....

They have many different types of 5th wheel hitches. The one that is right for your trailer depends on the weight and length of the trailer as well as the length of your truck bed.
If you need a hitch and cannot find one in your state such as Maryland or Maine, you can find them online and the shipping and handling is affordable. Reese has the Pro Series hitches with the rail kits included. The hitches are easy to install and if you need to remove it, it is easy to do.
If you have a 36 foot 5th wheel, you will need a hitch that is meant for that length and weight. The width of a fifth wheel is normally 8 ft and that will not have to be a consideration.
Whether you have 1992 or a 1999 camper you can use any of the types of hitches available from Reese. The Kwik Slide is great for hauling the unit. It comes with a jaw handle that locks and the 15K model has a thirty-three hundred and fifty pound pin weight while the 16K has four thousand pound pin weight. There are other types of hitches as well.
You can also get a hook up sensor along with your Reese fifth wheel hitches. This ensures that you hookup the hitch correctly every time. This is great for backing up and hooking onto your camper trailer. You cut out the in and out of the truck to make sure you are doing everything correctly. This type of help aid is not available for the Signature models.
Take a look at the Pro Series, the models for heavy duty campers, low profile hitches and the Signature hitches. Your 5th wheel adventures are now easier with Reese hitches.
 About Us / Privacy Policy / Resources

Go from Reese Fifth Wheel Hitches to Pop Up Campers Trailer Home
The New Fifth Wheel Campers / Valley Fifth Wheel Hitches / Used Fifth Wheel Travel Trailers / Holland Fifth Wheels / Titanium Fifth Wheels