Vista Camper Shell
The Vista camper shell offers many different types and styles
Camper shells are one of the important add-ons used for trucks whose main purpose is to provide additional storage or they can be used as a sleeping room.
There are many famous camper shells' brands. One of them is Vista.
Vista camper shells have been on the market for over twenty years.
They are very stylish, high quality camper shells, well known for their durability.
Being made out of strong, rust-free, and weather resistant fiberglass, they really last long! No wonder, Vista camper shells are popular among truck owners.
It is worth to mention that Vista camper shells have good aero-dynamic profile what helps to keep truck fuel efficiency almost unchanged. Also - the manufacturer took care to design camper shells fitting every truck bodyline and every truck model.
There are several series of Vista camper shells – Summit Series, CT Series and Alpine Series.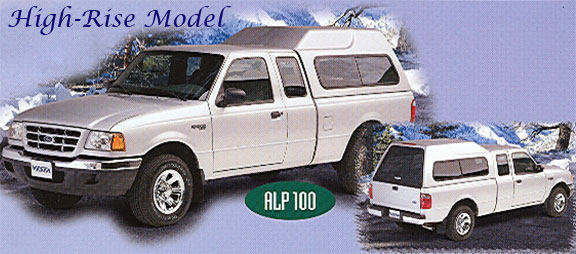 Example of Vista Alpine High-Rise camper shell

Summit Series is a line of camper shells, which has two models – The Summit 600 and The Summit 900. The Summit 600 has super large curved side sliders which when mounted on the truck gives them the combination of an SUV style and a pick up style. The Summit 900 has recessed and contoured side pop-out windows. These camper shells have frameless rear door and LED brake lights.
CT Series are camper shells with cornerstone edges. They are stylish and quality camper shells. With their extra tall door and plenty of cargo space, CT Series camper shells are ideal for work and play.
They have aerodynamic profile, which reduces wind resistance. Safety glasses are dark tinted with black frames and on the rear door, there are dual-locking door handles for additional security.
Alpine Series are perfect combination of quality and craftsmanship with style and versatility.
There are two lines of Alpine Series Vista camper shells – Cab-Hi and Hi-Rise camper shells.
Cab-Hi camper shells give the truck the popular SUV appearance; they improve gas mileage due to aerodynamically reducing wind resistance.
Their stylish design enhances the lines of the trucks since they follow the shape and body line of the truck.
They come with a third brake light, interior dome light and folding down front slider window. This window allows for easy washing of the space between the camper shell and the truck cab.
For those who need more cargo space and who require extra height, Alpine Series HI-Rise shells provide the bets solution. They include a super tall door, which allows easy access to a large cargo area. They have LED third brake light and fit all the truck models.
---
Visitor's story....

The most popular camper shell from Vista collection seems to be the high-rise series. Because of the dynamics of the shells, they have less wind resistance and provides for better gas mileage.
Some of the shells depending on the year you buy will have different aerodynamics. For instance, a 1979 or 1980 camper shell was not built as a high rise so the shell will be the standard low shell. The truck shows always have trucks with and without camper shells and they have different styles and manufacturers.
Car and truck shows held everywhere around the country, even in Illinois and Indiana, and they give you quite a show that allows you to see the different camper shells and styles.
If you are looking for an older model camper shell, you may need to find them in classifies or by talking to the dealers who sell these types and years of camper shells. The truck styles change and so do the camper shells, but for the most part, they cover a year or two as far design and fit.
You can get carpet kits to customize the inside of the truck bed to match the carpeted headliner of the shell. This does prove to add more warmth, but if you plan to use the truck for other purposes then you want to get a carpet kit that is easy to remove if you need to remove the camper shell.
The Vista camper shell line supports many different styles and designs. The Vista Alpine series also offers more designs and styles all constructed of a durable fiberglass material to hold up for years of use.
The quality stands up against all the competitors with versatility in this current line of camper shells.
 About Us / Privacy Policy / Resources
Go from Vista Camper Shell to Pop Up-ing Home
Pick Up Truck Camper Shell / Truck Camper Shell Price / Camper Shell Parts / Homemade Camper /  Pop Up Camper Shell