Best Small Travel Trailers


Part 2
The top small travel trailers for 2016 including famous Airstream Bambi, Coachmen Clipper but also less known Opus, Gidget Brumby, Chalet LTW, Prolite, Safari Condo Alto, TaxaOutdoors Cricket, Lance, Scamp and many more….
We are continuing the  presentation of top, small-size travel trailers from the previous page (see --> PREVIOUS  Part 1).
where you will find the review of: Airstream's Bambi Sport 16, Classic American Dream Trailer, Opus Drifter XT (Luxurious Pop-up Camper), Chalet LTW A-Frame trailer, Gidget Brumby Teardrop Camper and Lance 1475/1575 Trailer
Before going farther e would like to remind the readers that to be on this list of best small campers, the selected models also have to be affordable, comfortable and in general represent all modern trends in seen in RV industry. So elegance, stylishness, eco-friendliness (to name only few most important characteristics....
Safari Condo Alto R1723
Safari Condo Alto R1723 w/retractable roof! 
     Safari Condo is not a "newcomer" in the market of travel trailers. The family-owned company operates from Quebec (Canada) since almost forty years, but only recently  thanks to very attractive, "out-of-the-box" innovative approach, they gained widespread recognition in the world of RVs.
Currently,  Safari Condo offers three models of ultralight campers, correspondingly R1713 and R1723 (models with retractable roof) and F1743 (model with fixed roof). All of these models have common characteristics: aircraft-inspired design, light weight, good aerodynamics (streamlined underbelly tanks), durability and modern, very comfortable, well-thought "open-space" interior. With large windows offering abundance of sunlight and great views, as well as construction allowing driving on dirt roads, Alto travel trailers are designed for nature lovers daring to explore roads "less-travelled".....
See more at: --> Safari Condo Alto trailers
---
Cricket Trek Travel Trailer
Taxa Outdoors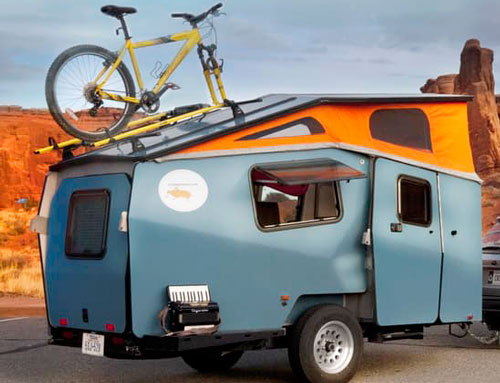 Cricket Trek Travel Trailer
Source: gizmag.com
      TaxaOutdoors is a Houston based company founded by a NASA visionary engineer Garret Finney. 
The company manufactures three versions of the camper. The simplest one - the Cricket Gear is a gear hauler offering its large interior room for your favorite toys. Its interior features are limited to very minimum (kitchen cabinet with sink, but for example no bed). The second version – Cricket Camp provides modest living and storage space targeting weekend campers. Interior features include not only kitchen cabinet with sink, but also water heater with electric pump, bed/seating and LED lights as well as roof tracks for an optional Thule rack. The ultimate goal is however the Cricket Trek designed for longer "out-of-civilization" adventures.
    Cricket Trek shares the same kitchen galley with all Cricket trailers (about 12 sq. ft of counter-top and 8.6 cu ft of under-counter storage space) but it also is equipped with an Engel fridge. Additionally it offers all necessary features for modest living like: 12V electric water heater w/ electric pump, bed/seating (75" x 57") with under-bed storage (about 12 cu.ft.), pop-up table,  spare tire, tongue-mounted toolbox, LED light, awning, screen-doors, roof-mounted Thule rack for bikes, kayaks etc. …. 
See details at: --> TaxaOutddors: Cricket Trek Travel Trailer
---
LivinLite Camplite 11FK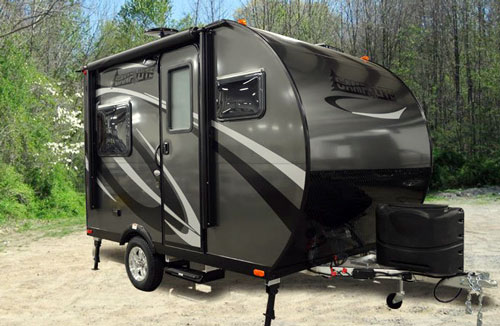 LivinLite Camplite - model 11FK travel trailer
        Livin-Lite is a well-known manufacturer of ultra-lite, "all-aluminum" campers including popular series of Quicksilver tent-campers and series of Camplite Travel Trailers. The Camplite 11FK is the smallest from the latter family of hard-side trailers.

        Thanks to innovative design and engineering (aluminum and composite materials, but no wood, no steel) the Camplite 11FK represents the new class of lightest hard-wall, fully-equipped travel trailers in the RV industry.  Compact and light, it can be towed by almost any full-size family car. But its small dimensions and lite-weight do not compromise the quality as well as comfort and ambiance you will find inside of the camper.
Fully equipped kitchen at the front-end has elegant stainless steel 2-burner cooktop w/cover and sink w/faucet......
See more details at: --> Camplite 11FK travel trailer
---
Prolite Plus "S"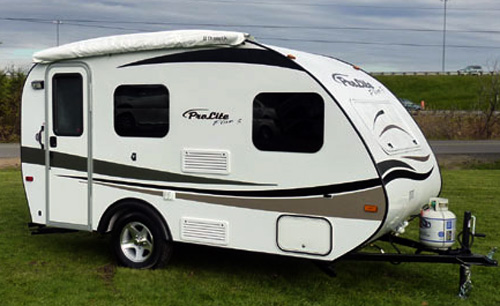 Prolite: Model Plus "S"
      Prolite is a young but successful manufacturer of lightweight travel trailers located in St Jerome (Quebec - Canada). 
From the line of models: Suit 11, Eco 12, Cool 13, Mini 13, Plus S, Plus, Profile 14, Escapade 15, Evasion 16, Max 21, Xtreme 24 and Supreme we selected the model Plus S for presentation. 
The camper Plus S is designed to be towed by small SUVs (smaller Prolite models can be towed even by family or compact cars). Despite its small size and light weight it provides a comfortable living and camping environment for family of two. 
The kitchen with 3-burner stove, 3.7 cubic feet refrigerator, sink, and cabinets offers a comfortable cooking environment. Large front dinette presents a comfy area not only for simple breakfast or a cup of coffee, but certainly also for more complex meals. For the night the dinette converts into the 74" x 52" bed . The sofa across the kitchen is an ideal for relaxing during a day. Interior toilet, shower as well as fresh and black water tanks and water heater.... 
See details at: --> Prolite Plus S Travel Trailer
---
Hi-LO Camper: Wanderer 16xx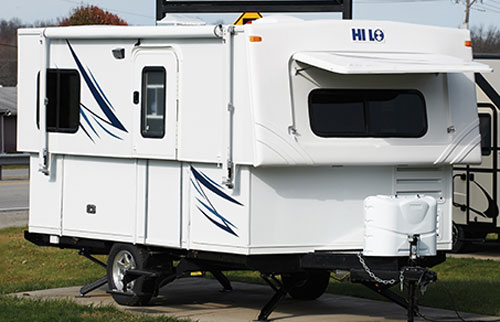 Modern Hi-Lo Travel Trailer: Wanderer 16xx
       When back in 1956 Jim Snyder lunched the series of Hi-Lo trailers it was a kind of "revolution" in RV industry. These "collapsible" travel trailers brought a clever solution to two difficult to meet requirements. They offered a weather-tolerant "hard-side design" with an easiness of "towing & storage" typical for "folding" (pop-up) campers. …..
Currently the Kerola's Group designed two models of campers known under the name of Wanderer 16. With external length slightly exceeding 16 foot they belong to the class of small travel trailers. Their main difference is the floorplan arrangement.  The Wanderer 16SD (Side Dinette) offers larger and more comfortable living area as well as an extra sleeping place when the dinette is converted in the bed. The Wanderer 16RB (Rear Bed configuration) has folding down table instead of classic dinette but offers an extra wardrobe/porta pot/storage space at the expense of the living area......
For more details see: --> Hi-Lo Travel Trailers
---
Jay Flight SLX 145RB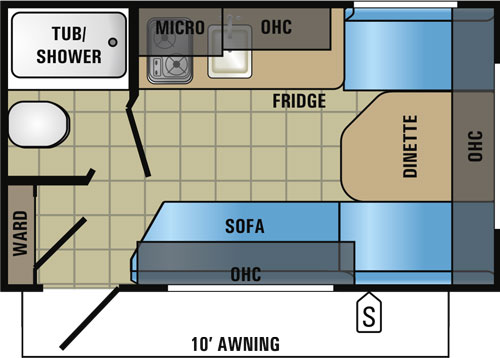 Jayco's Jay Flight SLX travel trailer: Model 145RB
      Jay Flight SLX 145RB camper with its 16'6" external length is the smallest from 14 trailers making the family Flight SLX. Despite its small dimensions it is designed to provide as much of comfort as possible matching in this aspect many larger campers. 
The well-equipped kitchen with 2-burner gas stove, 3 cubic ft. refrigerator, sink, microwave and hood as well as cabinetry and working space offer nice environment for preparation of even more "serious" meals. The front-end dinette provides genuine space for more than just breakfasts or a morning cup of coffee. For a night it converts to the large, queen-size bed for two persons, for a day it can be moved outside. However even in such case, the sofa located on the opposite to galley (if not used as an "extra" sleeping place) serves as a comfortable seating space. The private bath with a wet toilet, shower with tub and skylight is.....
For more details see: --> Jay Flight SLX 145RB trailer
---
To continue the review of best small-size travel trailers
see --> NEXT  (Part 3)
Presentation of: Scamp: Model 13ft, Ameri-Lite 14RBC, Starcraft AR-ONE 14RB, Travel-Lite Express E14, Casita Patriot travel trailer, Coachmen Clipper 14R and Riverside Retro 155XL.
or go back to --> PREVIOUS  (Part 1) for:
Presentation of: Airstream's Bambi Sport 16, Classic American Dream Trailer, Opus Drifter XT (Luxurious Pop-up Camper), Chalet LTW A-Frame trailer, Gidget Brumby Teardrop Camper and Lance 1475/1575 Trailer
---