Truck Camper Steps
Truck camper steps have become necessary after introduction of new models with a higher suspension system.

Steps for campers and trailers have become necessary after introducing new models with a higher suspension system.
As campers were getting higher and higher, it was getting riskier for old people and for children to get out from the camper safely.
Risks were higher especially at night at campsites. Truck camper steps are today necessary parts of these RVs.
They can be either bolted to the floor structure of the camper, or welded to the frame itself. It is a relatively simple procedure that you can do yourself but there are many service places that will do it for you in just a few minutes if you don't have the necessarily tools.
What are the best truck camper steps?
Truck steps come in many models. Some of them are small, others bigger, and they can have 2, 3 4 or even more steps depending on the type. Some of them come with a powder coated surface against rust. Here are some of the factors you should consider when buying steps for your camper.
a. Weight capacity
Make sure you get steps that have a lot of weight capacity. These are sturdier and they last longer. An average capacity of steps for campers is around 300 lb.
b. Folding steps
These are the best truck camper steps because they are easy to carry around and store. They fold and unfold easily with the scissor action. These steps are the best because while you are driving you don't have to worry about them and when you stop, they unfold easily.
c. Made of aluminum
Aluminum is quite an amazing material. Steps made from aluminum are lightweight yet durable. When it comes to campers, these two features are essential.
d. Non slip steps
Now you can get a lot of truck camper steps that are treated with a substance or are made of a material that won't be slippery. This way you can avoid unpleasant accidents while you travel. Some of the treads are perforated to avoid slipping.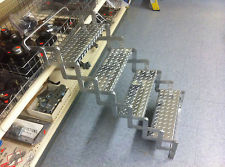 Buying steps
Most folding steps for truck campers come with a warranty. Note that while some have a lifetime warranty, it is also often a limited lifetime warranty. Depending on the model you buy, you have the possibility to exchange it quite easily. Truck camper steps can be found in the following online stores: PPL Motor homes, Tow Shops or your RV store. The price of such truck steps is between $200- $300.
Brands
a. Torklift
Torklift is a brand that has durable and high quality accessories for campers and trailers. Their products, such as their steps for campers come with a lifetime warranty, which proves their sturdiness. Some of their steps come with a glow in the dark feature, which makes them safer and easier to use. These steps will glow in the dark for 10 hours, so you no longer have to worry if you have to leave the camper at night. Their products are made from stainless steel and aluminum, both known for being lightweight and long lasting.
b. Stromberg Carlson
This American company manufactures various parts for RVS. They have also a high quality design for truck camper steps. Their products are made of Solid American steel and are treated to be non-corrosive and resist against rust. Their best steps for truck campers are the Quadra-Steps with black electro-coating.
Visitor's Story:
If you have a truck camper popup, you will want to have truck camper steps to enter and leave the camper. This makes it easier for people instead of crawling into the camper on your needs.
The stairs come in many different styles and are available such as the folding scissor, which is made of aluminum, which does not rust. I have seen these steps mounted on campers or detachable for easy storage inside the camper.
I have seen a 2003 truck camper, in Kentucky with the steps attached and then when they travel, the fold up for easy traveling. I saw a 2004 RV in Louisiana that also had these steps, which were detached and put away for storage when on the road.
Both ways appeared to be easy enough to use and they do not rust, therefore, keeping them attached while driving does not pose a problem. The truck popup camper is a little higher off the ground than the RV, but with the available sizes, any camper can use the stairs for easy access and departure from the camper. It does not matter what year camper you have, you can find a stairs for your camper as well. I have seen some people who make their own wood stairs as well. They just throw them out when they park and they work just as well.
The truck camper steps may even be a brick as I seen once. The person opened up the back door, pulled out a cement block, and placed it on the ground for the step. Now I thought that was unusual, but it worked. I would prefer something a little safer, but everyone has his or her own preference even for steps as well as camper styles.
 About Us / Privacy Policy / Resources
Go from Truck Camper Steps to Pop Up Campers Trailer Home
 About Truck Camper Rental / Truck Camper Bed And Bed Covers / Alaskan Truck Campers / Aluminum Truck Campers / Ford Ranger Truck Campers / Pop Up Truck Camper Trailers