Truck Camper Rental
Truck Camper Rental - is that the solution for you?

When planning a road trip and don't own a truck camper, some may think that renting one is very stressful and hard work.
Just the thought that you have to search for truck camper that will perfectly fit your needs and preferences may take you to drop out of it.
Of course, it doesn't have to be like that at all. Renting a truck camper for your perfect vacation is actually very interesting.
Those who consider this kind of activity and are not thinking of buying one renting a truck camper is an excellent choice.

There are people who are willing to buy a truck camper but are not quite sure whether the vehicle will match their needs and preferences and what they really want out of the truck camper. That's why they usually decide to rent a truck camper to see is it right for them before deciding to buy one.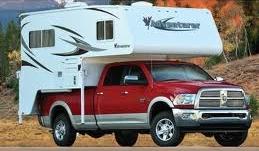 Adventurer truck camper

Others are not ready to invest money for purchasing, insurance, maintenance just to use their truck camper once or twice a year. Also, many foreign tourists fly to US, rent a truck camper and travel through US visiting national parks and beautiful recreation areas.
Facts to be considered when renting a truck camper
When you have decided to rent a truck camper, first thing that you have to take into consideration is your budget as it dictates what model of truck camper you can hire. At the same time, while considering your budget you have to look that the vehicle you are going to rent suits your needs and that it gives you the comfort while on road.
Eagle Cap Truck

The next tip you should take care of when renting a truck camper is the time of the year because usually during off peak season you may get some discounts and maybe some other privileges. This will also save you some money if you have limited budget. However if you rent a truck camper during high peak season, you should consider booking the vehicle earlier in order to get the best availability time of the vehicle.
Another important thing you must consider seriously when renting a truck camper is that the vehicle you have rented have full insurance travel coverage.
At the end but not less important is the choosing the rental company where you may hire the truck camper for your road trip. The best option is to find a rental company that has a 24/7 customer service assistant. This will make you feel safe as you know that you have a 24/7 support in case of emergency.
Popular truck campers for renting.
When it comes to rent truck camper, there are numerous RV rental companies throughout USA and Canada. Each of them provides you a wide choice as they have a huge fleet of vehicles you can choose. The most popular vehicles for renting are Eagle Cap, Lance, Northern Lite, Adventure, Northwood Arctic Fox.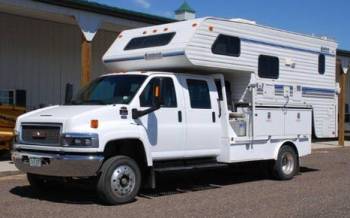 Lance Truck Camper

They all have the amenities you need while on the road trip such as toilet, shower, sink, stove, fridge, double bed over the cab, slide out single bed, 12V electrical sockets and furnace. All this will provide you pleasant road trip in the truck camper you have rented.
---
Visitor's story

If you have a desire to do some camping and you want a truck camper rental, you can find a camper for rent that might fit your particular truck or you might have to rent the entire unit.
If you have a 1987 or 1988 truck, you might not find a camper that fits your late model truck. Then you would have to find a camper Rental Company that rents the truck with the camper. It is much easier to rent a popup trailer than an entire truck in most cases.
If you find yourself, looking for a camper so you can travel to Alaska, you might want to wait until you get to your destination and then try to rent a camper. This way, you are paying for the drive.
Northern Lite Camper

Although this is a great solution, then you would have to stay in rentals along the way or a hotel. This could get rather costly as well. Now if you live in Alabama, and need to camp somewhere in that state, you could rent a camper of some sorts for a relatively affordable price.
If you look around at local dealers and rental companies to see what they have to offer in the way of truck campers and other campers as well. You might just decide to take a popup trailer instead. The pop up camper is more spacious than the truck camper, but it is a personal choice.
Northwood Arctic Fox Truck Camper

The truck camper rental may be just what you need to get out and explore different areas of the country, but keep in mind, you will need rental insurance or you can check your current policy to see if they cover the camper. You might be better off adding a rider to your current policy to save some money.
 About Us / Privacy Policy / Resources
Go from Truck Camper Rental to Pop Up Campers Trailer Home
 Truck Camper Bed And Bed Covers / Alaskan Truck Campers / Truck Camper Steps / Aluminum Truck Campers / Ford Ranger Truck Campers / Pop Up Truck Campers Trailer