Portable Toilets For Pop Up Campers
Yes, there are portable toilets for pop up campers - and let me tell you, it is good idea to have one!

The portable camp toilets have become an important and infallible part of camper accessories.
They are a great choice when you stay at a remote place, or you are staying at some resort where toilets are not close to the spot where you have parked your camper or if you have stopped at some place to sleep over and there is no toilets at all.
In such cases, when you need toilet badly, portable toilets are items that you would want to have with you.
These items come in many different sizes and shapes and can be used in any kind of camper.
There are four basic designs available for these toilets:
•    Folding or collapsible portable toilets
•    Bucket toilets
•    Portable flush toilets
•    Vacuum-type portable toilets

Campa-Potti-XT portable toiled made by Theford
For more please go to: Theford Portable Toilets

Folding or collapsible toilets are the lightest and the smallest among all portable toilets available thus, they are very suitable for camping. Most of these toilets look like small camping chairs where instead of the seat, there is a hole or a lid to sit on. For holding the waste, they use disposable liners or plastic bags, which are discarded after use. One of the advantages of these toilets is that they are very lightweight and compact when folded up. They are relatively inexpensive.

Reliance portable toilet: inexpensive, lightweight, self-contained, and weighs only 5-pounds. Great for camping, off grid living, or for road trip restroom breaks!
Bucket toilets are very practical solution. These are very simple devices with a bucket hidden underneath the toilet seat and the lid. Also a disposable plastic bag can be used for holding the waste. Bucket toilets are very durable, and do not require almost any maintaining thus making them a great option for homemade campers. The main advantage of these toilets is that they are inexpensive and easy to use.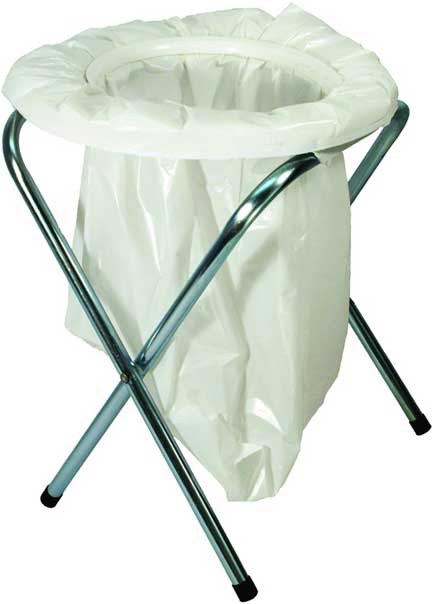 Texsport collapsible toilet....
To learn more go to: Texsport Portable Toilets

Portable flush toilets are usually made of two separate water tanks. The upper one contains the fresh flushing water and the toilet bowl with the lid and the lower tank is used for waste-water. This can be awfully smelly and in order to avoid this unpleasant problem you will have to use bio-degradable solutions which can help dissolve the waste and the toilet paper too. Also you can use plastic bags or liners for these toilets. They come in various sizes but they are a bit expensive. Considering that they can last very long they are worth the money.

Vacuum type portable toilets are ideal for caravans and motor homes. This type of toilets consists of a toilet bowl and a collection cassette as other portable toilets except that they include a pipe to carry waste to the collection unit. This portable toilet works on the vacuum basis, which sucks in the waste, with the minimal use of the water. The main advantage of these toilets is that they are odor free thanks to the collection cassette being placed usually outside the camper.

The facts about portable chemical toilets or camping toilets FAQ how do they work......
The most famous manufacturers of portable toilets for campers are Theford, Coleman, Reliance, Stansport, Texsport, Travel John.

---
Visitor's story.....

These are convenient if you need a quick bathroom break during the night or even during the day, if you do not want to walk to the facilities.
I remember back in 1996, or maybe 1995, we were camping in New Mexico and their facilities went down due to so much usage. They had it back up and running in a matter of hours, but it was a couple of tense hours for all of us.
We had many RV owners offering their facilities to us pop-up campers in the area, especially the little ones who did not understand, hold it.
Because of this, many people now a days do carry the portables along in case of an emergency. Popups are great campers and now that the portable toilets come along as an accessory, you cannot beat the pop-up as far has I see.
I am an avid tent pop up camper and tend to be more commercial about them then others. I love them and have so much fun traveling and exploring all parts of the countryside.
I have traveled to New York, which we all realize; the weather can be so strange there sometimes. I like having the portable, because sometimes the rainy nights make it easier to get to the bathroom without venturing out in the rain.
If you need a portable toilet for pop up campers, you can find them at any local dealer or even online under accessories for pop-up campers. You do not pay a lot for these units and they are really quite nice in the end. You can get the higher ones or the lower ones, whatever you desire. You can always keep it handy in case of an emergency at night and clean it out during the day.
 About Us / Privacy Policy / Resources
Go from Portable Toilets For Pop Up Campers to Pop Up Campers Trailer Home
 Used Campers For Small Trucks / Pop Up Tent Trailer Reviews / Pop Up Camper Power Converters / Pop Up Camper Roof Lift / Pop Up Trailer Supplies / Bike Rack for Pop Up Camper / About Dutchman Pop Up Campers / Pull Behind Campers