About Pop Up Tent Trailer Reviews
Learn where to look for reliable, objective tent trailer reviews

Pop up tent trailers are some of the most popular RVs due to their cheap price and convenient construction.
Their main benefit is that they can be packed up into a small, lightweight trailer, and then raised on campsite in just a few minutes.
Pop up campers offer a safe and cozy place to sleep and also a comfortable living area. However, there is much more to tent trailers than this.
Depending on the type, manufacturer and model or the tent trailer, it can offer a lot of comfort, such as air conditioning and heating, outdoor shower, portable toilet, and a great kitchenette where you can cook your meals.
At the same time some tent trailers are very basic, with sleeping spaces and a small living area. In order to find the perfect pop pup camper for your needs, here are a few tips about finding the best and most reliable reviews.
The best and most easily accessible reviews of tent trailers can be found online. There are various website that specialize in RV related subjects. Here are some of these: RVs Terminal, Pop Up Portal, Camping Life, RV Net, and RV Guide.
These are some of the best places that you can visit and read about various models and manufacturers of pop up campers or tent trailers.
Besides the websites mentioned above, a great place for finding pop up tent trailer reviews are on forums. On online forums everybody has the chance to post their opinion, this way you can read more points of view and have a broader perspective upon the subject.
Forums where you can read about RVs and pop up tent trailer reviews are these for instance: Pop Up Explorer, Jayco Owners and Expedition Portal. Many other forums besides these have special posts about campers, such as tent trailers. You can easily access information on forums, and if you plan to buy a pop up tent trailer then you should consider singing up to one or more of these forums.
If you are looking for a review about a specific model and manufacturer but you cannot find it, you can use one of the forums and start a new thread. People who know anything about the specific pop up tent trailer will surely help you, this is how forums work.
When you have found the reviews you wanted, it is much easier to make up your mind and choose a certain pop up tent trailer. Reading as many reviews as you can is the best way to avoid having regrets later and it will help you enjoy your RV to the fullest once you have it.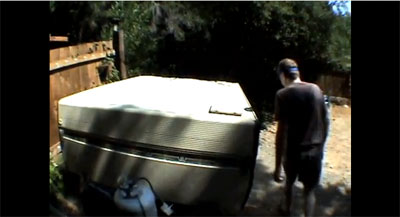 ---
Visitor's Story
Many pop up tent trailer reviews come from people who have this type of camper.
But we need to keep in mind that some people have poor experiences that reflect back to the popups even if it was not totally the fault of the camper.
Always keep in mind when reading reviews that every pop-up camper is different, some are new, and some are used.
This will contribute to the review as well.
2010 Viking 2107 popup tent camper tour
I read a review about a 1993 pop-up in New Jersey that did not do justice to the camper at all. The thing was used and had some problems that can result from years of use if no replaced or cared for. It would be the same if you buy a 1994 pop-up camper in New Hampshire or anywhere else. If the camper does not have regular maintenance, you could buy a lemon as we call it. This would definitely result in a bad review.
If you need to see reviews for popups, you can look online either at the consumer digest or at personal experience reviews from users. Since older model campers might be harder to find the new review when they were made, you will have plenty of reviews today for people with used campers as well as some that still have their same 1993 camper.
Pop up tent trailer reviews do help us choose the right camper. Many online camping websites have forums and review areas where people address questions about whatever people have about campers. You can just ask questions and receive reviews that way as well.
If you need reviews about parts or body flaws or conditions, you can find answers by just looking around and maybe finding someone that has the specific answer for you about anything, you need to learn.
 About Us / Privacy Policy / Resources
Go from Pop Up Tent Trailer Reviews to Pop Up Campers Trailer Home
 Used Campers For Small Trucks / Portable Toilets For Pop Up Campers / Pop Up Camper Power Converters / Pop Up Camper Roof Lift / Pop Up Trailer Supplies / Bike Rack for Pop Up Camper / About Dutchman Pop Up Campers / Pull Behind Campers
Top-10 Lightweight Travel Trailers for small Cars