Used Campers For Small Trucks
Here are some of the most popular campers for small trucks.....
Every year numerous campers leave the confines of their homes and travel across the country in order to enjoy all the beauties the USA has to offer.
They use different types of RVs.
Those with higher standards and better budgets decide to travel with much bigger and more luxurious RVs while campers with lower budgets choose campers for small trucks, which are affordable for their wallets yet offering everything you need on your camper journey.
Truck campers are campers that rest on the backside of the truck. They are designed in such a way to slide into the bed of a pick-up truck. They are fastened to the truck frame while travelling.
Truck campers are much less expensive especially if you decide to purchase a used one. They are very easy to drive on highways and through the different towns.
Nowadays there are many different models of used campers on the market available at very reasonable prices, so they are affordable to the families or couples with lower budgets. Since they costs less than new ones they are ideal for smaller families or couples who are in love with natural beauties and like adventures outdoors.
Here are some of the most popular models of campers for small trucks found on today's market: Phoenix Pop-up Camper, Northwood Arctic Fox truck camper, Northstar truck camper, Blackhawk truck camper, Northern Lite truck camper, Adventurer truck camper.
-Phoenix pop-up camper is convenient for smaller trucks but with enough space inside the camper. It is equipped with all the accessories you need - heater, refrigerator, sleeping place and it offers the real comfort while outdoor.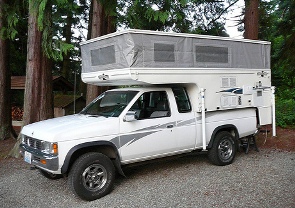 Phoenix truck pop-up camper

- Northwood Arctic Fox truck camper is maybe the most popular camper for small trucks on the market today. It is designed for every season and weather condition no matter if it is raining or it is shine. Even freezing conditions can't affect this perfectly built camper. It is produced out of the quality materials and is made to provide you the feeling like being at home.
-Northstar truck camper is very beautifully designed to fit in most garages. It is lightweight and full-featured. Inside the camper, you will find refrigerator, stove, sink, hot water heater.  Thanks to its quality and features this camper offers everything you may need while traveling.
- Northern Lite Truck Camper is an extremely ultra-light camper, it is aerodynamic, gives maximum strength and insulation properties. The design is at very high level and leaves everyone speechless. It can be adapted to all models of trucks. It has very spacious interior. Apart from the main features like stove/oven, dinette, bathroom with toilet it has wardrobe space and great amount of storage.
Northern Lite Truck Camper
-Adventurer truck camper is characterized by durability and very attractively designed interior.  It can be easily classified as the first-class camper. It has beautiful and durable upholstery and furnishing. It is excellently equipped and has an extra storage compartment.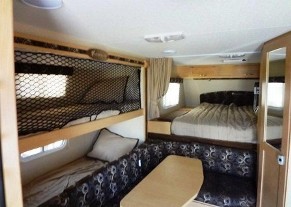 Adventurer Truck Camper - living room.

-Palomino truck camper is a lightweight camper which has pop-up roof that raises thus creating full stand up room. The exterior of the camper is quality constructed for a long time usage. It has some conveniences, which make you feel like you're at home. It has shower and toilet, sink, gas water heater, refrigerator/freezer, mattress.
Palomino Truck Camper
---
Visitor's Story....

Finding used campers for small trucks is done easier then one would imagine.
The resources are unlimited for find the best fitting camper for your small truck.
If you have a 1991 small truck, you can look anywhere close to home or anywhere else for that matter.
You want to be careful to notice the difference between the camper for 1992 and the 1991, as they may not be a good fit, depending on the style changes with the truck or the camper.
Because you need a camper shell, you can look for a pop-up truck camper shell or just look for truck popups in search engines online.
Then you can give specific criteria such as the year of the truck and the make and model. If you live in Nevada or Nebraska, you can narrow down your search by entering the state you are looking in as well. Now you should have a list of small truck campers.
If you do not find any results in your state, you might want to try a different state a little closer to you or you might look for dealerships that have new and used camper shells. You have so many options for finding campers online, but you can also check the local newspapers and camping magazines.
Although you need campers for small trucks, you might even find a few ideas for a big truck camper and decide to upgrade to a bigger truck. Although gas prices are so high right now, some good deals might even be out their right now for bigger truck campers. Either way, you will find a camper for your small truck and when you do, you will be back on the road to happiness once again, seeing friends and exploring more adventures.
 About Us / Privacy Policy / Resources
Go from Used Campers For Small Trucks to Pop Up Campers Trailer Home
 Pop Up Tent Trailer Reviews / Portable Toilets For Pop Up Campers / Pop Up Camper Power Converters / Pop Up Camper Roof Lift / Pop Up Trailer Supplies / Bike Rack for Pop Up Camper / About Dutchman Pop Up Campers / Pop Up Trailer Supplies / Pull Behind Campers