Beach Campgrounds Michigan (MI)
Thanks to Great Lakes it may be difficult to find in Michigan a campground without an access to the beach and water, the real problem is to find the best beach campgrounds......
Barnes Park Campground
12298 Barnes Park Road
Eastport, MI 49627
231-599-2712

    It is a campground that needs to be checked out, because some great activities can be done here. Whether you have a tent or RV, you are free to choose a camping site that is rustic or has electric hookups. The bathhouses are modern and have warm showers, which work on coins (ouch, this promises "surprises"!). In the bathhouse, there are two special restrooms that have ADA accessibility.
The campground has two pavilions that hold 10 picnic tables, 4 grills for barbecues, electrical outlets, and horseshoes. It is a great place if you like to be out in the nature and spend time fishing, hiking, and biking. There are excellent sandy beaches in the area also. The blue water and the beach are all you need for a swimming day. Hiking trails to watch the beautiful scenery and the birds is another relaxing activity you can do here. You can also bring you pet on the campground, as long as you keep the dog on leash and clean up the "mess".

---
Betsie River Camp Site
1923 River Rd
Frankfort, MI 49635
231-352-9535

    If you like a cozy campsite, with a good comfort level and a nice welcoming, then this is the place for you. The Betsie River Campsite can host RVs and tents, offering water and electric hookups on demand. They also have a few coquette cabins for campers available for rent. The cabins have what they need in order to make you stay comfortable. On the camping sites, you will also find a picnic table and a fire ring.
Warm showers are also available for customers. The campground has its local kitchen, where they cook recipes based on the available local market. You can order breakfast and lunch there, but the menu changes periodically according to the available ingredients. Pets are more than welcomed, so don't leave your furry friend behind. If you are into the fishing activity, you can't miss this place, as it has great fishing spots and a station where you can clean what you captured. You will also find a local store where you can do some shopping. Bike and kayak rentals are also available.

---
Visitor's story....
We all have a love for something and the beach camp parks- campgrounds Michigan (MI) have some of the most awesome campgrounds around.
You have so many choices for things to see in Upper and Lower Michigan.
The river and lake views around the many waterfalls will amuse and amaze you and your family.
The have lighthouses on the lake and inland you find the beautiful waterfalls.
My favorite falls in Upper Michigan are the Tahquamenon Falls. This is a breath taking sight that is a must see for everyone. The area is beautiful and falls are spectacular. As you sit and watch the falls, you feel a sense of peace around you.
The area around Manistique will have a historical lighthouse for you to see. Lower Michigan brings you the Holland Festival, which has all the beautiful flowers and an array of color and fun.
Whether a river or a lake, beach camp parks- campgrounds Michigan (MI) fills the need, we have for fantastic camping and the area allows for some great sightseeing adventures. When visit the areas or the falls and lighthouses, do not forget to take the camera along for some treasured memories.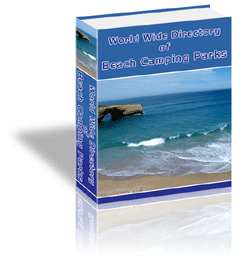 Beach Camping Parks Michigan:
Barnes Park Campground
12298 Barnes Park Road Eastport,
MI 49627 231-599-2712

Betsie River Camp Site
1923 River Rd Frankfort,
MI 49635 231-352-9535

 About Us / Privacy Policy / Resources
Go from Beach Camping Parks - Campgrounds Michigan to Pop Up Campers Trailer Home
Camping Parks in US,  Campground Parks in Canada
Beach Camping Parks
Beach Camping Parks - Campgrounds Iowa (IA) / Beach Camp Parks - Campgrounds Massachusetts (MA) / Beach Camp Parks- Campgrounds Minnesota (MN) / Beach Camping Parks- Campgrounds Mississippi (MS) / Beach Camping Parks - Campgrounds Missouri (MO) / Beach Camping Parks - Campgrounds Montana (MT) / Beach Camping Parks - Campgrounds Nebraska (NE) / Beach Camping Parks - Campgrounds Nevada (NV) / Beach Camping Parks - Campgrounds New Hampshire (NH) / Beach Camping Parks - Campgrounds New Jersey (NJ)