Beach Camping Parks - Campgrounds Iowa (IA)
Iowa – state of rolling hills and flat prairies has many large natural lakes and mighty Mississippi River, so campgrounds with sandy beaches are not an exception…

Cenla RV Park
3400 Highway 71
Spirit Lake,  IA 51360
(712) 336-2925

       The camping season at this park start on the 15th of April and ends on the 15th of October.
During this period, you can enjoy camping with great facilities here.
The majority of the RV camping sites have full hookups, cable TV, and wireless internet. Campground includes some large camping sites to accommodate larger vehicles. Grills, picnic tables, and fire pits are also available on the camping sites. The restrooms are clean and modern, and they include hot showers.
A local store and laundry services are also ready to help you have more comfortable stay. On the campground, you can relax at the heated swimming pool, or you can choose to have fun playing volleyball, basketball, and horseshoes. Your children will also have a great time in the game room, packed with video games, or at the playground. For fishing enthusiast there are fishing docks on site, so nothing can be more relaxing than a fishing day out on the lake. Afterward, any fisherman can clean captured fish at the local cleaning station.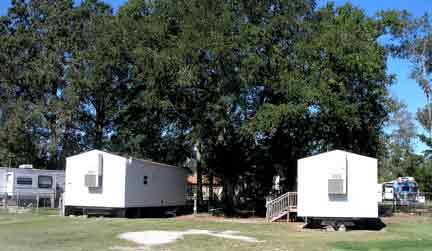 ---
Cutty's Okoboji Resort Club
1528 Highway 86 Spirit Lake,
IA 51360 (712) 336-2226

    Try a camping adventure at this resort with a tent, RV or in a rented unit. The camping sites for RVs and tents have full hookups, including electric, water, sewer and cable TV. Partial hookups sites are also available with only water, electric and cable TV. RVs have possibility to use a nearby dump station. If you decide to rent a unit, you will have all the comfort and equipment you need for a comfortable stay. You can take your pets with you in the resort as well. A maximum number of two pets are allowed.
The lakes in the area offer the possibility of unrolling a large number of water activities like swimming, boating, fishing, sailing, water skiing, canoeing, kayaking or wakeboarding. You can also have great fun, together with your family, at an amusement park, golf and mini-golf courses, a go-cart race track or tennis. If you like outdoor activities you can bike, jog, roller-blade or just walking out in the nature. The resort also offers a great range or arts and cultural events, restaurants and shopping opportunities.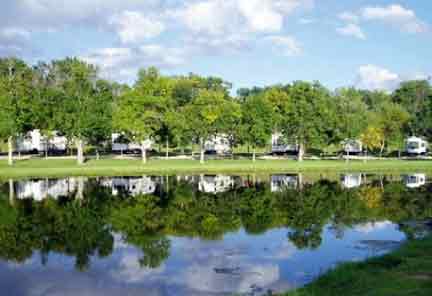 ---
Visitor's story....
If finding the perfect campgrounds in Iowa around some great attractions suits you, then you will want to look at beach camp parks- campgrounds Iowa (IA) for some beautiful beaches and fun activities for the entire family.
I seen to recall many different campgrounds especially beach parks in some of the popular areas where the best attractions were located. If you travel with a pop up camper or a RV, these campgrounds have accommodations for all, even tents.
One attraction that comes to mind is the Mississippi River Museum. This display requires a good portion of the day to go through, since they have so many interesting things to see. Something the kids will love is the Lost Island theme park and the Blank Park Zoo.
After a couple full days of sightseeing you might want to spend some time sitting around the Des Moines Botanical Center, this place keeps you truly amused.
Once you get back to the campgrounds, you are ready for a relaxing swim, then sit around the fire with your new friends, and have a couple drinks while talking about all your stories and experiences while traveling and sightseeing while camping at the campgrounds around the country. Look for beach camp parks- campgrounds Iowa (IA) all around the area and have some fun in the sun as well.
Beach Parks Iowa
CenLa RV Park
3400 Highway 71 Spirit Lake,
IA 51360 (712) 336-2925

Cutty's Okoboji Resort Club
1528 Highway 86 Spirit Lake,
IA 51360 (712) 336-2226
 About Us / Privacy Policy / Resources
Find Here Worldwide Beach Camping Parks Directory
Go from Beach Camping Parks - Campgrounds Iowa (IA) to Pop Up Campers Trailer Home
Beach Camping Parks Campgrounds Alabama / Beach Camping Parks - Campgrounds Alaska / Beach Camping Parks - Campgrounds Arizona (AZ) / Beach Camping Parks & Campgrounds Arkansas (AR) / Beach Camping Parks - Campgrounds California (CA) / Beach Camping Parks - Campgrounds Colorado (CO) / Beach Camping - Campground Parks Connecticut (CT) / Beach Camping Parks Campground Delaware (DE) / Beach Camping Parks Campgrounds Florida (FL) / Beach Camping Parks Campgrounds Georgia (GA) / Beach Camping Parks- Campgrounds Hawaii (HI) / Beach Camping Parks- Campgrounds Idaho (ID) / Beach Camping Parks - Campgrounds Illinois (IL) / Beach Camping Parks - Campgrounds Indiana (IN) / Beach Camping Parks - Campgrounds Kansas (KS) / Beach Camping Parks - Campground Kentucky (KY) / Beach Camping Parks - Campgrounds Louisiana (LA) / Beach Camping Parks - Campgrounds Maine (ME) / Beach Camping Parks - Campgrounds Maryland (MD)