Beach Camping Parks - Campgrounds Nevada (NV)
Visit popular lake or river beach camps in Nevada
Although there is much more to do in Nevada than camp, you could plan a vacation around Las Vegas and spend your time camping and visiting the area as well.
The beach camp parks- campgrounds offer you some fun times in the sun and some fun things to do out of the sun as well.
Visit some of the popular area attractions and stay at a lake or river campground so you can afford to do a little gambling if you want to.
Visit Hoover Dam and the Red Rock Canyon, these areas will delight you; they sure are a sight to see.
Traveling up that big mountainside to Hoover Dam can be scary, but drive the speed limit and pay attention. Visit the casinos or the famous Bellagio Fountains. This beautiful sight happens daily and nightly. You will not forget this spectacular display of lights and water to music. If you like the sky, visit the Stratosphere Tower, where everyone becomes amazed.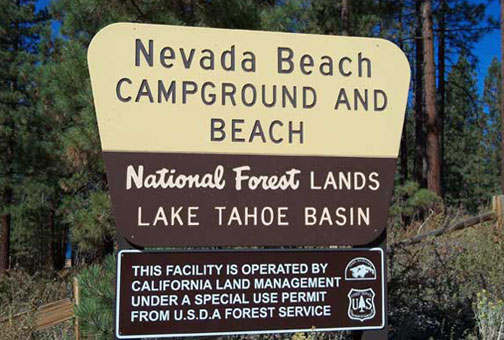 For those that may not believe before they see.... :-)

Nevada Beach Elks
Point Rd
Zephyr Cove, NV 89448
775-588-5562

Nevada Beach Elks has dozens of spots perfect for RVs or tents. You can choose your camping site up on a hill, among trees, or down on the beach, right on the sand. Besides the beautiful landscape, the camping sites have a table for picnic, campfire place, locker for food storage, restrooms and fresh water to drink.
It is a great place to bike or hike. There is a unique trail that goes by the lake, but there is a parking fee. If you choose to park outside of the parking lot, you can avoid paying the tax. On the beach besides bathing, you can enjoy boating, fishing or water skiing. The beach area might be rather windy, but this is great for kiteboarding, and this weather condition will keep any unwanted bugs away. The resort is dog-friendly, so you can take your companion along on your camping adventure.

---
Wherever you go or do in Nevada, you will enjoy the nice weather and the beach camp parks- campgrounds Nevada (NV) helps to keep you cool. Sit on the beach or find the river for some rafting or the lake for tubing. Whatever you do, have fun in the sun while camping.
Beach Camps in Nevada


Nevada Beach Elks
Point Rd Zephyr Cove,
NV 89448 775-588-5562
 About Us / Privacy Policy / Resources
Find Here Worldwide Beach Camping Parks Directory

Go from Beach Camps Nevada to Pop Up Campers Trailer Home
Beach Camping Parks
Beach Camping Parks - Campgrounds Iowa (IA) / Beach Camp Parks - Campgrounds Massachusetts (MA) / Beach Camping Parks - Campgrounds Michigan (MI) / Beach Camp Parks- Campgrounds Minnesota (MN) / Beach Camping Parks- Campgrounds Mississippi (MS) / Beach Camping Parks - Campgrounds Missouri (MO) / Beach Camping Parks - Campgrounds Montana (MT) / Beach Camping Parks - Campgrounds Nebraska (NE) / Beach Camping Parks - Campgrounds New Hampshire (NH) / Beach Camping Parks - Campgrounds New Jersey (NJ)