Pickup Truck Camper
The pickup truck camper is found more and more in the campgrounds as a way for people to get out and explore the countryside.
Pick up truck campers-excellent vehicles for adventurous campers...
          Pick up truck campers are designed to provide space for sleeping and equipment for housekeeping during camping and recreational travel.
They are the perfect option for camping experiences because they are inexpensive and provide great comfort to travelers.
If you want to avoid sleeping in the ground or in a tent then you should consider buying a pick up truck camper.
They are usually made of wood and steel frame covered by wavy aluminum or fiberglass. Some higher models have insulation for better comfort.
Pick up truck campers are equipped with all necessary amenities like kitchen while some models have limited bathroom facilities which will make your trip even more comfortable.
There are a number of firms that are famous for producing excellent pick up truck campers such as Lance, Bigfoot, Palomino, Arctic Fox.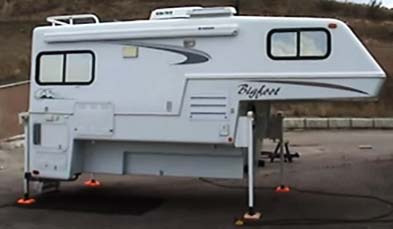 Bigfoot pick-up truck camper

Bigfoot pick-up truck campers are known for their quality, comfortable and stylish look. They are loaded with a variety of standard features. They are also made to last long and are very easy to maintain. Bigfoot pick-up truck campers are light weight, have two piece fiberglass exterior and high density insulation. They also feature porcelain toilets, cook tops, ovens, roof racks and ladders. All these features make them very popular and most wanted among campers in the camping world.
Palomino produces light weight pick up truck campers equipped with all the amenities of a travel trailer and with all the features that you may find in a larger RV. Many of Palomino pick up truck campers have kitchen and bathroom facilities and many other amenities. Palomino models are very popular among most campers because truck campers can be easily loaded and unloaded.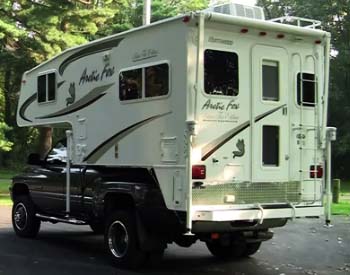 Arctic Fox 865 pick-up truck camper.....

Arctic Fox pick up truck campers are manufactured for off-road use with all the comfort you have at home. Each model have slide-out which provide additional space.

They are equipped with all kitchen and bathroom amenities making your trip the absolute best. Arctic Fox pick up truck campers are ideal for adventurers camping enthusiasts providing them unforgettable outdoor experience.
Pick up truck campers are becoming more and more popular and most sought after in the world of camping. Most people would love to enjoy their camping vacation at reasonable prices.
That is the reason they usually look for some less expensive options for their vacation. Pick up truck campers are the least expensive RVs among all the recreational vehicles yet having all the necessary features that one would need while traveling.
Great number of campers like spending some time in the wilderness but are not ready to renounce the comfort they enjoy while at home. Pick up truck campers are now built in such a way that you won't even notice that you are not t home thanks to the equipment built inside.
---
Visitor's story....

There are the Kodiak truck camper and the Toyota trucker camper just to name a few.
These types of truck campers make nice little campers; the truck shell, the four wheeler and the van camper all make nice little campers for people that need a great vacation.
Pickup truck traveling finds people traveling around the country through the back woods and all over with the truck pickup camper.
I know of a group of people who traveled through Alaska for about a month and a half and they all had a pickup truck camper.
They explored different areas and stayed in campgrounds when not exploring the sights and wilderness up in that area.
Although Alaska was a great time, next year they plan on taking on California during the spring to see the ocean shores and find some interesting adventures around that area.
I would liked to of seen the trip to Alaska since I heard some took the motorcycles along while the wives and girlfriends drove together. The idea of riding a bike through Alaska seems quite exciting, and then the nights around the fire talking and sharing stories, sounds like so much fun.
As you can see having a pickup camper does have some advantages and these people find ways to do everything and quite obviously see everything that they want to. Traveling and having great times is what camping is all about.
The pickup camper or the tent pop up travel trailer, both are nice ways to relax and enjoy the outdoors. Just pick a direction and see where the road takes you, stop if you want to or keep on going, the choice is all yours when traveling in a pickup truck camper.
 About Us / Privacy Policy / Resources
Go from Pickup Truck Camper to Pop Up Campers Trailer Home
Truck Camper / Slide in Truck Campers /  Truck Camper Tops / Truck Camper Jacks /  Truck Camper Tie Downs /  Build Truck Camper / Shadow Cruiser Truck Camper / Sun Lite Truck Camper / Living in a Truck Camper / Truck Camper Manufacturer / Truck Camper Plans / Compact Truck Camper /  Truck Camper Accessories / Small Pickup Campers / Used Pickup Campers