Truck Camper
A truck campers provide an excellent opportunity to camp out and enjoy the outdoors.
Truck campers are ideal option for all the camping enthusiasts who enjoy going out on a camping experience.
This type of campers has many benefits over many other recreational vehicles.
First, they are much smaller than most RVs and thus they are much easier to drive on highway and around town.
And when not traveling, the truck can be used as a family or work vehicle. Another great advantage is the price.
Truck campers are one of the least expensive recreational vehicles. If you decide to buy a new truck camper, you can expect to spend less than $30,000, which is considerably less than you would spend on a traditional recreational vehicle.
Since the truck campers are towed by pick-up trucks, they can handle rougher terrain and steeper grade roads. They provide great comfort and include entrance in rear, bedroom over the cab, kitchen and bathroom facilities. Usually they can sleep up to six people and their price ranges from about $5,000 to $50,000.
Truck campers are known with many different names in various regions and here are some of the truck camper's types:
The slide-in truck campers are truck campers in which the truck camper can be opened with the sliding doors. This type of truck campers is considered as space saver camper. They are mainly used in the vehicles where space has to be saved and also when the space is not vacant for opening the doors.
The cab-over truck campers are one of the most utilized and the most popular type of truck campers. This truck campers are attached to the trucks and do not occupy any special space. Also they have many amazing facilities.
Clam-shell truck campers are such truck campers where two fiberglass shells are joined horizontally at the center. They are not in the group of the most popular types of truck campers.
Hardside filon truck campers are truck campers which are created from wooden framing. The outlook of the hardside filon truck campers are decorated by the unique fir designs which makes this truck camper to have the most beautiful exterior.
Aluminum framed hard-side filon truck campers are made of aluminum framing instead of wooden framing which makes the great benefit to this type of truck campers because they have less chances to get damaged over a period of time as the aluminum is the safest and solid material compared to wood. Also siding and the finishing work is made of aluminum.
Pop-up truck campers are considered as the most popular truck campers and belong to the group of cheaper truck campers. In the pop-up truck camper design there is a cut which is made for the purpose to resist the wind and weight on the camper. The roofs of these truck campers can be raised in order to gain better height while in some models the roofs are completely folding. There are two different kinds of pop-up truck campers such as soft walled and hard walled frame units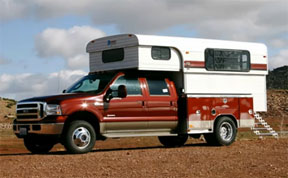 Alaskan Camper on Ford F350

There are many manufacturers of truck campers.
They are:
Alaskan Campers,
Outfitter Manufacturing,
Northwood manufacturing,
Palomino RV,
Hallmark Manufacturing,
Four Wheel Campers,
Lance,
Northern Lite,
West Coast Leisure Homes,
Chalet RV, Phoenix,
S&S Campers,
Quick up Camper,
Shadow Lite,
Six-Pac Campers.
---
Visitor's story......

The camper truck and tent pop up travel trailer offers the freedom to travel the countryside in style.
The truck shell provides protection from the elements and allows you to sleep in comfort.
The four wheel camper and the fifth wheel (5th wheel camper) along with a van are also great ways to travel and see the sights anywhere and everywhere.
Sightseeing in a truck camper also allows you to take along an extra trailer with a motorcycle or the bikes along for opportunities to go sightseeing in areas where a vehicle cannot go.
Like if you travel to New Mexico or New York sightseeing is extraordinary and can be appreciated more when you get out and ride around town.
Truck camper shells and interior are designed and stylish just as much as the tent pop up camper.
The nice thing about the truck camper is the ability to unload and load it on your truck with ease.
Truck camper loading is as easy as it looks. The brackets that it stands on while not mounted, provides for you to back the truck right under the truck shell and safely attach it to the truck. Locking it in place and starting out on your adventures. The truck camper is always ready to go; you may even choose to leave it attached for a quicker get away.
The popular camper is cozy and warm which provides for comfort when you are camping.
Never under estimate the camper as a comfortable camping experience. Life is good when you can travel and explore the country in style.
Just hop in and take off with a tuck camper for some enjoyable camping and adventurous times in your life.
 About Us / Privacy Policy / Resources
Go from Truck Camper to Pop Up Campers Trailer Home
Pop up Camper Tables / Pop up Camper Curtains / Pop up Camper Canvas Replacement
 Slide in Truck Campers /  Truck Camper Shells /  Truck Camper Tops / Truck Camper Jacks / Truck Camper Tie Downs / Build Truck Camper / Shadow Cruiser Truck Camper / Sun Lite Truck Camper / Living in a Truck Camper / Truck Camper Manufacturer / Truck Camper Plans / Compact Truck Camper / Truck Camper Accessories / Pickup Truck Camper / Pop Up Truck Camper Trailer
Benefits of Lightweight Travel Trailers,  Top-10 Ultralite Travel Trailers