Beach Camping Parks - Campgrounds North Dakota (ND)
North Dakota – state of Great Plains, man-made Lake Sakakawea and abundant nature may surprise you with sandy beaches despite its northern location.....
Icelandic State Park
13571 Highway 5
Cavalier, ND 58220
701-265-4561

    A beautiful camping site, one of those not to miss when on vacation.
You will find here great RV camping sites with electrical hookups, dump station and a modern bathhouse with hot showers.
Starting with mid-May and until the end of September three excellent cabins are available for rent. The picnic spots are nicely set at the camping sites, and they are sheltered to face any weather.
The beach on the camping ground offers all summer pleasures – sunbathing, relaxing and swimming. A fishing dock will be exactly what passionate fishermen will want, and the boat ramp will brighten the day for anyone wishing pleasant activity on the water. Your children will have a fun time at the playground right on the camping site. And to make it even better - you can take your family on a hiking trip for nature watching, because here you will find amazing wildlife, bird species and plants like no other. There are also other attractions in the near vicinity of the campground.

---
Wolf Creek Campground
36th Ave. NW
Riverdale, ND
701-654-7411

    A lovely campground situated in the close vicinity of a lake. It offers camping sites for tents and for RVs although the sites are rather "primitive" (lovely nature makes-up for lack of some amenities). Good news for RV-ers – there is a sewer/fill and dump station.
The area is great for those enjoying fishing activities, as the lake has a boat ramp and a station for cleaning up the fish. The camping sites also have picnic tables and grills (campfires are not allowed). If your family has young children, they will have a great time playing in the playground available in the campground. All water-sports can be unrolled on the lake including water-skiing. The campground is pet-friendly, so they won't have anything against you bringing your dog. But you might be asked to keep your companion on a leash when within the camping sites perimeters.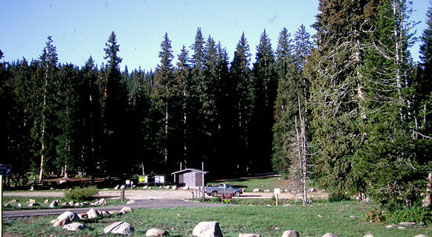 ---
Visitor's story......

The nice thing about camping is finding beach camp parks-campgrounds North Dakota (ND) and traveling the open road to get there.
You never find the trip without some kind of adventure. The area is so beautiful, you might not want to just stay in one place, you may want to visit many campgrounds and see different things that the area has to offer. If you have an agenda that includes a lake or a river, you will surely be delighted in North Dakota.
The campgrounds are delightful and plentiful, but the attractions have something to offer as well. Now id you really have an aching for a round of golf, you might find Painted Woods Golf Course or Rigby Golf Course more to your liking, than visiting Tommy Turtle Statue State Park. Whatever it is you decide to do, enjoy the weather and the glorious scenery.
Find that perfect golf course or attraction around many of the beach camp parks-campgrounds North Dakota (ND) has to offer. Whether you want a river or a lakefront, you will find that perfect area just by searching a few listings and selecting the best one close to areas you travel to around Dakota.
Beach Parks North Dakota:


Icelandic State Park
13571 Highway 5 Cavalier,
ND 58220 701-265-4561

Wolf Creek Campground
PO Box 527 Riverdale,
ND 701-654-7411
 About Us / Privacy Policy / Resources
Camping Parks in US,  Campground Parks in Canada

 Beach Camping Parks - Campgrounds North Carolina (NC) / Beach Camping Parks - Campgrounds Oklahoma (OK) / Beach Camping Parks - Campgrounds Oregon (OR) / Beach Camp Parks - Campgrounds Pennsylvania (PA) / Beach Camping Parks - Campgrounds Rhode Island (RI) / Beach Camping Parks - Campgrounds South Carolina (SC) / Beach Camping Parks - Campgrounds South Dakota (SD) / Beach Camping Parks - Campgrounds Tennessee (TN) / Beach Camping Parks - Campgrounds Texas / Find Here Beach Camping Parks - Campgrounds Utah / Beach Camping Parks - Campgrounds Vermont (VT) / Beach Camping Parks - Campgrounds Virginia (VA) / Beach Camping Parks - Campgrounds Washington (WA) / Beach Camping Parks - Campgrounds West Virginia (WV) / Beach Camping Parks - Campgrounds Wisconsin (WI) / Beach Camping Parks - Campgrounds Wyoming (WY)
Go from Beach Camping Parks - Campgrounds North Dakota (ND) to Pop Up Campers Trailer Home