Directory of Campgrounds: Tent and RV Camping Parks New Hampshire (NH)
Find best campgrounds and RV Parks in New Hampshire to have memorable vacations in New England
New Hampshire is a small state in the New England region of the USA.
It is also called the "Granite State", because of its extensive granite formations. 
The two most known mottoes of New Hampshire are: "You're Going to Love it Here" and "Live Free or Die" and frankly they express quite well the nature of the state and spirit of its inhabitants. New Hampshire was the first to declare its independence from the Mother England.
The state has large mountains on the East Coast, with lots of opportunities for recreational activities such as skiing, snowmobiling and other winter sports as well as hiking and mountaineering during spring-fall season.
You can find here some rare species such as the karner blue butterfly, lynx, bald eagle, short nose sturgeon, Sunapee trout, Atlantic salmon and the dwarf wedge mussel.


Newfound RV Park
792 Mayhew Turnpike
Bridgewater, NH 03222
Phone: (603) 744-3344

Newfound RV Park has 38 large, flat gravel sites and 6 brook-side sites; all of them have full hookup service with cable TV and WiFi.
All the sites have a picnic table and fire ring.
The park has clean, private bathrooms with showers and laundry room. On the site there is also a camp store with ice, firewood, coffee, tea and some other supplies. The covered pavilion with ping pong and pool tables, offers the chance for indoor activity in the case of rainy weather.
You can bring your kids and pets along: there is a playground with a large sandbox and an enclosed dog park. Some of the closest attractions are for example the Pristine Newfound Lake and the Profile Falls.


Campsite with picnic table in Lost River Valley Campground

Lost River Valley Campground
951 Lost River Road
North Woodstock, NH 03262
Phone: (603) 745-8321

If you want to enjoy the wilderness, the closeness of nature and the healthy fresh air, but all in the comfort of home-like environment then this is a great place to park your RV. There are over 125 wooded and brook-front sites with full hookups and 20, 30 & 50-amp electric service. There is free Wi-Fi on the campground, picnic table & fireplace at each site, modern restrooms, store with most important things you may need, laundromat, ATM, RV dumping stations….
The park is surrounded by the National Forest; it is also right next to Lost River and Walker Brook. Pets are welcomed but they need to be kept on leash.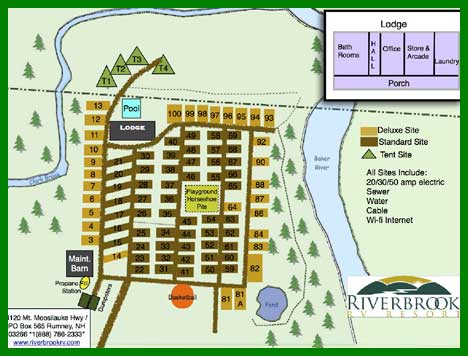 Site map of the Riverbrook RV Resort (Rumney, NH)
Source: www.riverbrookrv.com

Riverbrook RV Resort
P.O. Box 565
Rumney, N.H. 03266
Phone: (603) 786-2333

Riverbrook RV Resort is located in the area of lakes and rivers so guests can enjoy water sports.
The park has a heated in-ground pool, propane fill station, game room, laundromat, general store, basketball court, playground and other facilities. RV Resort offers pull-thru and back-in sites with water, sewer and 30/50 amp electric hook-ups as well cable TV.
The area offers plenty of hiking trails, rock climbing places, biking trails as well as and several golf courses. If you like canoeing, kayaking, boating or fishing then nearby Baker River, Pemigewasset River, Stinson Lake, Newfound Lake, Squam Lakes and Lake Winnipesaukee just wait for you.

Nearby attractions worth to visit are: like Polar Caves, Clarks Trading Post, Hobo Railroad and Lost River Gorge .


Welcome to Sandy Beach RV Resort in New Hampshire

Sandy Beach RV Resort
677 Clement Hill Road
Contoocook, NH 03229
Phone: (866) 281-3076

If you want to visit the White Mountains, Lakes Region and the New Hampshire Seacoast, you can stop at the Sandy Beach RV Campground. All of these beautiful places are quite close to the park.

RV Campground sites are spacious and secluded; some have waterfront locations. The campground has laundry facilities.

Given its surroundings, campground is a great getaway for weekday & weekend activities for adults, teens & kids.  It is paradise for fishing due to the abundance of fish in the lake: large and small mouth bass, yellow perch, rock bass, blue gills, sunfish….. You can bring your canoe, paddle-boat or small row boat along, and enjoy your day floating on the beautiful lake.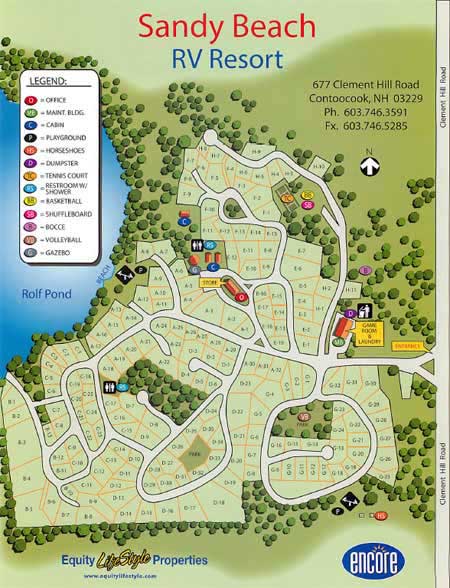 Sandy Beach RV Resort - sitemap

Source: www.sandybeachrvresort.com

Hidden Valley R.V. & Golf Park
81 Damren Road
Derry, NH 03038
Phone: (603) 887-3767

The Hidden Valley R.V. & Golf Park is located on 800 acre outdoor recreation area.
The campsites offer privacy; each has water, electric and sewer hook-ups and picnic table. On the premises you will find LP gas, wood and fireplaces, modern restrooms with hot showers and other facilities. There are also two ponds where you can do some fishing as well as the shuffleboard and horseshoes for kids.
It is also the paradise for serious golfers - an 18-hole championship golf course and an executive Par 3 golf course are right here.
Local attractions include: Canobie Lake Amusement Park, harness racing at Rockingham Park, Museum of Family Camping, Christa McAuliffe Planetarium, America's Stonehenge, Anheuser Busch Brewery and the Nutfield Brewing Company.


---
Visitor's story.....

Finding a campground in New Hampshire might not be as hard as you think.
Look at this directory of campgrounds: tent and RV camping parks New Hampshire (NH) for a few ideas that might turn into return trips.
You will want to see the Indian Head rock profile and the George Washington rock profile.
These attractions are historical and need to be viewed by everyone visiting New Hampshire.
If you travel in your motorhome trailer or with a pop up camper, finding a campground needs to be easy.
Take your recreational vehicle such as a mobile home, pop up camper or motor home and seek out a campground using the directory of campgrounds: tent and RV camping parks New Hampshire (NH).
If you need some relaxation and great adventures, camping is the way to travel. You never know what to expect, because everything will become an adventure.
If a beach camp meets your needs, find one that has sandy beaches and plenty of sun.
Look at some of these campgrounds:

Barrington Shores Campground
70 Hall Rd
Barrington NH 03825
603-664-9333


Crawford Notch State Park
2057 US Route 302
Harts Location NH 03812
603-374-2272


Crazy Horse Campground
788 Hilltop Rd
Littleton NH 03561
603-444-2204


Danforth Bay Camping Resort
196 Shawtown Rd
Freedom NH 03836
603-539-2069


Goose Hollow Camp and RV Park
RR 49
Campton NH 03223
603-726-2000
 About Us / Privacy Policy / Resources
Go from Directory of Campgrounds: Tent and RV Camping Parks New Hampshire (NH) to Pop Up Campers Trailer Home
Directory of Campgrounds: Tent and RV Trailer Camping Parks USA / Tent and RV Camping Parks Missouri (MO) / Tent and RV Camping Parks Montana (MT) / Tent and RV Camping Parks Nebraska (NE) / Tent and RV Camping Parks Nevada (NV) / Tent and RV Camping Parks New Hampshire (NH) / Tent and RV Camping Parks New Jersey (NJ) / Tent and RV Camping Parks New Mexico (NM) / Tent and RV Camping Parks Ohio (OH) / Tent and RV Camping Parks Oklahoma (OK) / Tent and RV Camping Parks Oregon (OR) / Tent and RV Camping Parks Pennsylvania (PA) / Tent and RV Camping Parks Rhode Island (RI) / Tent and RV Camping Parks South Carolina (SC) / Tent and RV Camping Parks South Dakota (SD) / Tent and RV Camping Parks Tennessee (TN) / Tent and RV Camping Parks Texas (TX) / Tent and RV Camping Parks Utah (UT) / Tent and RV Camping Parks Vermont (VT) / Tent and RV Camping Parks Virginia (VA) / Tent and RV Camping Parks Washington (WA) / Tent and RV Camping Parks West Virginia (WV) / Tent and RV Camping Parks Wisconsin (WI) / Tent and RV Camping Parks Wyoming (WY)


Directory of Campgrounds: Tent and RV Trailer Camping Parks USA