Directory of Campgrounds: Tent and RV Camping Parks West Virginia (WV)
Explore the nature staying at Tent and RV Camping Parks in West Virginia (WV)
West Virginia is located in the Southern United States in the Appalachian region.
It's a small state; its biggest town is Charleston, but that is not what is making the state "great" for visitors.
It is the Generous Mother Nature that left behind a lot of natural parks that are worth to see. 
So consider exploring the Appalachian National Scenic Trail, Canaan Valley National Wildlife Refuge, Bluestone National Scenic River, Chesapeake and Ohio Canal National Historical Park or Gauley River National Recreation Area, to name only few.
Some other famous landmarks that you shouldn't miss while in West Virginia are the Trans-Allegheny Lunatic Asylum, National Historic Landmark and the National Radio Astronomy Observatory.
If you are traveling with friends or family, a great place to chill out, relax and have lots of fun is Camden Park and Valley Worlds of Fun.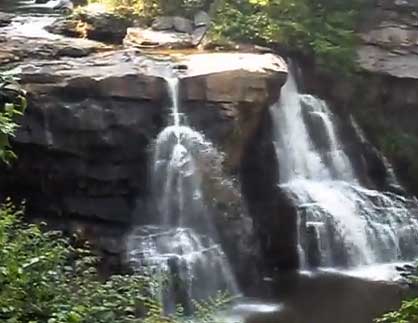 ....touch of the nature: Waterffals in Blackwater Falls State Park (West Virginia)

Camp Copperhead
850 Indian Creek Road
Alma, WV 26320
(304) 758-2121


Camp Copperhead is a family owned campground open year-round. The property is mostly grassland with some trees and two creeks running through it. During the winter they have limited full hookup sites only.  Their price includes a big RV site with campfire ring, 30 amp service, well water, gray water, and dump station as well.
They have 4 hot showers, 4 flush toilets, and a modern laundry room with washers and dryers. All of the facilities have air conditioning and heating.
It is worth to come here with a group, because you will get a special deal with picnic shelter rentals, open field rentals and bandstand rentals.
It is close to Fenton Glass, museums & antique shopping and most importantly - to a huge public hunting ground. If you like fishing, there are a lot of fish ponds, lakes, creeks, and the majestic Ohio River not far away.
Few words from the owner: "We accommodate any size, any occasion, any day ...."
Falling Waters Campsite
7685 Williamsport Pike
Falling Waters, WV 25419
(304) 274-2791

Falling Waters is a family owned and operated campsite. It is located in woody grassland with large pond offering a best of both worlds – natural green surface and shade. They have 40 RV sites, all with water, cable TV, 20/30/50 amp electric and free Wi-Fi. Tent sites are also available.
On the premises you will find the camp store with a large selection of RV parts, all kinds of supplies and accessories. You can also buy firewood, ice, drinks, ice cream and food items from there.
At the campground's propane station you can also fill your tank.
The extra services include self-storage and U-Haul transportation services! The campground is close to the town of Falling Waters, a place with lots of nice restaurants.

Staying at the Falling Waters Campsite consider visiting the Martin L  Snook Memorial Park, Fort Frederick State Park and Hagerstown Roundhouse Museum. In the area of the town you can visit the A. M. Powell State Fish Hatchery, Bluemont Vineyard and Doukenie Winery.

Sand Springs RV Campground
1299 Bakers Ridge RD
Morgantown, WV 26505
(304) 594-2415

Sand Springs RV Campground is open all year. It is located in a beautiful wooded area, but not far from the town of Morgantown. They have mostly pull-through sites with full hookups including 50 amp electric services. You can also do tent camping here.
Good, bad or just news – the campground has only limited internet access (whatever it means)..
The Sand Springs RV campground is great for kids and adults alike with a big pool and game room. `
The main office of the park has a general store where you can buy all the essentials for camping.

The park is only a couple of minutes away from Cooper's Rock where you can do some nature viewing, rock climbing, hiking and biking. There is also a lake close by – apparently a paradise for fishing.
Some of the nearby attractions include the Glass factory, Whitewater rafting, Laurel Caverns, Forks of Cheat Winery, Lakeview Golf Resort and Coopers Rock State Forest.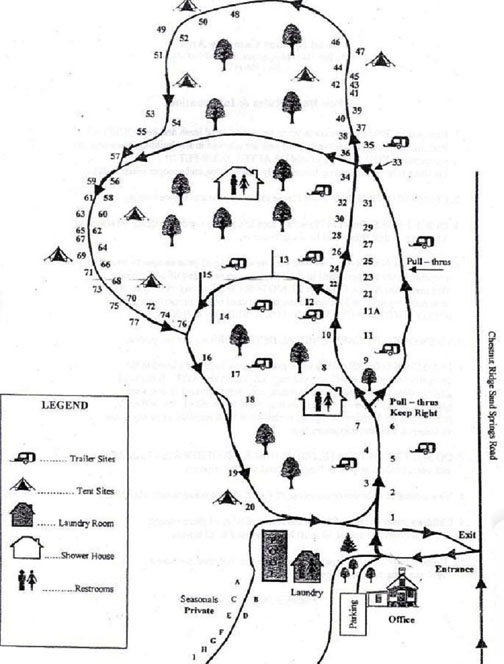 Sand Spring RV Campground - map.
Source: www.sandspringscampground.com

Riverside Cabins and RV Park
4000 River Road
Fisher, WV 26818
(304) 538-6467

Riverside Cabins and RV Park is a rustic mountain resort. You can find it along the banks of the South Branch of the Potomac River. There are full hookups sites with public water, sewer and electrical service; the internet is available for additional cost. This is a family oriented park and children friendly site.

Since the area is full of possibilities for adventure, you will not get bored at this park: you can do canoeing, fishing, hiking, camping, swimming, gem mining and biking in the area. Wildlife (and in general nature) watching is almost a life-time opportunity here. The park has a mini golf course.

The park is less than half an hour away from downtown Petersburg, where you can enjoy fine restaurants, shopping, antiques, sightseeing and more. Local attractions that are also close by are for example Spruce Knob, Seneca Rocks, Dolly Sods, Smoke Hole Caverns, Blackwater Falls and Canaan Valley….


.... welcome to Pine Hill Campground in Bruceton Mills (West Virginia).....
Source: http://pinehillcampground.com

Pine Hill Campground
32 Pinehill Campground Drive
 Bruceton Mills, WV 25625
(304) 379-4612

Pine Hill campground is a family campground with RV sites and tent camping possibilities. It is located right in the middle of 44 acres of pristine woodlands. The camp owners are proud of the large variety of beautiful trees that grow on the campground.
They offer over 40 full hookup sites with water, sewer, and electric and 10 pull-through sites with 30 and 50 amps service. Each site has a picnic table and fire ring. Pets are always welcome. For dedicated tourists, the campground also offers limited number of winter sites.

Since the Pine Hill Campground is surrounded by deep forests, it is the perfect place for wildlife watching. More active and sport oriented visitors can enjoy here horseback riding, white water rafting, fishing, hiking and biking as well as a miniature golf.
Nearby you will find movie theaters, shopping areas including Wal-Mart and local restaurants…..

---
Visitor's story.....

Explore the whitewater rafting adventures in West Virginia or check out the golf courses while staying at one of the nice campgrounds around the area.
A directory of campgrounds: tent and RV camping parks West Virginia (WV) shows you the campgrounds in the area to stay at whether you have a pop up camper or a motorhome trailer.
If you travel in a motor home or another recreational vehicle, you want to find somewhere comfortable and relaxing.
A mobile home or a pop up camper, the fun is all the same.
Enjoy a nighttime campfire with friends, share your traveling stories, and maybe learn about some other great places to visit.
The directory of campgrounds: tent and RV camping parks West Virginia (WV) lists some of the areas that may have a beach camp and other campgrounds.
If you find the right campground, you may keep coming back repeatedly.
Look at some of these campgrounds:
Wapocoma Campground
PO Box 1004
Romney WV 26757
304-822-5528


Big Ridge Campground
6446 Dove Hollow Rd
Mathias WV 26812
304-897-6404


Blackwater Falls State Park
PO Box 490
Davis WV 26260
304-259-5216


Leisure Time Campground
Historic Jacksons Mi
Weston WV 26452
304-269-1084

Milleson's Walnut Grove Campgrounds
Silas Milleson Rd
Springfield WV 26763
304-822-5284
 About Us / Privacy Policy / Resources
Find Here Worldwide Beach Camping Parks Directory

Go from Directory of Campgrounds: Tent and RV Camping Parks West Virginia (WV) to Pop Up Campers Trailer Home
Directory of Campgrounds: Tent and RV Trailer Camping Parks USA / Tent and RV Camping Parks Missouri (MO) / Tent and RV Camping Parks Montana (MT) / Tent and RV Camping Parks Nebraska (NE) / Tent and RV Camping Parks Nevada (NV) / Tent and RV Camping Parks New Hampshire (NH) / Tent and RV Camping Parks New Jersey (NJ) / Tent and RV Camping Parks New Mexico (NM) / Tent and RV Camping Parks Ohio (OH) / Tent and RV Camping Parks Oklahoma (OK) / Tent and RV Camping Parks Oregon (OR) / Tent and RV Camping Parks Pennsylvania (PA) / Tent and RV Camping Parks Rhode Island (RI) / Tent and RV Camping Parks South Carolina (SC) / Tent and RV Camping Parks South Dakota (SD) / Tent and RV Camping Parks Tennessee (TN) / Tent and RV Camping Parks Texas (TX) / Tent and RV Camping Parks Utah (UT) / Tent and RV Camping Parks Vermont (VT) / Tent and RV Camping Parks Virginia (VA) / Tent and RV Camping Parks Washington (WA) / Tent and RV Camping Parks West Virginia (WV) / Tent and RV Camping Parks Wisconsin (WI) / Tent and RV Camping Parks Wyoming (WY)

Directory of Campgrounds: Tent and RV Trailer Camping Parks USA