Directory of Campgrounds: Tent and RV Camping Parks Rhode Island (RI)
Rhode Island is one of the smallest states, but it has a lot to offer to visitors, explore its natural beauty staying at one of RV Parks and campgrounds you can find here….
This state is actually called the State of Rhode Island and Providence Plantations.
It is located in the south east of the USA in the region known as New England.
Due to its location sometimes it is also called the Ocean State.
Rhode Island is one of the smallest states, but also one of the most populous ones.
If you go to Rhode Island, you must visit the Belcourt Castle, International Tennis Hall of Fame, Museum of Natural History and Planetarium, Newport Art Museum and the Seabee Museum and Memorial Park. Kids will also love the Launch Trampoline Park and the Haunted Labyrinth.


Entrance to the RI National Wildlife Refuge....

Ashaway RV Resort
235 Ashaway Rd.
Bradford, RI 02808
P O Box 276
(401) 539-2230

This campground is open all year. It is a large RV Park offering 261 spaces with electrical service of 30/50 amps. 221 sites are equipped with full hookups. Most sites are quite spacious so there is plenty of room for motorhomes and slide outs. Side-by-side hookups are also possible. And good news – the large part of the campsite is shaded by beautiful green trees….
At each campsite there are fire rings and barbeque possibilities.

Wifi internet is available at the campground for all guests. For family fun there is a game room, while for outdoor games you will find horseshoes, shuffleboard,  playground and for those more serious - a tennis court. While the kids are playing you can relax in the spa! For rainy weather you can use the pavilion.

Park provides bike-rental services so you can explore the area without sitting behind the steering-wheel. Pets are welcome, but there is a pet restriction on breed (please check with the park before coming).
As expected from the "Ocean State" there is plenty of beautiful beaches around where you can go for swimming and sun-bathing. Golf lovers will find here golf courses while those trying to win "big bucks" may try nearby casinos. And for all it is suggested to see the Mystic CT, Watch Hill and Westerly RI.


Ashaway RV Resort site map
Source: www.ashawayrvresort.com

Holiday Acres Camping Resort
593 Snake Hill Rd
North Scituate, RI 02857
(401) 934-0780

Holiday Acres Camping Resort is open all year round, but during winter there are limited facilities. Tenting is possible as well. The Resort offers 215 places in total including 15 with full hookups. Electrical service includes 30 and 50 amp connections. Wifi internet is available throughout the park. You can bring your pets along.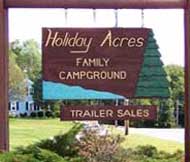 Entrance to the Holiday Acres Campground

The main attraction of the park is Coomer's Lake.
You can do some boating there, either by bringing your own boat along or renting one. You can also spend time inside in the game room or the recreational hall.
Local store provides fishing supplies for enthusiasts of fishing…..

Meadowlark Park
132 Prospect Ave
Middletown, RI 02842
(401) 846-9455

This small green park is open only during the summer season. It is located in Middletown, close to the beach. That makes it ideal place for lovers of beach activities (swimming, sunbathing but also romantic evening walks and stunning sunrises). There are 50 total spaces, 41 of them have full hookups with electrical service of 30 Amps. Kids will find here playground and recreational hall. You can also bring here your animal friend (pets are welcome). There is a laundry room and a dump station for RV-ers.
Don't forget your fishing supplies and your bathing suit, because there are many beaches in the area.
Now just news (neither bad nor good) – the park does not provide places for tents.


...one of the many beautiful parks in Rhode Island - Warwick Island....

Hollytree Campground
109 Ashaway Road/Rte. 216
Ashaway, RI 02804
(401) 596-2766

Hollytree campground is a seasonal campground. There is a pavilion and a video game room, where the whole family can hang out. When the weather is nice you are welcome to use the basketball court. You can fill up with ice and propane at the campground.
There is a free tennis court and jungle gym playground just a few minutes' drive from the campground. If you came to Rhode Island for the beaches, you can find them close by. The park is only ten minutes away from the Mystic Seaport and the World Famous Foxwoods Casino.


Whippoorwill Hill Family Campground
106 Old Plainfield Pike
Foster, RI 02825
(401) 397-7256

This campground is open between April and September. It is located in a rural area in the center of the state. The sites provide water, sewer and electric hook-ups.
The park has many facilities including the arcade room and the playground. Restrooms and the laundry room are very clean. During the summer time campground organizes concerts and dancing activities. If you love nature, you will enjoy nearby hiking trails….
If you stay at this park you will be close to Foxwoods Bingo 7 Casino, Mohegan Sun Casino, Plainfield Greyhound Park, Orchards & Berry Picking and Roger Williams Park & Zoo.


---
Visitor's story....

Take a directory of campgrounds: tent and RV camping parks Rhode Island (RI) and look for campgrounds that provide the services you require while camping.
If you have a pop up camper, you may require bath facilities and electrical hook ups.
If you have a motorhome trailer, it might not matter if there are any facilities or hook ups.
Some people park a mobile home on these campsites and require all the necessary hook ups.
Therefore, finding a campground for a motor home or any recreational vehicle requires different types of services.
If you are looking for a beach camp, try a directory of campgrounds: tent and RV camping parks Rhode Island (RI) that says something about water sports and swimming.
In Rhode Island, you may want to see some area attractions such as Foxwoods Casino or Mohegan Casino, and then Whispering Pines might suit your camping needs as well as location needs.
Check out the list of campgrounds here:
Peeper Pond Campground
159 Liberty Church Rd
Exeter RI 02822
401-294-5540


Timber Creek RV Resort
118 Dunns Corner Rd
Westerly RI 02891-5810
401-322-1877


Whispering Pines Campground
41 Sawmill Rd
Hope Valley RI 02832
401-539-7011
 About Us / Privacy Policy / Resources

Go from Directory of Campgrounds: Tent and RV Camping Parks Rhode Island (RI) to Pop Up Campers Trailer Home

Directory of Campgrounds: Tent and RV Trailer Camping Parks USA / Tent and RV Camping Parks Missouri (MO) / Tent and RV Camping Parks Montana (MT) / Tent and RV Camping Parks Nebraska (NE) / Tent and RV Camping Parks Nevada (NV) / Tent and RV Camping Parks New Hampshire (NH) / Tent and RV Camping Parks New Jersey (NJ) / Tent and RV Camping Parks New Mexico (NM) / Tent and RV Camping Parks Ohio (OH) / Tent and RV Camping Parks Oklahoma (OK) / Tent and RV Camping Parks Oregon (OR) / Tent and RV Camping Parks Pennsylvania (PA) / Tent and RV Camping Parks Rhode Island (RI) / Tent and RV Camping Parks South Carolina (SC) / Tent and RV Camping Parks South Dakota (SD) / Tent and RV Camping Parks Tennessee (TN) / Tent and RV Camping Parks Texas (TX) / Tent and RV Camping Parks Utah (UT) / Tent and RV Camping Parks Vermont (VT) / Tent and RV Camping Parks Virginia (VA) / Tent and RV Camping Parks Washington (WA) / Tent and RV Camping Parks West Virginia (WV) / Tent and RV Camping Parks Wisconsin (WI) / Tent and RV Camping Parks Wyoming (WY)

Find here 250+ Beach Camping Parks
Directory of Campgrounds: Tent and RV Trailer Camping Parks USA