Directory of Campgrounds: Tent and RV Camping Parks Wyoming (WY)
Tent and RV camping parks Wyoming (WY)

Wyoming is located in the mountain region of the Western United States.
It is the least populous state in the USA.
It has prairies known as the High Plains and the Eastern Rocky Mountains.
Generosity of Mother Nature and low impact of "civilization" makes this state a paradise for nature lovers.
One of the world's most beautiful parks – the Yellowstone National Park - is in this state. But that is not the end of the story, other parks such as the Grand Teton National Park, Devils Tower National Monument and Fossil Butte National Monument are also on the Top List of the "must-to-see" nature wonders.
And as it could be expected, wildlife is abundant and thriving in these areas of the state.
If you are interested in the history and heritage of the state, you must see places like the Buffalo Bill Historical Center.

Let's start the Wyoming's adventure with the visit to Yellowstone and Grand Teton National Parks....
Enjoy the scenery and hear firsthand accounts from visitors including filmmaker Ken Burns and journalist Tom Brokaw. The aerial photography, close-up views of wildlife, and outdoor activities will give you insight toward planning your next visit to Wyoming......

---
Source: www.eaglervpark.com

Eagle RV Park and Campground
204 Hwy 20 South
Thermopolis, Wyoming
(307) 864-5262

Eagle RV Park and Campground is close to the town of Thermopolis. It is open between April and October. They have 30/50 amp pull-thru RV sites with lots of trees and coming with them shade.
At the campground you can enjoy a snack or ice cream, or buy souvenirs from the gift shop. On top of gifts, the general store offers useful items for camping including propane.
For outdoor activities there is children's playground, basketball, badminton and horse shoes course. On the premises there is also a pavilion area, which makes this RV Park and Campground suitable for any large groups traveling together or reunion meetings. Pets are welcome; and to make their lives (and their owners) easier there is also a pet walking area.
 Eagle RV Park and Campground is located near the Big Horn River, Hot Springs State Park and Boysen Reservoir. Thermopolis, right where the park is located is the home to the world's largest mineral hot springs. Other places that you can visit are the Rainbow Terraces, State Bath House, Hot Springs County Historical Museum, Tepee Spa, Wyoming Dinosaur Center and the Legend Rock Petroglyph Site.


One of the reasons to stay at Peter D's RV park .... :-)
Source: www.wyomingrvpark.com

Peter D's Wyoming RV Park
1105 Joe Street
Sheridan, Wyoming 82801
(307) 673-0597

Peter D's Wyoming RV Park is a family operated campground. They have 54 pull-through sites with 50/30/20 amps electric service. Free wireless internet service and free cable TV are included in the price. For a pleasant camping and picnic each site also has lawn and a picnic table.
The campground offers book exchange service (bring yours if you do not need them anymore). And an interesting option - you can also buy Peter D's fresh garden vegetables if they have any at the time you arrive.
The park owners love pets, so it's not surprising that you will find here a very large pet-run area for your four-legged friends.
Gourmands will certainly find something delicious at the Wyoming's Rib and Chop House just few blocks away.
Golfers will have the choice of golf course as there are three located nearby. Those "hungry" to learn part of local history should see the Historic Sheridan Inn, Bradford Brinton Museum with western art, World Famous King Ropes, Fort Fetterman and the Devil's Tower.

Phillip's RV Park
225 Bear River Dr.
Evanston, WY 82930
(307) 789-3805

This seasonal RV Park is family owned. It has 59 full hookup sites and 49 pull-thrus with 20/30/50 amps electrical service. Wifi Internet is available throughout the RV Park while Cable TV connections are only at some sites. Each site has picnic table, trees and grass.
For on-site recreation, campground offers horseshoe pits, basketball court and the playground. There are also biking and hiking trails.

The campground is located close to the Yellowstone National Park, so it is a great gateway for exploration of this natural wonder...
You should not exclude from your plans the city of Evanston as it also has a lot to offer. You will find there an 18-holes golf course, public tennis courts, recreational center, possibility of fishing on the Bear River and Sulphur Creek Reservoir and of course restaurants.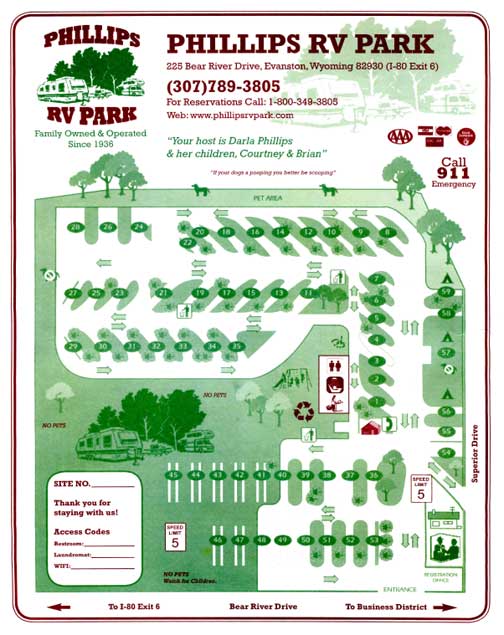 Phillip's RV Park sitemap (Wyoming)
Source: www.phillipsrvpark.com

Pioneer RV Park
176 Sunflower Street
Lander, Wyoming 82520
Phone (888) 875-5238

Pioneer RV Park is right next to the town of Lander. The extra bonus of its location is the picturesque view on the Wind River Mountains. It has large, pull through sites and twenty-two full hookup sites with 20/30/50 amps service.. You can use the laundry facilities and there is also a book exchange office, but for connections with the "outside world" (wireless internet) you have to pay! Pets are welcome and frankly there is quite a lot of space for walking them.
The town of Lander offers many historical and cultural sites, but also restaurants, art galleries, bookstores, children's museum and shopping. If you like the outdoors, you can take a hike to Popo Agie Falls in the Sinks Canyon State Park, which is close to Pioneer RV Park.

Chuchwagon RV Camp
310 Pioneer Ct.
Fort Laramie
WY 82212
(307) 837-2828

Chuchwagon RV Camp is a small but friendly family owned campground.
It has 16 grassy sites with full hookups including 30 and 50 Amps electrical service.
The sites have grills, drinking water and picnic tables. You can also set up a tent here.  The price of camping includes usage of the dump station and the laundromat.
The park doesn't have a lot of facilities, but those interested will find nearby golf courses. Everybody will enjoy exploring historic Fort Laramie just a few minutes away and obviously fine dining in restaurants.
Other local attractions are the Guernsey State Park, Oregon Trail Ruts, the Register Cliffs, Camp Guernsey, Western History Center and the Homesteaders' Museum.

---
Visitor's story......

While you visit Wyoming, stop and see the tree in the rocks and the daily street gunfights around Cody.
A directory of campgrounds: tent and RV camping parks Wyoming (WY) will give you some good ideas about where to stay and what attraction might be around the area. Camping in a pop up camper or a motor home always allows you to travel anywhere, anytime.
Find a beach camp and spend some time in the sun and water during the afternoon relaxation time. If you have a mobile home or any recreational vehicle, you can enjoy some adventures in Wyoming. Take the motorhome trailer and hit the road for some fun and excitement.
While not all campgrounds have all the necessary facilities, look for one that meets all your needs and then settle in for some great times that all campers experience.
Here are a few campgrounds in the area:
Arrowhead RV Park
2005 16th St
Wheatland WY 82201
307-322-3467


Brott's RV Park
3144 State Highway 157
Lingle WY 82223
307-837-2299


Casper East RV Park & Campground
2800 E Yellowstone Hwy
Casper WY 82609
307-237-5155


Cowboy Joe RV Park
409 Quartz St
Kemmerer WY 83101
307-877-6693


Deer Haven RV Park
706 N 1st Platte River
Saratoga WY 82331
307-326-8746
 About Us / Privacy Policy / Resources
Find Here Worldwide Beach Camping Parks Directory

Go from Directory of Campgrounds: Tent and RV Camping Parks Wyoming (WY) to Pop Up Campers Trailer Home
Directory of Campgrounds: Tent and RV Trailer Camping Parks USA / Tent and RV Camping Parks Missouri (MO) / Tent and RV Camping Parks Montana (MT) / Tent and RV Camping Parks Nebraska (NE) / Tent and RV Camping Parks Nevada (NV) / Tent and RV Camping Parks New Hampshire (NH) / Tent and RV Camping Parks New Jersey (NJ) / Tent and RV Camping Parks New Mexico (NM) / Tent and RV Camping Parks Ohio (OH) / Tent and RV Camping Parks Oklahoma (OK) / Tent and RV Camping Parks Oregon (OR) / Tent and RV Camping Parks Pennsylvania (PA) / Tent and RV Camping Parks Rhode Island (RI) / Tent and RV Camping Parks South Carolina (SC) / Tent and RV Camping Parks South Dakota (SD) / Tent and RV Camping Parks Tennessee (TN) / Tent and RV Camping Parks Texas (TX) / Tent and RV Camping Parks Utah (UT) / Tent and RV Camping Parks Vermont (VT) / Tent and RV Camping Parks Virginia (VA) / Tent and RV Camping Parks Washington (WA) / Tent and RV Camping Parks West Virginia (WV) / Tent and RV Camping Parks Wisconsin (WI) / Tent and RV Camping Parks Wyoming (WY)

Directory of Campgrounds: Tent and RV Trailer Camping Parks USA