Beach Camping Parks- Campgrounds Hawaii (HI)
Hawaii Islands offer the best possible combination of what most of us are looking for:  crystal clear blue waters, sandy beaches, lush vegetation and a lot of sun; See best places to camp....
 Malaekahana Campgrounds
 Box 305, Laie  HI
(808) 293-1736  

    An exotic campsite with all the facilities you need for a relaxing holiday. They have campsites for tents, camping yurts, eco-cabins, and some small grass shacks. The eco-cabins have refrigerators and stoves. There is no need to bring your food as you can go shopping about a mile or two from the campgrounds. There are also picnic tables, fire pits, warm showers, and port-a-potties. Enjoy your rustic holiday and choose to go swimming and surfing. The beaches are excellent, even crowded during the weekend. The best part of the beach is in the northern part because there the ocean bottom is sandier,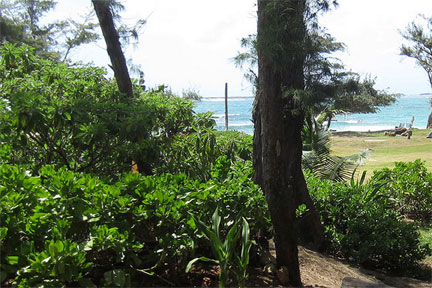 Malaekahana Camping : It can't be better: Sea, sandy beach and lush vegetation

---
Haleakala National Park
PO Box 369
Makawao,  HI 96768
(808) 572-4400

    The Haleakala National Park is a part of nature that hasn't been touched yet by civilization. If you want a close encounter with nature, witness the unique landscapes and experience a camping experience like no other, then this Park awaits you. The Park has only two camping sites out in the wilderness. Here the access is permitted only by trail. The conservation methods used to preserve this natural beauty for generations to come, allow each person only to a three nights camping, within a 30-day period.
The landscapes are fantastic, but the weather is unpredictable, so you have to be prepared for both warm and cold temperature, and as well for rain. You must have proper camping equipment, with the rain fly for your tent, double layer clothes and supplies to accompany your journey on the trail. It is a good idea to bring your water because the one you will find on the campsite is not potable. It is something you need to see and with the proper preparations, this experience ca be one of a kind.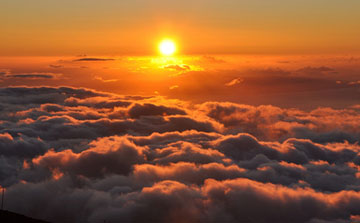 Sunset at Haleakala Park

---
Visitor's story......

You have heard that old saying about the mystical powers of the islands in Hawaii, well now you can travel to the islands and stay at beach camp parks- campgrounds Hawaii (HI).
Once you decide that this area has the most to offer you for this trip, you can start planning on what campgrounds you will stay at and what you might like to do while camping on the islands of Hawaii.
The weather is wonderful and the beaches a sight never seen anywhere else around our country.
One of my favorite things to see in Hawaii is the Sea Life Park. Sit on the edge of the dolphin tank or pool, shake hands, and feed the dolphins as they come to you.
If you happen to stay around the Honolulu area, visit the downtown area where you will find many historical themed attractions for the entire family to enjoy. Other places of interest are the Zoo, Aloha Tower and the National Memorial Cemetery of the Pacific. Hawaii is filled with history and the campgrounds allow you to see everything you want and still have fun in the outdoors.
Basting in the sun on the beaches of Hawaii sounds so enjoyable that many people seek out beach camp parks- campgrounds Hawaii (HI) for enjoyment, relaxation and sightseeing nearby. The waters are clear and a beautiful color blue that memorizes you as you sit and watch the water ripples coming to shore. No wonder they say, Hawaii is made for lovers.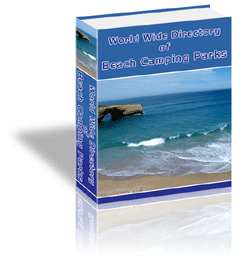 Hawaii Beach Parks:
Haleakala National Park
PO Box 369 Makawao,
HI 96768 (808) 572-4400

Malaekahana Campgrounds
Box 305 Laie
HI (808) 293-1736
 About Us / Privacy Policy / Resources
Camping Parks in US,  Campground Parks in Canada


Beach Camping Parks Campgrounds Alabama / Beach Camping Parks - Campgrounds Alaska / Beach Camping Parks - Campgrounds Arizona (AZ) / Beach Camping Parks & Campgrounds Arkansas (AR) / Beach Camping Parks - Campgrounds California (CA) / Beach Camping Parks - Campgrounds Colorado (CO) / Beach Camping - Campground Parks Connecticut (CT) / Beach Camping Parks Campground Delaware (DE) / Beach Camping Parks Campgrounds Florida (FL) / Beach Camping Parks Campgrounds Georgia (GA) / Beach Camping Parks- Campgrounds Idaho (ID) / Beach Camping Parks - Campgrounds Illinois (IL) / Beach Camping Parks - Campgrounds Indiana (IN) / Beach Camping Parks - Campgrounds Iowa (IA) / Beach Camping Parks - Campgrounds Kansas (KS) / Beach Camping Parks - Campground Kentucky (KY) / Beach Camping Parks - Campgrounds Louisiana (LA) / Beach Camping Parks - Campgrounds Maine (ME) / Beach Camping Parks - Campgrounds Maryland (MD)