Beach Camping Parks Campgrounds Florida (FL)
Florida with its numerous beach campgrounds offers many places to relax in warm waters or enjoy a fresh breeze on the sand…
America Outdoors Camper Resort & Marina
97450 Overseas Hwy
Key Largo,  FL 33037
800-245-4980

    If you are looking for a complete camping experience, with all the comfort you can get, you have to pull over to this resort. Here you will find full hookups for RVs and great camping sites for tents. TV hookups are also available, together with internet and laundry services. A convenience shop, a gift shop, and a restaurant will also wait for you in the resort.
The campground is open all year round, so you can enjoy the sandy beaches anytime you want. Swimming, diving, snorkeling are some of the activities that can be done on the beach. Fishing and boating can also be done since there is a fishing pier in the area. If you like biking, there are special trails for bikes here. Volleyball and shuffleboard are other activities that can be done in the resort. You can rent canoes and equipment for water-sports. Pets are also welcomed if you keep them on a leash.

---
Arcadia Peace River Campground
2998 NW Highway 70
Arcadia,  FL 34266
800-559-4011

    A fun campsite for you and your family. They offer full hookups for your RV and as well you can find primitive camping sites. A laundry services will be available and LP gas refills will be easy to find. You can choose to spend a day out fishing or hiking. Or you can choose to sit back and relax at the heated pool. If you love to bike, there are biking paths to help you having a great time. Another although this time quite unusual attraction is the fossil hunting down by the river.
 The campground also offers for rent golf carts and canoes. In the evening, you might want to try out the local dance house for some extra fun. The management is pet-friendly, so you are allowed to come along with your loyal companion. If you feel the need for some small shopping, the campground also has a store available on site.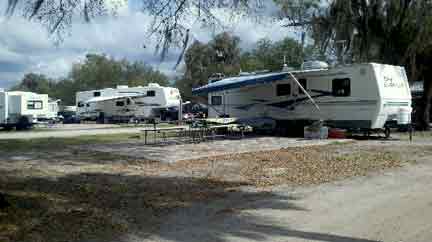 ---
Visitor's story....
Now you have decided to go to Disney World and you think that staying campgrounds will help save money so you can enjoy other important activities.
Well your right, beach camp parks Florida (FL) offer a place for you to retreat to after a long day in one of the four theme parks.
You cannot beat the price of the campgrounds over the price of the hotels and resorts.
While you are down there, Sea World also has some exciting shows that you might want to see as well as the sister park across the street.
Some of the area campgrounds offer passes to some of the water parks as well as some discounts on admission prices to the theme parks. Panama City has become a popular place for campers to go as well. The city comes to life at night and visiting the main street offers plenty of tourist attractions.
If you stay at beach camp parks Florida (FL), you might want to visit other areas as well. Kissimmee has great campgrounds and many people visit this campground during the winter months. Nobody knows better than you, where you want to stay, but having a start or somewhere to start looking always helps.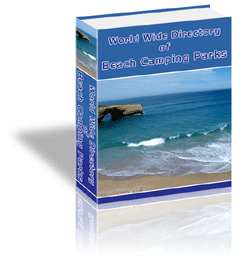 Beach Camping Parks Campgrounds Florida
America Outdoors Camper Resort & Marina
97450 Overseas Hwy Key Largo
FL 33037 800-245-4980

Arcadia Peace River Campground
2998 NW Highway 70 Arcadia
FL 34266 800-559-4011
---
 About Us / Privacy Policy / Resources
Go from Beach Camping Parks Campgrounds Florida (FL) to Pop Up Campers Trailer Home
Camping Parks in US,  Campground Parks in Canada

Beach Camping Parks Campgrounds Alabama / Beach Camping Parks - Campgrounds Alaska / Beach Camping Parks - Campgrounds Arizona (AZ) / Beach Camping Parks & Campgrounds Arkansas (AR) / Beach Camping Parks - Campgrounds California (CA) / Beach Camping Parks - Campgrounds Colorado (CO) / Beach Camping - Campground Parks Connecticut (CT) / Beach Camping Parks Campground Delaware (DE) / Beach Camping Parks Campgrounds Georgia (GA) / Beach Camping Parks- Campgrounds Hawaii (HI) / Beach Camping Parks- Campgrounds Idaho (ID) / Beach Camping Parks - Campgrounds Illinois (IL) / Beach Camping Parks - Campgrounds Indiana (IN) / Beach Camping Parks - Campgrounds Iowa (IA) / Beach Camping Parks - Campgrounds Kansas (KS) / Beach Camping Parks - Campground Kentucky (KY) / Beach Camping Parks - Campgrounds Louisiana (LA) / Beach Camping Parks - Campgrounds Maine (ME) / Beach Camping Parks - Campgrounds Maryland (MD)